Florida is home to an incredible variety of natural wonders, and among them are some of the most beautiful and enchanting freshwater springs in the world. West Volusia, a region in Central Florida located between Daytona Beach and Orlando, is home to several of such springs, including DeLeon Springs State Park, Blue Spring State Park, Green Springs, and Gemini Springs Park. Each spring offers visitors a unique experience and a chance to immerse themselves in the natural beauty of Florida. Let's take a closer look at these four springs and what makes them worth visiting.
Have some Pancakes at DeLeon Springs State Park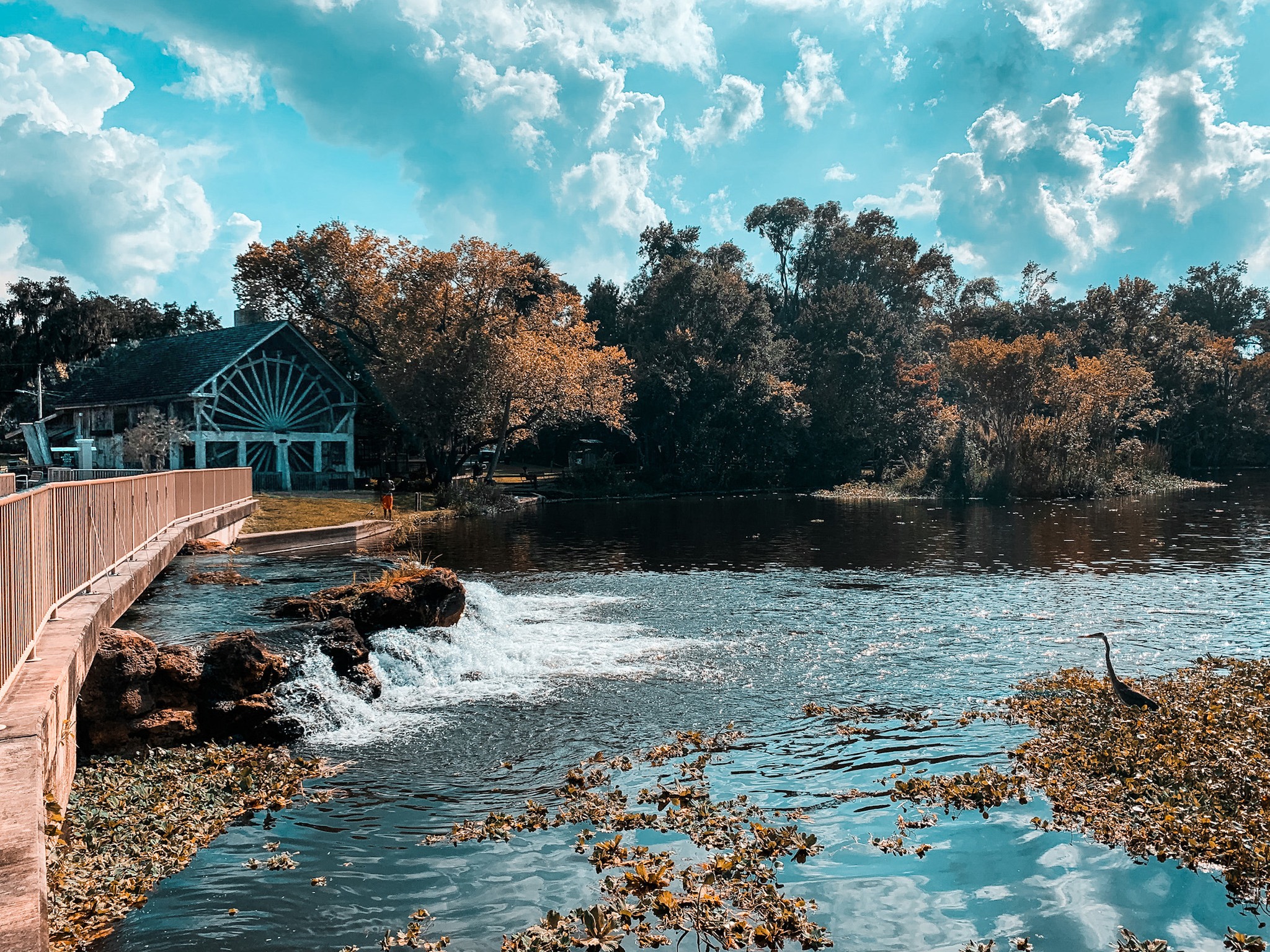 Located in the town of DeLeon Springs, DeLeon Springs State Park has a rich history, dating back thousands of years to when it was inhabited by Native American tribes. In the 1500s, Spanish explorers discovered the spring and named it after explorer Juan Ponce de León, who they believed had discovered the Fountain of Youth.
In the 1800s, the spring was used as a plantation and later as a site for a sugar mill – remnants of which still remain today. In the 1920s, the property was purchased by a wealthy couple who built a large estate on the grounds. The estate was later converted into a hotel and restaurant, which became a popular destination for celebrities such as Elvis Presley and Johnny Cash. Today, the park offers a wide range of recreational activities, including swimming, fishing, kayaking, and hiking. Visitors can rent canoes and kayaks to explore the spring run, which flows for over a mile through a lush cypress forest.
In an homage to the park's history, the historic mill house on property features a visitor's favorite, the Old Sugar Mill Restaurant. Visitors can cook their own pancakes on griddles right on the table while enjoying the beautiful scenery of the surrounding spring and St. Johns River.
Cool off at Blue Spring State Park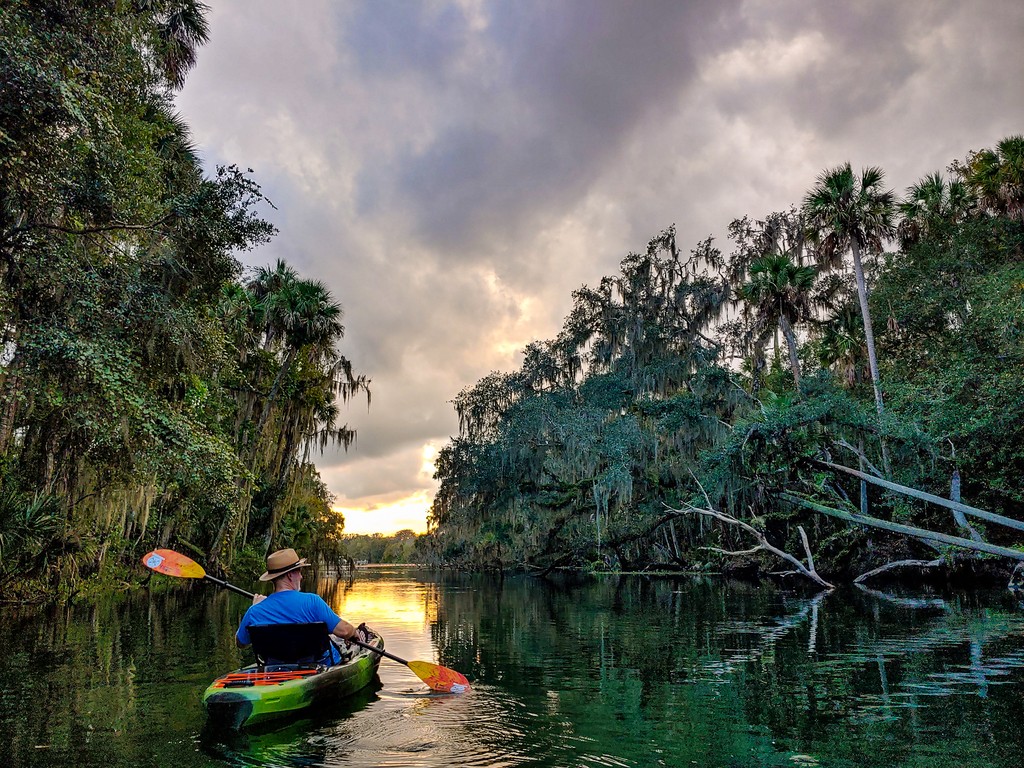 Blue Spring State Park is home to a first-magnitude spring that constantly outputs 72-degree spring water all year round and is one of the largest winter gathering sites for manatees in Florida during the winter months, roughly November through February.
From the Blue Spring's observation boardwalk which stretches 1/3 of a mile from the St. Johns River to the springhead, visitors are able to observe manatees in the crystal-clear spring water from above without disturbing them. The boardwalk also provides a wonderful opportunity to learn more about the manatee's natural habitat and Florida's diverse ecosystem. Visitors can see manatees socializing and mothers nursing their small calves, without influencing the manatees' natural behavior.
The number of manatees visiting the park has grown significantly over the years. From a count of 36 when research began in the 1970s to over 725 this past year, more and more Manatees call Blue Spring their winter home. Although there are still many threats to manatees — habitat loss, pollution, algae blooms and collision with watercraft — Blue Spring State Park serves as a safe haven for these gentle creatures.
The park is also an ideal location to release manatees back into the wild after they have been rehabilitated from sickness or injury. Because manatees can easily be monitored at the spring and the surrounding waters, researchers are able to make sure they adapt to life back in the wild. A few injured manatees call the Spring run home year-round, so even if you visit in the off-season, you still might be able to catch a glimpse of a manatee or two floating by.
In addition to manatee watching, Blue Spring State Park offers a wide range of recreational activities, including swimming, snorkeling, fishing, kayaking, and hiking. The park's hiking trails wind through a variety of habitats, including hardwood hammocks and pine flatwoods, and offer visitors a chance to see a diverse array of wildlife, such as alligators, otters, and turtles.
Explore the hidden gem that is Green Springs in Enterprise
Green Springs Park is located in the town of Enterprise, Florida, and is named after the natural spring that flows through the area. Its distinct green tint is due to the high levels of sulfur in the water. The park also features a connection to the area's multipurpose trail system and the park's hiking trails that wind through hardwood hammocks, pine flatwoods, and wetlands.
During the 1800s, the area became a popular destination for wealthy tourists drawn to the springs' supposed healing properties. Many hotels and spas were built in the area during this time, including the famous Brock House Hotel, which was located on the site of the current-day park. Sadly the Hotel is no longer around, but the Enterprise Museum located at 360 Main St. in Enterprise, houses some artifacts from the Brock House.
Bike or hike your way through Gemini Springs in DeBary
One of the main attractions of Gemini Springs Park is its connection to a network of biking trails. The Spring-to-Spring Trail, which runs from Gemini Springs (and Green Springs Park) to DeLeon Springs State Park, is a 26-mile trail that winds through Blue Spring and some of the most beautiful and scenic areas of central Florida.
The trail is paved and relatively flat, making it accessible for riders of all skill levels. Along the way, riders can enjoy stunning views of the natural springs, lush forests, and rolling hills that make up the area's landscape.
In addition to the Spring-to-Spring Trail, Gemini Springs Park is home to a network of hiking trails that wind through the park's diverse habitats. It also is the starting (or ending) point to a walking/biking trail that connects to Lake Monroe Park. It's about 2 miles one-way. Visitors can also explore hardwood hammocks, pine flatwoods, and wetlands, and spot a variety of wildlife, including turtles, alligators, and a variety of bird species.
The park also features a variety of amenities for visitors, including picnic areas, playgrounds, and multiple covered pavilions that can be rented for special events. There is also a dog park on-site, as well as a fishing dock and a kayak launch for visitors who want to explore further down the natural springs.
Those with furry friends will find the dog park located close to the entrance, with two shady sections, one for small dogs and one for larger dogs. It features agility equipment, water fountains, and waste bags.
Tips for Visiting the Springs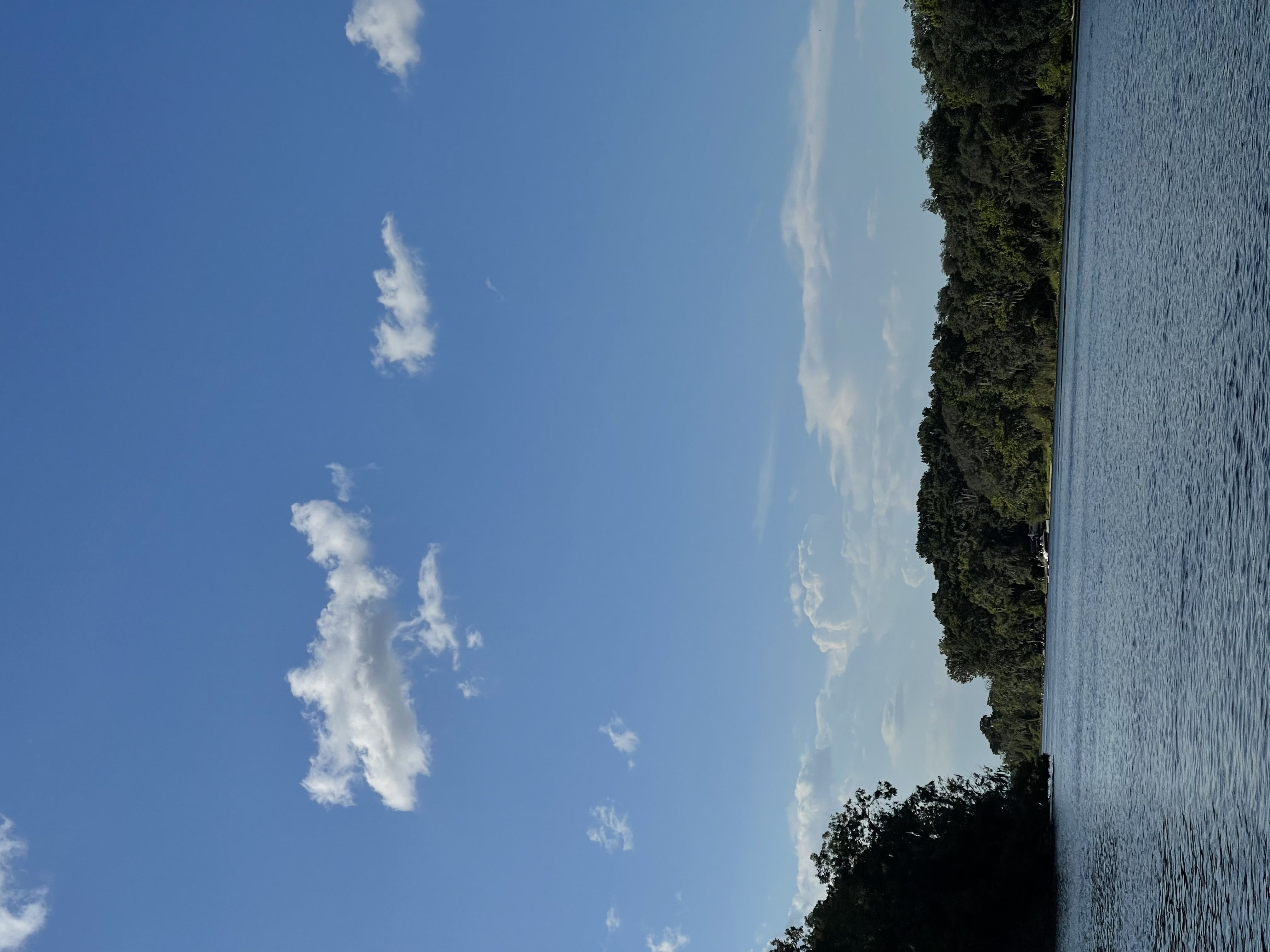 Before you head out to visit any of these springs, there are a few things to keep in mind. First, be sure to check the park's website for hours of operation and any special events or closures. Some of these parks may close during the winter months, while others may have limited hours during the summer.
It's also important to remember that these are natural springs, and as such, they can be sensitive to human activity. Be sure to follow all posted rules and regulations, including rules about swimming, diving, and boating. Additionally, be sure to follow Leave No Trace principles and pack up all trash. Lastly, It's always a good idea to bring sunscreen, bug spray, and plenty of water, especially if you plan to spend a lot of time outdoors.
West Volusia's springs are some of the most beautiful natural wonders in Florida. From swimming in the cool waters of DeLeon Springs to observing manatees at Blue Spring State Park, there's something for everyone in this region. Whether you're a nature lover, an outdoor enthusiast, or just looking for a chance to escape the hustle and bustle of daily life, a visit to one (or all!) of these springs is sure to be a memorable experience. So pack your bags, grab your sunscreen, and get ready to go spring hopping in West Volusia.
More information on West Volusia County can be picked up at the Visitor Center located at 116 W. New York Avenue in Downtown DeLand, FL, or can be found online at www.visitwestvolusia.com. Please call 386-734-0162 for more information.