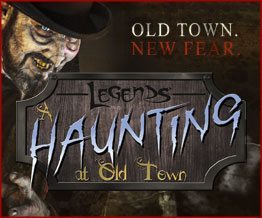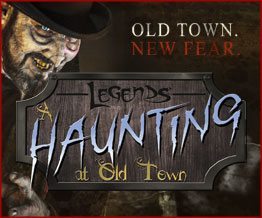 Orlando Attractions Update – Central Florida's Greatest Halloween Value Returns to Old Town for its Fourth Year. With ghosts, goblins, and spooks galore. An Old Town Halloween features frightful fun for the whole family Friday and Saturday nights in October.  Join us for a party under the stars at Old Town as we celebrate the return of An Old Town Halloween, Central Florida's Greatest Halloween value, Friday and Saturday nights in October.
This year's events will feature four unique "Haunt Zones", each with ghostly hosts, gremlins and beasts in carefully crafted liars designed to contain the horror of these unsightly guests. Included in the mayhem will be "Cutthroat's Curse" featuring battling, undead pirates in search of cursed treasure and "Monster Midway", offering a sinister sideshow of the world's most famous monsters anywhere this holiday season. Plus, the ever popular "Dancing Dead" will rise from their graves to converge in the center of the iconic brick streets for a performance that is sure to take your breath away!
WHEN:Friday and Saturday evenings in October beginning on October 10 – 31st. Event begins at 7:30 pm and runs to 11:00 pm.
WHERE: Old Town Kissimmee 5770 W. Irlo Bronson Memorial Hwy. Kissimmee, Florida 34746 (407) 396-4888
COST: Admission to the event is FREE and costumes are encouraged, Nightly costume contests will be judged for Children (Ages 0 -12) and Adults (Ages 13 and up). Prizes will be awarded in both categories.
And don't miss Legends' A Haunting at Old Town! Voted one of the top Haunts in the US by Hauntworld magazine! Located in the … dead center of Old Town, Legends offers a nightmarish journey through the haunted halls of Ashdown and Son's Undertakers. It's a full 2 stories of terror featuring live actors, special effects and movie quality sets. * Legends' A Haunting at Old Town is a separately ticketed event.
Of course, a weekend night at Old Town would not be complete without a featured performance by the World's Longest Running Classic Car Cruise! The parade of cars will begin at 8:30 pm each night and of course you'll also want to enjoy all of the shopping, dining and fun that Old Town is known for.
Founded in 1986, Old Town is located on Irlo Bronson Memorial Hwy in Kissimmee, Florida and is home to the longest running weekly classic car cruise in America. This one-of-a-kind attraction features over 70 unique shops and immersive entertainment centers, dining, live entertainment, night life and an array of FREE family-oriented events and entertainment.
For more information, visit www.myoldtownusa.com or call (407) 396-4888.
Legends' A Haunting at Old Town, Central Florida's' only year-round haunted attraction has been terrifying guests for nearly one year! The two-story, highly detailed haunted house has received rave reviews from guests as well as travel writers and haunt reviewers alike. Located at Old Town in Kissimmee, Florida the attraction features state-of-the-art lighting, sound, special effects and a cast of highly trained, professional haunt performers.
For more information on Legends', a Haunting at Old Town visit www.legendsoldtown.com or call (407) 883-0859.