Universal Studios Orlando began what they refer to as "technical rehearsals" of its "Race Through New York With Jimmy Fallon" attraction yesterday.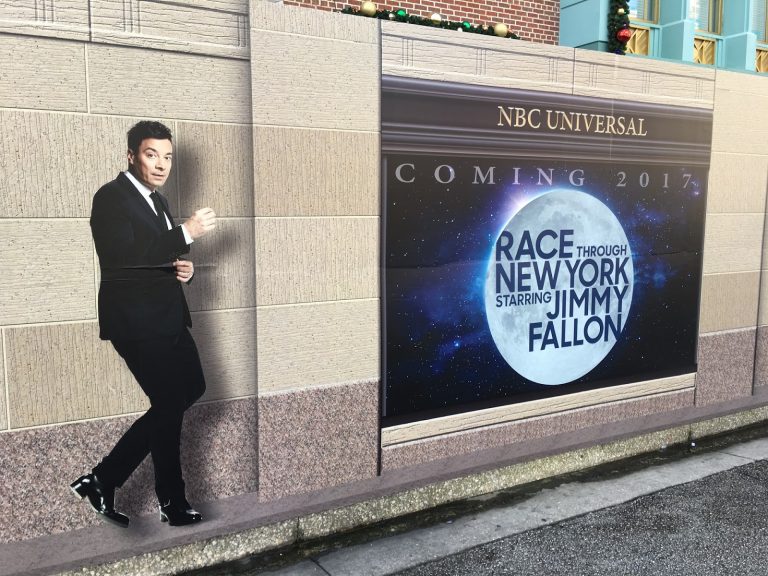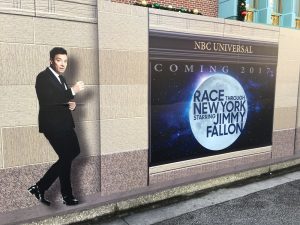 The ground floor of the queue salutes the history of the iconic NBC talk show and its hosts through the years.
Upstairs, before experiencing the Race, visitors are exposed to more Jimmy Fallon style humor, including appearances by Hashtag the Panda. Those gags and other bits continue into the 3-D ride itself. The six-row vehicle seats 12 people across on a single platform that wiggles and wobbles in front of a mammoth screen – it falls somewhere between the Simpsons Ride and Despicable Me Minion Mayhem.
Once seated, visitors to Jimmy Fallon's show are challenged to a race. Our host takes off in the Tonight Rider. You're along for the ride to Times Square, down into a subway, into the East River. The scene shifts to the top of the Empire State Building, where there's another Hashtag sighting.
Along the way there are several good 3-D sight gags (T-shirt cannon, moon dust) and some Jimmy Fallon staples, including the "Ew!" girl and the Ragtime Gals quartet. Theses appearances though are undercut because riders already met them in the pre-show.
The ride is described by those we've talked to as smooth, doing nothing too crazy. The vertigo factor doesn't really kick in until the faster-paced finale.
The grand-opening date is set for April 6 — the last of four days during which Fallon will tape "The Tonight Show" from the theme park.