Photos taken during your trip to International Drive are like return tickets to a moment otherwise gone. With so many unique experiences awaiting you, you'll want to snap tons of photos so you can revisit the amazing moments from your Orlando vacation anytime you'd like!
Luckily, along International Drive, there are plenty of iconic spots to snap a photo that will surely bring you back in time every time you look back on them. If you're looking for the ultimate Orlando vacation photos, stop at these popular photo spots around International Drive to remember your time spent in Orlando's Most Dynamic Neighborhood.

ICON Park
If you're looking for ICONic photo spots that scream "Orlando Vacation!" A stop at ICON Park is a must!
Enjoy an afternoon or evening stroll around this large outdoor entertainment complex and pop into 50+ attractions, dining spots, and live entertainment destinations, and even enjoy some shopping, all located within walking distance to one another. During your visit to ICON Park, be sure to stop and snap a pic at these popular photo spots.
Museum of Illusions is a museum of optical illusions with a multitude of designated photo spots throughout the exhibits that will trick your mind and surely shock friends and family!

Enjoy a collection of holograms and observe optical illusions that will trick your mind and teach you about vision, perception, and the human brain. Then visit the playroom to enjoy intriguing and educational games and puzzles, and snap tons of confusingly-cool photos along the way to remember the experience.
Get starstruck at Madame Tussauds Orlando, another spot where you can capture tons of photos with crazy-realistic wax figures of your favorite celebs A-listers, historical figures, athletes, characters, and even the Justice League. If you're looking to snap the ultimate selfies while strutting with the stars in the heart of Orlando, a trip to Madame Tussauds is a must!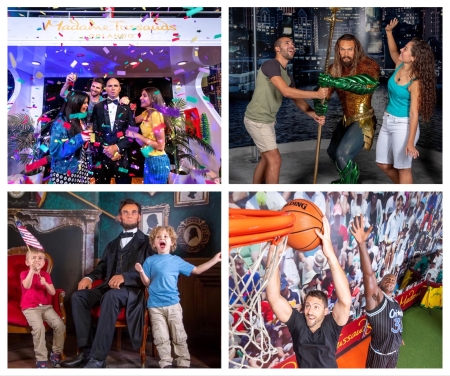 And of course, any trip to Orlando isn't complete without a ride on The Wheel! Take to the sky of Orlando for unmatched views of I-Drive and beyond. At 400 ft up, you'll be able to see the city from a whole new angle while in the comfort of your own air-conditioned capsule with large windows for better viewing. Enjoy a birds-eye view of natural lakes around the area, Walt Disney World, Universal Orlando, and other landmarks around Central Florida like Downtown Orlando, the Amway Center, Kennedy Space Center, Legoland, and more!

WonderWorks Orlando

Orlando's only upside-down attraction is an amusement park for the mind, and with over 100 interactive exhibits, whether you're feeling a 5.3 earthquake, touching 100,000 volts of electricity, playing a virtual sport, designing your own roller coaster, climbing their 3-story indoor ropes course, enjoying a game of laser tag, or sitting back into their 4D theater for an unmatched viewing experience, you're sure to want to remember your time spent at this popular, family-adored attraction!
Be sure to snap a picture at your favorite exhibits, and take a group shot in front of the well-known upside-down building on I-Drive.
Ripley's Believe It or Not!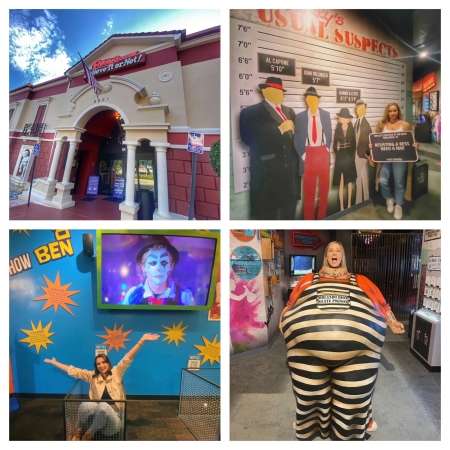 Step inside the weirdest place in Orlando! As you explore the amazing variety of exhibits, artifacts, and displays in the 16 galleries that pay tribute to the odd, bizarre, and unbelievable, you'll surely find plenty of off-the-wall photo ops along the way! The expansive collection of weird and unusual relics and rare treasures here lets guests discover that truth is indeed stranger than fiction! Aside from the many photo ops throughout your self-paced tour here, you'll also want to snap a picture in front of the famous building that was built to appear as though it is sinking into a massive sinkhole.
Dezerland Park Auto Museum
Everyone loves Dezerland Park! This is Orlando's largest indoor attraction, featuring over 19 attractions ranging from go-karting, bowling, axe throwing, bumper cars, glow-in-the-dark miniature golf, a trampoline park, arcades, and more… there's nothing not to love, and something for everyone! But, when it comes to snapping one-of-a-kind photos and seeing some pretty incredible one-of-a-kind vehicles, a stop to their Auto Museum is a must! The auto museum is the largest museum of any kind in Orlando and is home to the most engaging auto and vehicle collection in the world! So get your camera ready to snap pictures with some of the coolest vehicles that exist and classic vehicles from times passed!
Dining on I-Drive?
The foodie scene on International Drive is just one of many reasons to visit Orlando! Aside from unique dining experiences, to authentic cuisine from places across the globe, whatever you're craving, you can find it on I-Drive! But, don't just snap pictures of your insta-worthy meals! Head to these dining spots along I-Drive that serve up delicious food along a unique experience, and have the perfect spots to snap a picture with your group after your meal!
The Hampton Social

Enjoy summer feels all year round with a glass (or two) of rose and a delicious southern-inspired meal at the beautiful and lively Hampton Social Orlando!
This popular spot at Pointe Orlando is the perfect spot to grab an Instagram-worthy pic! With LED Lights, flower walls, and a modern nautical theme, there are so many great pictures to take! Plus, the pretty pink Rosé and handcrafted cocktails make for excellent photo props! Snap a pic (or two).
Chuy's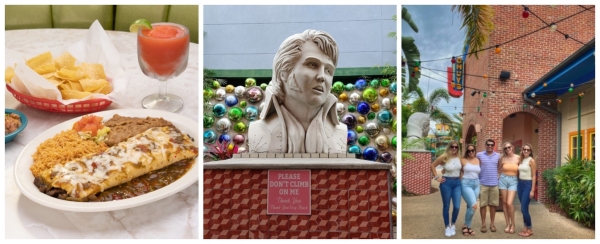 Chuy's, is a favorite spot to enjoy a delicious, traditional Mexican meal made with the freshest ingredients, and margaritas in a lively, carefree atmosphere! But after your delicious meal, don't forget to snap a pic with the Elvis head statue here!
Taverna Opa Orlando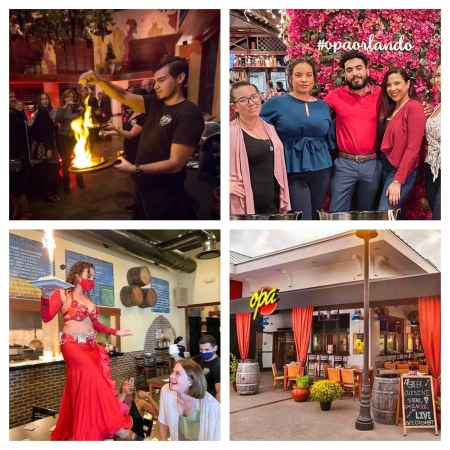 Opa! If you're looking for a full dining experience a trip to Taverna Opa is a great place to start! Whether you're snapping pics of your group stomping on tables with belly dancers, or the fire from your Saganaki appetizer, or posing for a beautiful group photo in front of their flower phot wall – you'll surely have plenty of photos to remember this unique and down-right fun dining experience!
Cuba Libre Orlando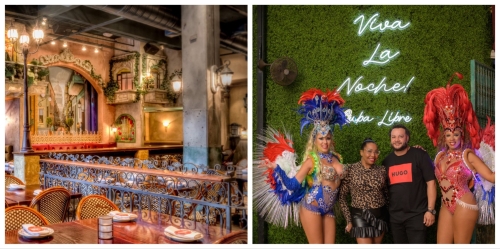 Passing through the doors of Cuba Libre transports guests to an Old Havana courtyard complete with exotic foliage and vintage décor. But after you dig into your delicious meal that mixes classic and contemporary Cuban cuisine, be sure to stick around on Friday and Saturday nights for drinks and dancing! And whatever you do, don't forget to get a snazzy shot in front of their Viva La Noche photo spot to commemorate your night out in the heart of Orlando!
Senor Frogs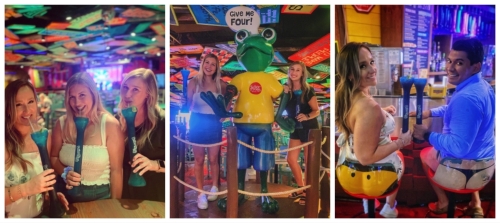 Let's be honest, if you've made it to Senor Frogs while on I-Drive, you already know you're in for a crazy night, a true-fiesta if you will! But as you're sipping on a cold yard of your favorite signature drink and digging into a delicious Mexican feast – don't forget to snap a picture with the Senor Frog himself, so even if the night is a little blurry, you'll always be able to look back on your wild night out at this popular nightlife spot on I-Drive!
Hash House A Go Go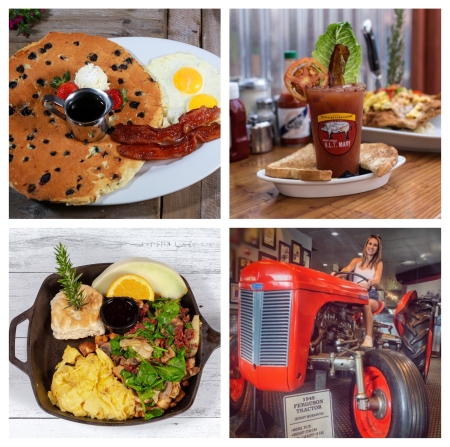 And after a wild night out, you're going to need brunch! Head to Hash House A Go Go and dig into a plate of fresh farm food with a twist! Known for being the best Brunch in Orlando, whether you're looking for something sweet or savory, you'll find a unique and delicious twist on some of your favorite breakfast and lunch entrees! Snag one of their fan-favorite BLT Bloody Marys from the Tractor Bar or one of their other signature cocktails, and enjoy brunching it up with friends and family! But, whatever you do, don't leave before you snap a pic  on the 1949 Ferguson Tractor here.
I-Ride Trolley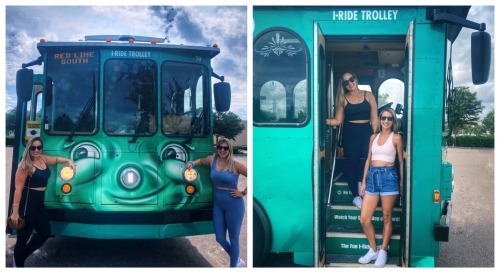 Did you even visit I-Drive if you didn't snap a pic with one of the smiling I-Ride Trolleys? Let the exclusive, charming, and affordable I-Ride Trolleys get you to all of the exciting destinations on I-Drive during your trip but don't forget to snap a pic with one of them while you're here. (They are arguably one of the most iconic sights associated with International Drive!)
With so much to do and see on I-Drive, don't forget to pull out your camera and snap a pic pf your favorite moments from your Orlando vacation! Head to these exciting stops in Orlando's Most Dynamic Neighborhood for the more iconic Orlando vacation photo ops!