Orlando Attractions – International Drive's Skyplex complex isn't slowing down anytime soon in its quest to find new heart-stopping rides for its guests when it opens in 2019.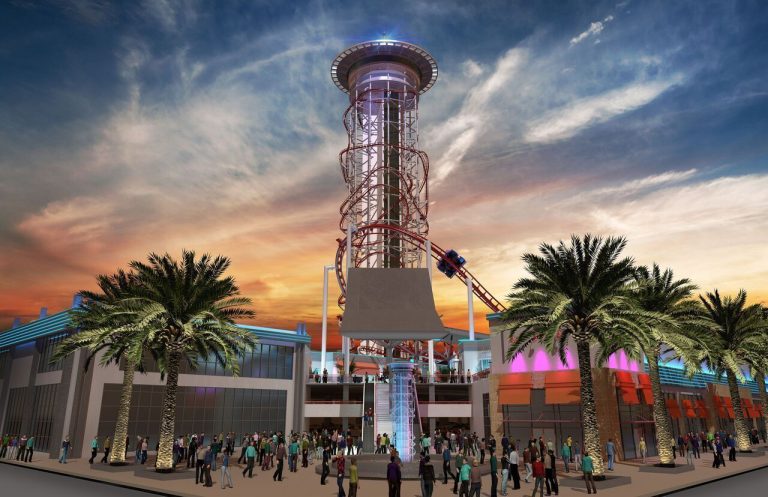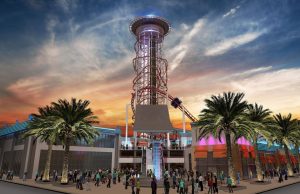 Management has just announced it will add a new 500-foot free-fall dive attraction called Sky Jump to its portfolio of attractions that already includes the mind blowing 501-foot Skyscraper polercoaster, the 450-foot Skyfall drop tower, a 600-foot Skyfly zip line, the Skysurf park and the SkyLedge thrill experience. Orlando's Sky Jump will be the first East Coast installment of a similarly-named attraction at Las Vegas' Stratosphere that has guests free-falling on a controlled line. "I've jumped in Las Vegas several times, and that moment before you go is heart-stopping. Your knees are knocking. People absolutely will love it. I know I sure do," said David Wallack, who is developing Skyplex with his son, Joshua Wallack.
New at Skyplex
Many eyes are on the construction site at Skyplex, which is undergoing heavy preparation and other infrastructure work. That work includes "infrastructure improvements, zoning changes to make the vision and development more predictable, underground and modernized utilities and transportation improvements such as the four-way I-Drive/Sand Lake Road pedestrian bridge," said Joshua Wallack, in a prepared statement, noting that is working toward fulfilling Orange County Mayor Teresa Jacobs' new I-Drive 2040 visioning to improve walkability and development standards.