Orlando Attractions Update – FLESH EATING Beetles are indeed coming to Skeletons Orlando!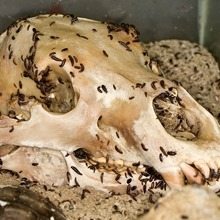 Flesh Eating beetles, also known as Dermestid Beetles are part of the experience at a new attraction coming to International Drive in Orlando called SKELETONS: Animals Unveiled. Opening March 2015, this museum/attraction will have over 300 real skeletons and skulls representing 300 different animal species, including humans. The beetles are ued to clean the bones of all flesh and non-bone material.
As part of the I-Drive 360 Complex that will include the the Orlando Eye Wheel, Madame Tussand's Wax Museum and Sea Life Aquarium, SKELETONS will offer its guests an education in bones, skeletons, structure and anatomy. Plus adding "Fun" elements such as, the "flesh-eating" beetles, video presentations, an"As Seen On TV" area, and an area of extinct and imaginary animals.
Skeletons: Animals Unveiled is owned and operated by the Villemarette Family of Oklahoma City, Oklahoma. Company president, Jay Villemarette, Sr began collecting skulls as a youth and grew his hobby into a successful, worldwide catalog/website business called Skulls Unlimited International, Inc. In 2010, he, his wife and four children opened The Museum Of Osteology in Oklahoma City, Oklahoma. It is the only museum of osteology (the study of bones and skeletons) in the world. Villemarette and his family do the work to transform donated animal carcasses into skeletons.
"We use real bones, all of them we prepared ourselves. Sometimes we need to use replicas, but there is so much more you can learn from real bones," said Villemarette regarding that his museum and upcoming attraction will be filled with actual bone specimens. "The beetles remove all the flesh and tendons that we can't get. We have tens of thousands of beetles working for us."  Important note – Dermestid beetles are harmless to living humans and pets. They are naturally found in Florida. All of Skeletons' dermestid beetles will be in escape proof containers!
Villemarette, his family and his businesses have been highlighted in such television programs as "Dirty Jobs with Mike Rowe", "Ripley's Believe It or Not", "Modern Marvels", "Auction Kings" and in the film "Skeletons, Inc". Highlights from the episodes will be part of the Skeletons attraction.
"Orlando, with all of its guests and families were the people we wanted to reach with our attraction. This opportunity came up and we couldn't pass it up," stated Villemarette.  "So we are excited about coming to town with our skeletons, bones, and beetles."
Skeletons is located at 8441 International Drive, Suite 250, Orlando, Florida. Hours will be 10 am to Midnight seven days a week. The 7,700 square foot attraction is expected to open on Saturday, March 7, 2015. Adult admission is $19.99, and Youth (3-11) is $12.99. Additional information at www.skeletonmuseum.com or call 407-766-5179.