Has Walt Disney World lost its luster? Is Universal no longer a wizarding wunderkind? For British visitors to Orlando, these are key questions – and the answers may shock the region's tourism industry. Orlando-based authors Simon and Susan Veness are celebrating the 25thanniversary of their best-selling guidebook, A Brit Guide to Orlando, this month with a look at exactly why The City Beautiful has been the leading long-haul destination for Brits in the last quarter-century, and how their priorities have radically evolved.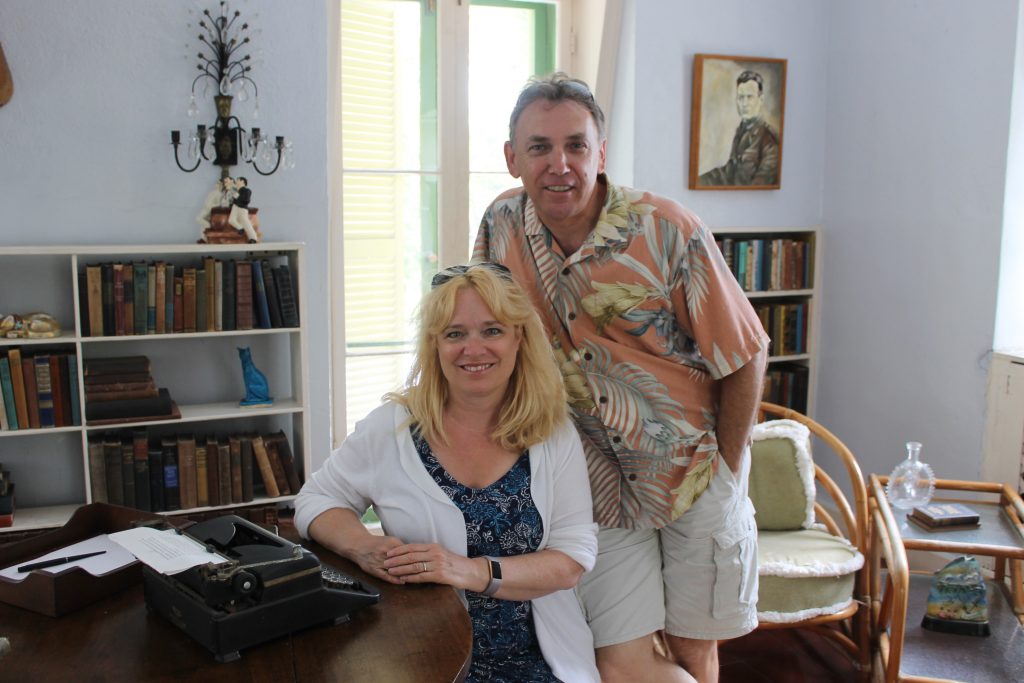 Authors Simon & Susan Veness
The theme parks and weather remain part of the attraction, but there are surprising reasons why the Brits keep coming back year after year – like Walmart, Target, IHOP and Denny's. Founding author Simon, who hails from the UK, explains, "For most Brits, Orlando is their first experience of the U.S.A. and they are just as smitten with cultural experiences like breakfast diners as they are with Disney and Co.
"Then, when they discover these huge stores that Americans take for granted, they feel like they're in an Aladdin's Cave, where the usual rules don't apply. They can shop around the clock, have breakfast at 3:00am, and then go and meet Mickey. It is a win-win-win."
Disney expert and co-author Susan was born in Michigan and admits it was initially hard to adjust her thinking to such basic facets as describing the difference between Perkins restaurants and TGI Fridays. She says, "I've learned a lot about what the British vacation mentality homes in on. Just to start with, they usually come for at least 'a fortnight,' which is two weeks to us, and they are focused just as much on shopping as the theme parks. But they also love places like Discovery Cove and the water parks, and are amazed by Florida's wildlife. Take a UK visitor to Gatorland and they are completely spellbound. It's so unexpected."
The last 25 years have seen significant changes in what the Brits do while they're here, and it is reflected in the Brit Guide, which has grown from 180 pages in its first edition to 352 today, developing new sections such as Off The Beaten Track and Twin Center Options, pairing a week or more in Orlando with a stay at one of Florida's great beach destinations, or a cruise.
It's a trend local businesses would be well advised to note. According to Simon, "When we first started, Orlando was a simpler destination, with only five theme parks and a handful of other attractions. Now there are 10 parks and many more additional diversions, but it's the genuine Floridian experiences that really capture the British imagination, like airboat rides, state parks, and animal encounters. Many visitors have been here 15, 20 times or more and are interested in places they haven't visited before; tastes of small-town America in places like Winter Garden, Mount Dora, DeLand and Winter Park."
Susan notes our UK cousins are also focused on the city's great array of fine restaurant options, and the burgeoning craft brewery scene these days. "British visitors do an amazing amount of research to ensure they visit the latest happening restaurant, bar or brewery," she says. "We continually get asked about new dining experiences, and people often pay as much attention to their restaurant choice as they do to the theme parks."
Ultimately, Orlando's big lures are its cultural experiences, value for money, and consistent high quality. Simon explains, "The average British holiday-maker is price-driven. They're happy to spend big on their annual vacation, as long as they get a cost-conscious experience they can't get at home. We've seen a big down-turn in Brits booking both Disney andUniversal, for cost reasons, for example. Attractions that offer a full day out for less than the cost of a day at the theme parks will be extremely popular."
The Brit Guide to Orlando(published by Foulsham) is the UK's best-selling guidebook of any kind in the past 20 years.
For interview opportunities or further information to support a feature on UK visitors to Orlando, contact Simon & Susan Veness at Veness Travel Media on 407 506 3003 or email venesstravelmedia@yahoo.com.