The SeaWorld & Busch Gardens Conservation Fund has approved an emergency animal crisis grant to the Minton Farm Animal Rescue Centre located in South Australia to assist with wildlife rescue efforts in the wake of the massive bushfires sweeping the country.
To date, an estimated 15 million acres have burned and 1 billion animals have been lost.
Minton Farm is on the forefront of wildlife rescue and support efforts in South Australia, including hundreds of species left injured and homeless on Kangaroo Island and the Adelaide Hills region.
The Emergency Crisis Grant from these SeaWorld parks will be used by Minton Farm to purchase medical supplies and medicines to treat the sick and injured, and to extend and add enclosures to accommodate rescued patients.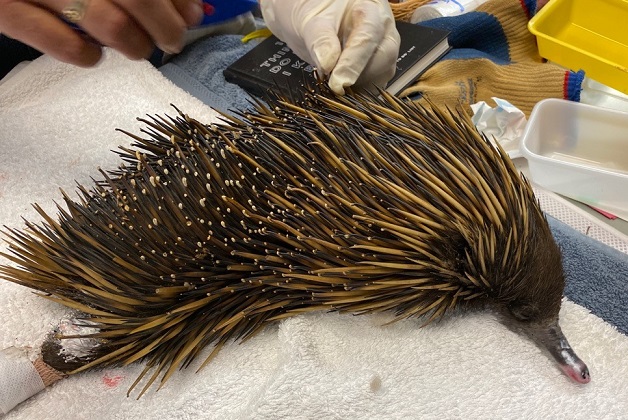 Cherry Gardens, South Australia – Many of the rescued animals being treated by Minton Farm Rescue Centre have burns to their feet and hand pads, including a rescued kangaroo and echidna.
"We are desperately trying to keep up with the wildlife that is brought in by our volunteers but we are quickly going through supplies and running out of room to accommodate everyone's critical needs," said Bev Langley, Minton Farm Animal Rescue Centre founder.
"This funding will aid our ability to care for rescued animals and give them the best chance of survival and ultimately a return to the wild. We are indebted and forever grateful to the Conservation Fund for its generosity, support and kind thoughts through this difficult time of fire and heat waves," she added.
This particular SeaWorld Parks Conservation Fund has provided support to wildlife and rescue organisations in Australia since 2005, including previous fire-related emergencies.
Dr. Hendrik Nollens, President of the Conservation Fund said, "Minton Farm is on the front lines of this crisis, working around the clock to help save as many animals as possible.  The quick work of the Conservation Fund in approving this grant speaks to our shared mission of animal rescue and wildlife conservation.
"Australia is home to many unique species, including the greatest percentage of marsupials in the world.  Previous support from the Fund has allowed Minton Farm to progress in updating their facility, including healthy and thriving eucalyptus plantations to assist in feeding the koalas as well as specific medical equipment to help diagnosis and treat illnesses.  Our hearts go out to the people and animals impacted in this latest wildlife crisis."