Besides experiencing the 19 miles of beautiful shorelines in Palm Coast and the Flagler Beaches, the culinary scene is something else you'll want to dig in, especially its fresh seafood. Whether you like it fried, blackened, grilled or raw, you'll find it on the menu, with stunning ocean vistas on the side. Start planning your foodie adventure today to one of these top sea-to-table restaurants to taste the dishes that locals love. So, without further ado, here are our top choices for Sea to table dining in Palm Coast and Flagler Beaches:
Golden Lion Café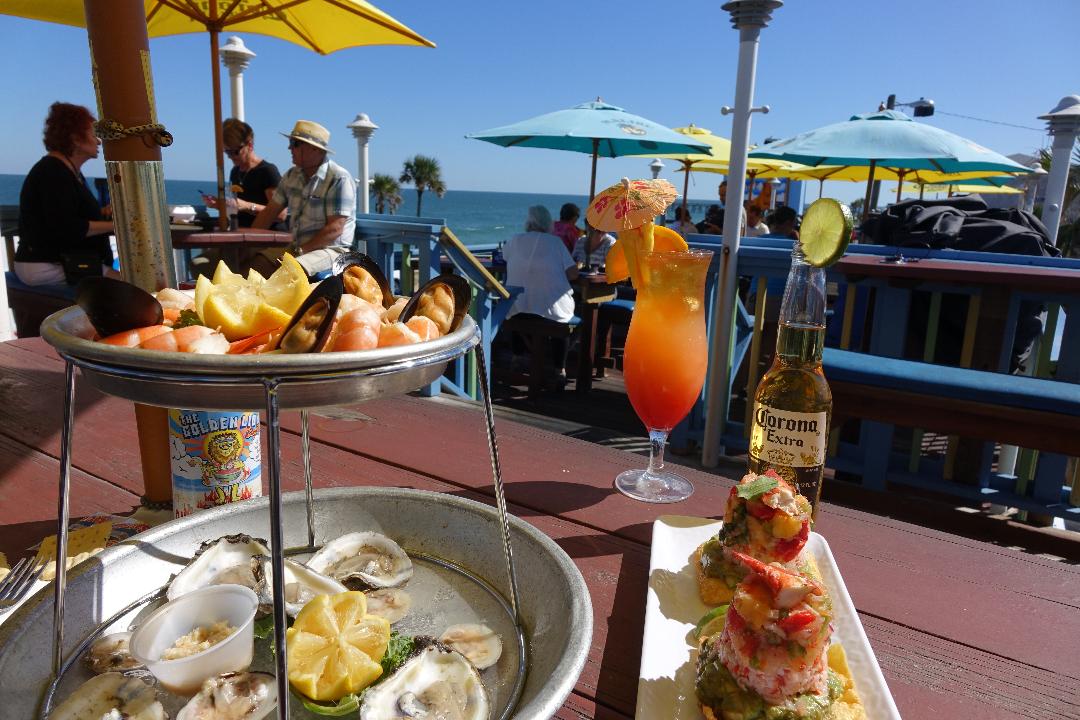 Just a seashell's throw from the beach, the Golden Lion Café has been serving delicious seafood with a view for more than 25 years. Relax on the rooftop deck with a cold drink and the seafood tower stacked high with mussels, shrimp, oysters, clams and lobster. Both the restaurant and raw bar menus serve raw or steamed shellfish. If you've never experienced Florida stone crab claws, this is the place to have them. Looking for a little bit of home? Be sure to try the Golden Lion's famous fish 'n' chips. The restaurant also has a daily happy hour from 3 to 6 p.m. with live music and of course, that majestic view of the beach.
Break-Awayz at the Beach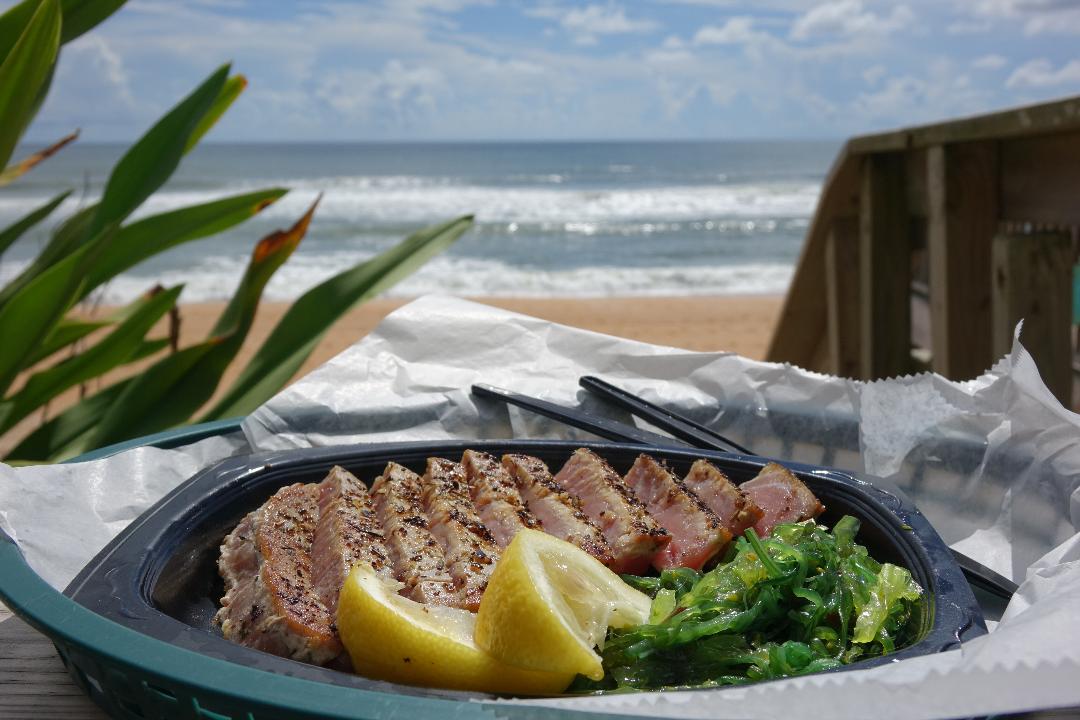 Fresh fish, cold brews and an ocean view, it's all at Break-Awayz at the Beach. The laid-back beach bar keeps customers returning for more to enjoy its delicious food. Seafood is served tapas style, so you can try a bit of everything. Must-try dishes include the tuna poke nachos and the tuna sliders. Wild line-caught mahi-mahi is on the menu, and the blackened mahi bites are delicious. Pair them with one of the more than 100 bottled and draft beers, wine or sake. You can also shoot a round of pool on the outdoor pool table. Break-Awayz hosts evening events including live music, comedy night and sushi night. There is a daily happy hour from 4 to 6 p.m. and the fun continues well after sunset because Break-Awayz is open until 2 a.m. on Fridays and Saturdays and until midnight Sunday through Thursday.
Flagler Fish Company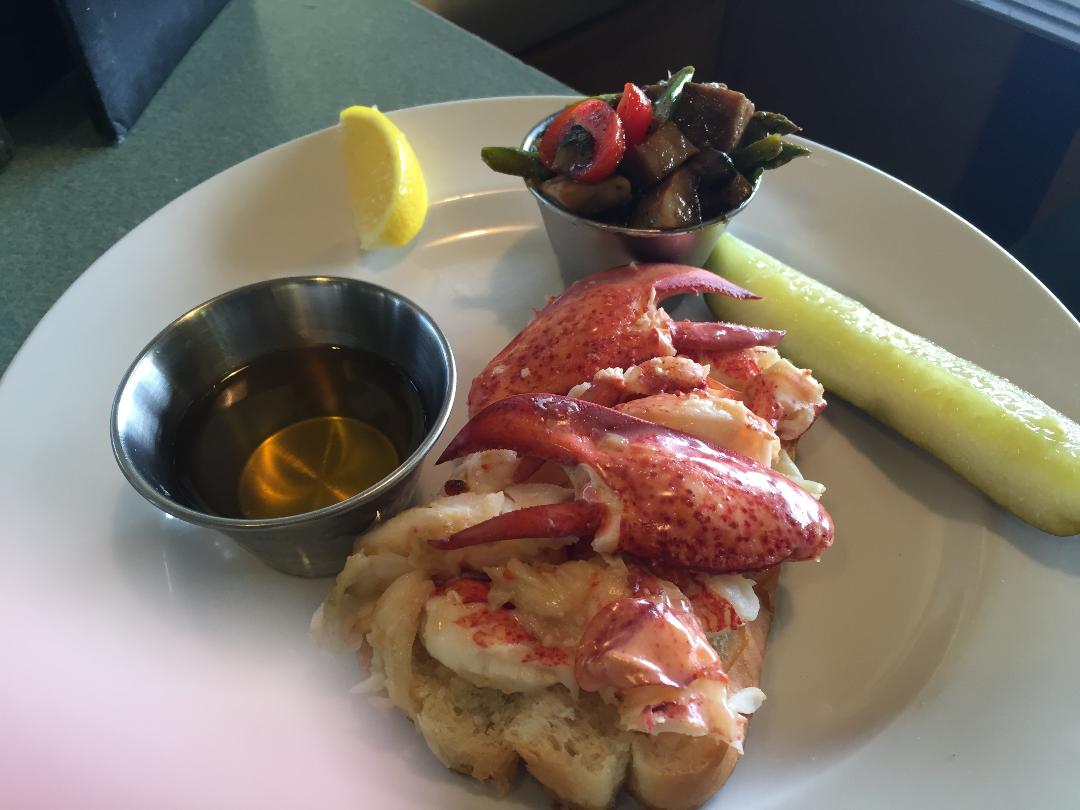 Just a couple of blocks from the beach is Flagler Fish Company. This restaurant is known for its selection that changes based on what is caught at sea. Pick your fish, then have it grilled, blackened, sautéed, seared or steamed. Or treat yourself to a trio of fish tacos. Try the North Side with fresh veggies and avocado topped with a spicy creamy chipotle salsa, or the South Side with grilled onions, mushrooms, sour cream, and an avocado herb sauce. As a "Fresh from Florida" and Slow Foods recognized restaurant, Flagler Fish Company sources its ingredients locally whenever possible. Parents take note: The kids' menu is ideal for introducing picky eaters to seafood. Not in the mood to dine out? The fish market at Flagler Fish Company offers the daily catch to go. Cook it in your vacation home or have the chef par-cook it for you. The fish market sells sides, soups, and salads for a gourmet beach feast.
Sound delectable? We are only partway thru our list of sea to table dining in Flagler
High Tides at Snack Jack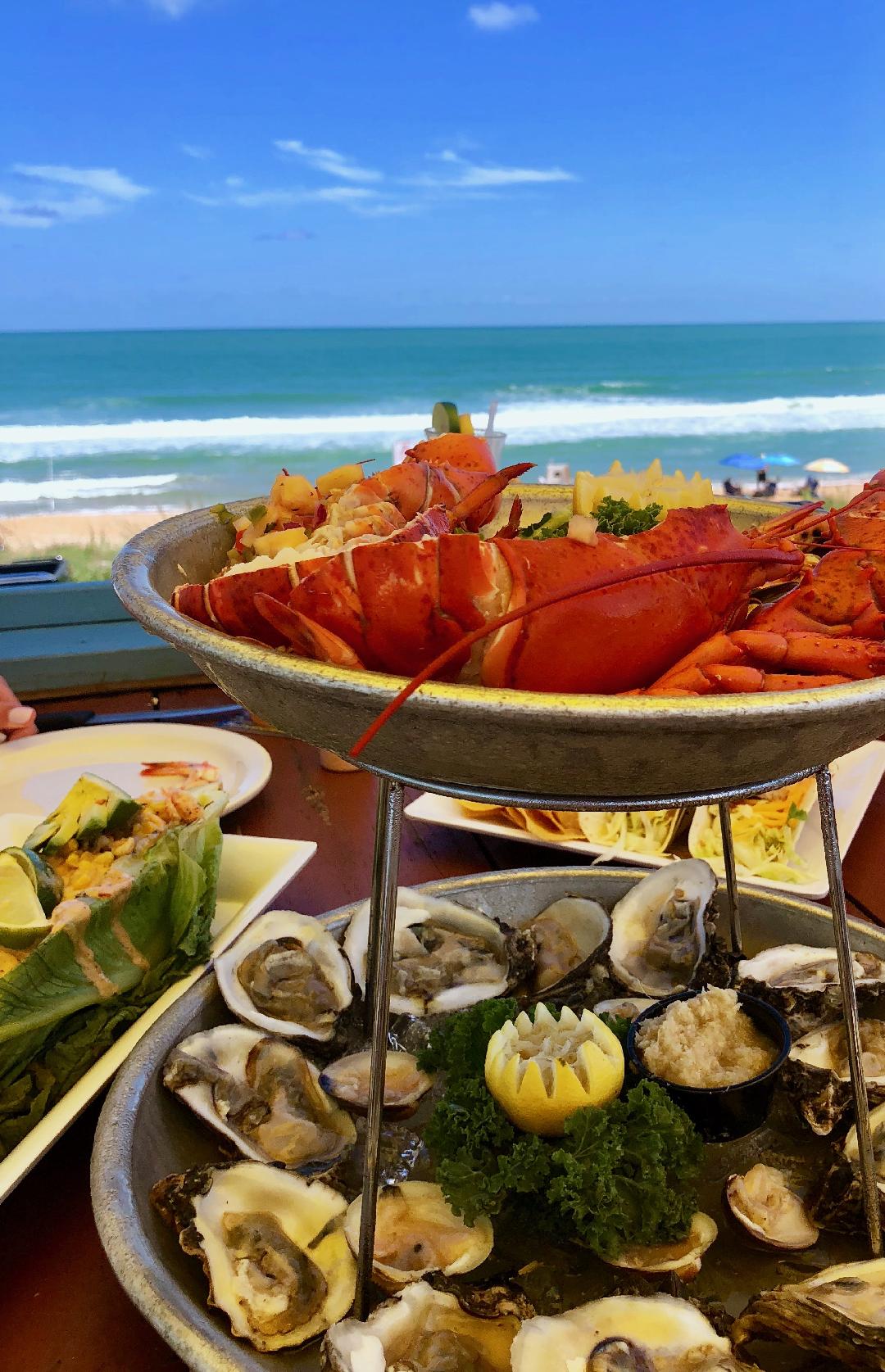 Any closer to the water and you'd get sand in your shoes at this casual Old Florida eatery. Located on the beach High Tides at Snack Jack, has been a longtime favorite with locals and visitors. The surfside-chic décor, wooden tables, and benches keep the focus on the food and the view. Start with classics like conch fritters or the wild caught spiced steamed shrimp, served by the pound or half-pound. The fish tacos are always a good choice, and the fish Reuben is delectable. Parking is easy with the complimentary valet, and the outdoor patio is dog-friendly, so feel free to bring your pups.
Funky Pelican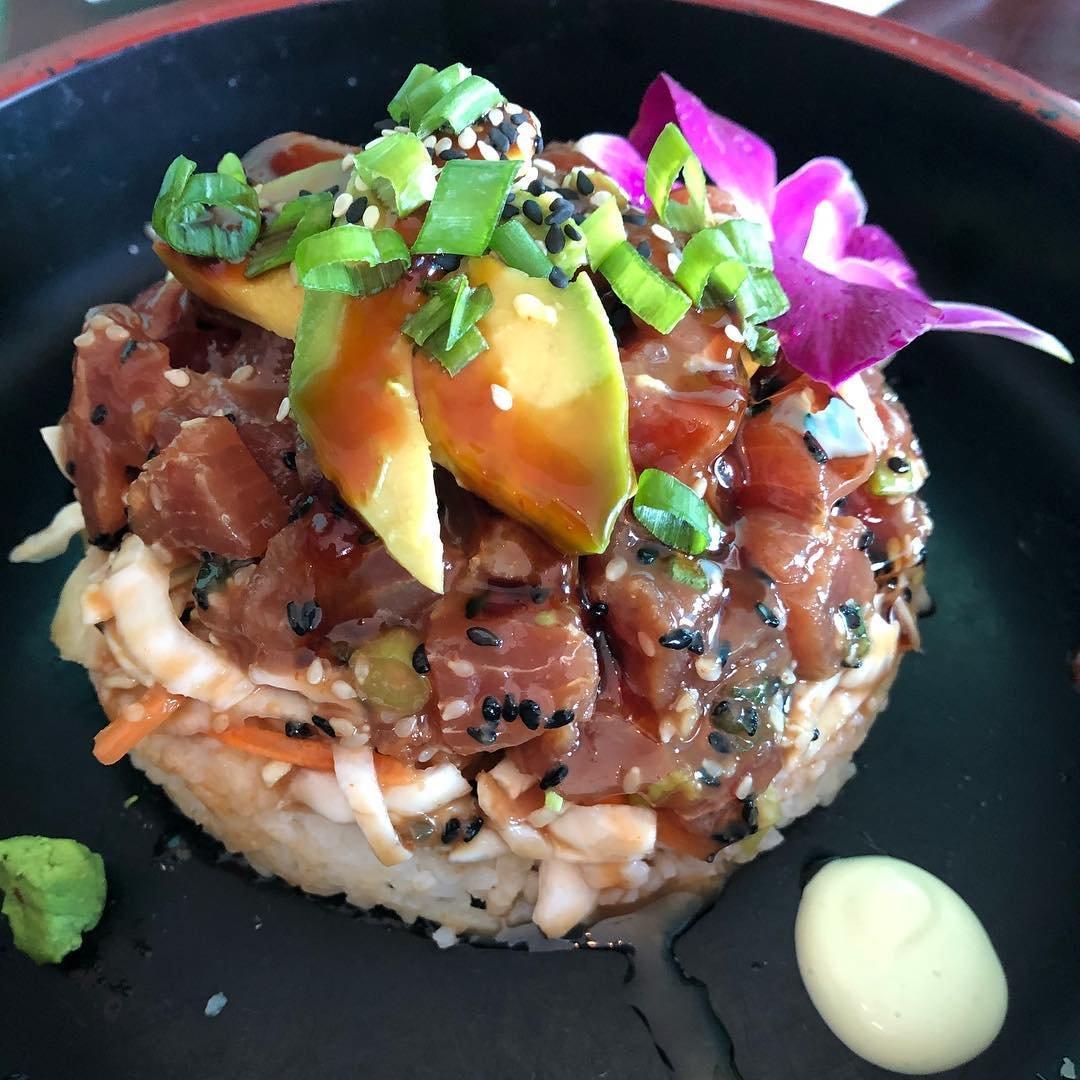 No trip to Palm Coast and the Flagler Beaches is complete without a visit to the iconic restaurant, so be sure to put it on your list.  The Funky Pelican has an outdoor deck that offers panoramic views of the Atlantic Ocean, and the recently renovated interior provides a break from the Florida heat. Funky Pelican opens at 7 a.m. every day, and there's no better place for breakfast while you watch the sunrise over the ocean. But if you are in the mood to sleep in (it IS vacation, after all) Maddie's shrimp and grits are on the all-day dining menu. For lunch or dinner start with the ahi tuna tower, which comes with Asian slaw and pineapple mango salsa. Another highlight is the catch of the day, which is the freshest fish of the day prepared to your liking and served with yellow rice and vegetables. The restaurant also has food and drink specials during its daily "funky hour" from 4 to 6 p.m.
Hungry yet? Make these stop part of your list for sea to table dining in Flagler.