Blessed with more than 500 lakes, a theme park resort, and two professional sports teams, Central Florida's Polk County has plenty to keep the average family entertained. But for those who'd rather get their hands dirty digging up fossils, pluck an orange fresh from the tree, smell the aromas of candies being made following century-old recipes, or gaze at the kaleidoscopic rays of light reflecting off the walls of a famed architect's prized work, we're a great vacation stop for the extraordinary family as well. Roam off the beaten path and you'll quickly realize why we're known as Florida's Sweetest Spot.
Dig Up Some Ancient History
Phosphate – found in a layer of Earth where mastodons and giant ground sloths once roamed – is key to modern fertilizers. Its use has allowed farmers to produce nearly twice the number of crops on the same number of acres as were used in the 1950s, leading the United States to become the "breadbasket to the world." Today, more than 75 percent of the phosphate used in the United States comes from Florida – and Central Florida contains one the largest concentrations of phosphate in the nation.
A visit to the Mulberry Phosphate Museum is a lesson about one of the nation's core agricultural industries with a dash of dinosaurs, fossils, and more mixed in.
This walking tour starts with the Phosphate Gallery, where visitors learn about where it is found, how it is mined, and that it is used in everything from batteries to food, fertilizer, and more.
Next, you enter the Historic Railroad Gallery, where you'll learn more about the intertwined history of rail lines, phosphate, citrus, and Polk County.
But the real star is the Fossil Gallery, where you'll find creatures as large as mastodons, as strange as three-toed horses, and as surprising as great white sharks. Here, you don't just look at the fossils, you can try your luck at finding one by sifting through the museum's outdoor exhibit. The cool part? You get to keep what you find.
Open Tuesday through Saturday, 9 a.m. to 5 p.m., admission is free, but donations are accepted. The Mulberry Phosphate Museum is located at 101 S.E. 1st Street in Mulberry.
A Taste of Old Florida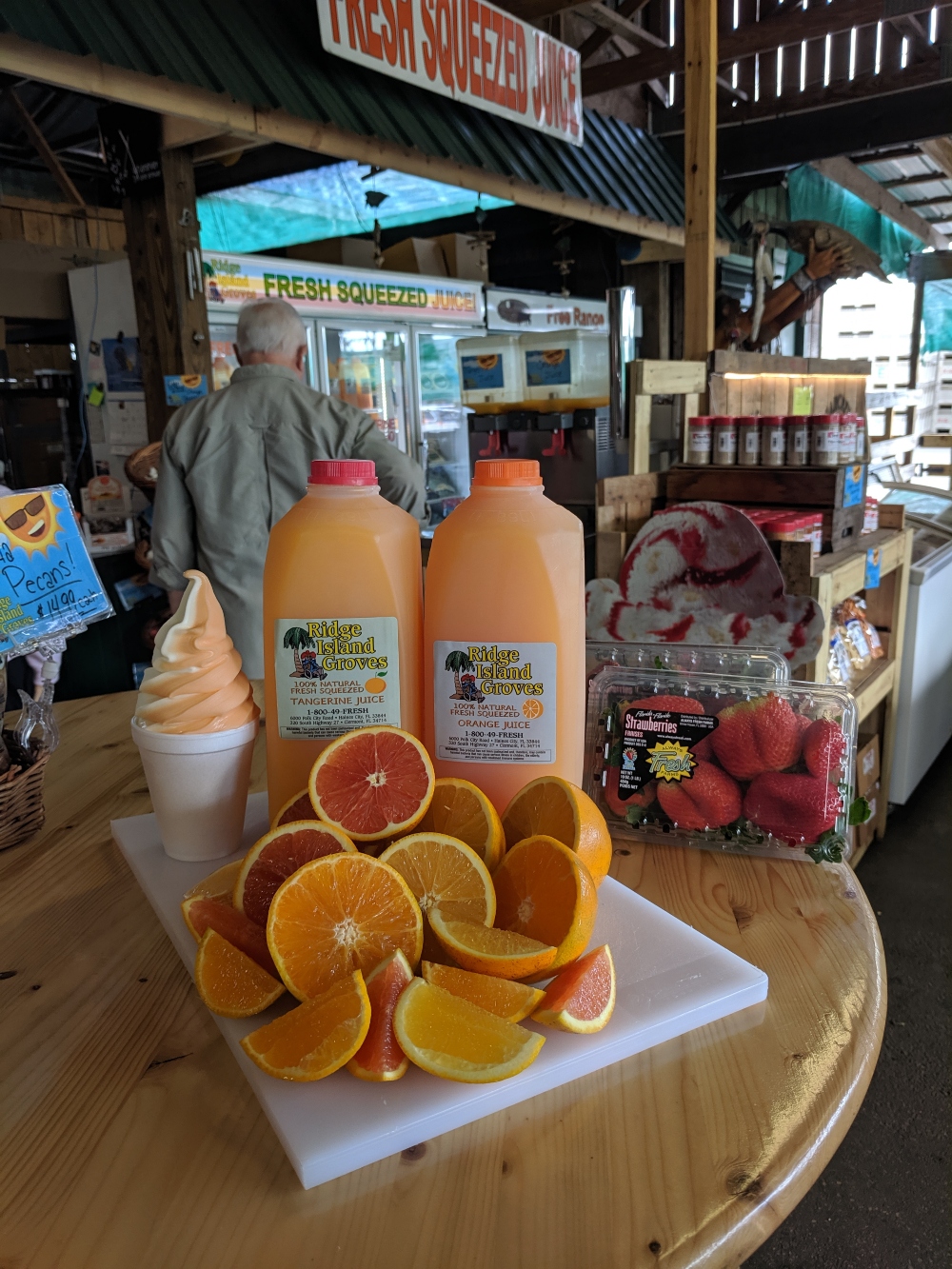 Once upon a time, in a Florida that today seems far, far away, roadside citrus stands were as common as drug stores and gas stations. Today, most have been replaced with, well – drug stores and gas stations.
But not in Haines City.
Here, you'll find a place that harkens back to the orange blossom-scented air of the Sunshine State's youth. At family-owned and operated Ridge Island Groves, you can ship citrus to loved ones around the United States, grab fresh orange juice or custom-made citrus-flavored soft-serve ice cream, and even purchase a citrus-inspired gift on the way out.
For a different experience, take a grove tour to learn the inner workings and challenges the modern citrus industry faces. At Ridge Island Groves you'll not only learn what it takes to grow oranges, grapefruit, tangerines, and Honeybell tangelos, but also blueberries, strawberries, and peaches. Tours here are often conducted not by just an employee, but a member of the Ritch family. An old Florida stop doesn't get much tastier than this.
Ridge Island Groves is at 6000 Old Polk City Road in Haines City. Open from 9 a.m. to 5 p.m. Monday through Saturday. See ridgeislandgroves.com for more information.
How Sweet It Is
A family-owned candy factory, Davidson of Dundee is the definitive stop for anyone with a sweet tooth. Welcome back to the bygone days of coconut patties and citrus jellied bites, when candy and other sweets were crafted by hand.
Featured on television programs from the Food Network to Fox News, and publications as varied as Southern Living and the Washington Post, Davidson of Dundee makes everything the old-fashioned way – one batch at a time, based on recipes that are nearly 100 years old. In fact, they've been in business at the same location since 1967.
While you are there, ask anyone around for a free tour. Not only will you get to enjoy your share of always-appreciated free samples, but you'll also watch many of those sweet treats come to life the old way – in copper kettles and hand-stirred with wooden paddles. You'll find a wide variety of marmalades, jellies, conserves, citrus candies, chocolates, coconut patties, pralines and more. Davidson of Dundee is a citrus candy factory, marmalade factory and fruit packing house all at one location. They are open year-round, but hours vary by season. Davidson of Dundee is at 28421 US 27 in Dundee. For more information, visit www.davidsonofdundee.com.
The Child of the Sun rises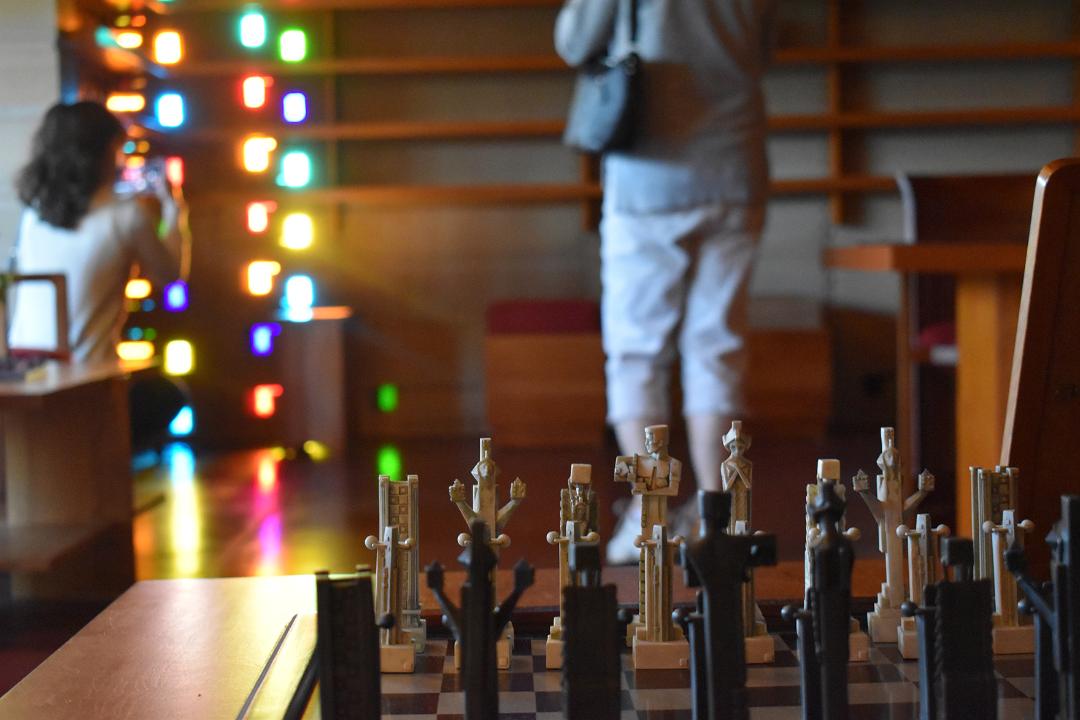 Of course, when you think of Florida, you think of oranges. But how about a college whose fabled architect designed it to look like a citrus grove?
More than 80 years after then-campus president Ludd M. Spivey convinced famed architect Frank Lloyd Wright to construct his "College of Tomorrow" on the grounds of Florida Southern College in Lakeland, people still visit from around the world to see the largest one-site collection of the architect's work.
Envisioning the campus rising out of the ground, Wright dubbed it the "Child of the Sun." The buildings, constructed of concrete blocks with native sands and shells added, also have square pieces of glass embedded in the blocks. When struck by direct sunlight, the glass inside the blocks cast an array of kaleidoscopic beams throughout inside, dazzling even those who have witnessed it before. Wright laid out the buildings in a manner inspired by the orange groves he walked through.
Still considered one of the country's most striking campuses, no matter if you choose to take a guided tour or explore on your own, you're sure to leave inspired. Don't miss the crown jewel, the Annie Pfeiffer Chapel or Wright's recently brought-to-life piece of domestic bliss, the Usonian House. For the latest information on campus tours, click here.
From Farmer's Market to Saturday Must Stop
What started as a booth at the Saturday Lakeland Farmer's Market has grown into an early morning rite of passage for folks in the Central Florida area. From European-style pastries and bread to cheesecakes, biscuits, croissants, cookies, and cruffins – a hybrid between a croissant and a muffin – you'll quickly see why people stand in line, often around the block, for treats from Born & Bread Bakehouse.
The popular bakery, located in the heart of the Dixieland neighborhood of Lakeland just steps from Florida Southern College, often sees folks line up around the block to taste its offerings. Owned and operated by Jenn Smurr, Born & Bread is likely the city's best-known food destination. But it was a change of life for Smurr, who detoured from the fashion industry into baking after a trip to Europe.
Lunch offerings include sandwiches on sourdough bread, five-cheese grilled cheese with tomato soup, a Cuban croissant, pot pies, and salads.
Open only on Saturdays from 8 a.m. to 1 p.m. and Wednesdays from 7 a.m. to 2 p.m., but ordering online in advance is highly recommended.
No matter what you have in mind as you visit The Sunshine State, a visit to Florida would be incomplete without a visit to Central Florida's Polk County, the state's sweetest spot. Go to www.VisitCentralFlorida.org to plan your vacation in Central Florida's Polk County. SO take a chance, roam off the beaten path and experience Florida like never before.