Do you feel it yet? That New Year vibe, full of potential and promise for a thrilling 12 months ahead? You do, and Real Florida Adventures couldn't be more excited about the prospect of their first full year. Founded in 2020, they are very much a company that's about the new and forward-thinking. They welcome a completely fresh calendar and another chance to show visitors what locals most love about Florida – as much of it as possible.
So, yes, it is here; in the air and, especially, in the water. This is a time to look ahead and revel in the adventures to come; real Florida adventures, of course.
So, now on to what this time of year is most renowned for – manatees. And not just a few of them, either. This is Manatee Season, and that means literally hundreds of these fascinating creatures in Florida's inland waterways and springs, all jostling together to enjoy the guaranteed warmth that is in short supply off of the main coasts at this time of year. A New Year means new Manatee Experiences!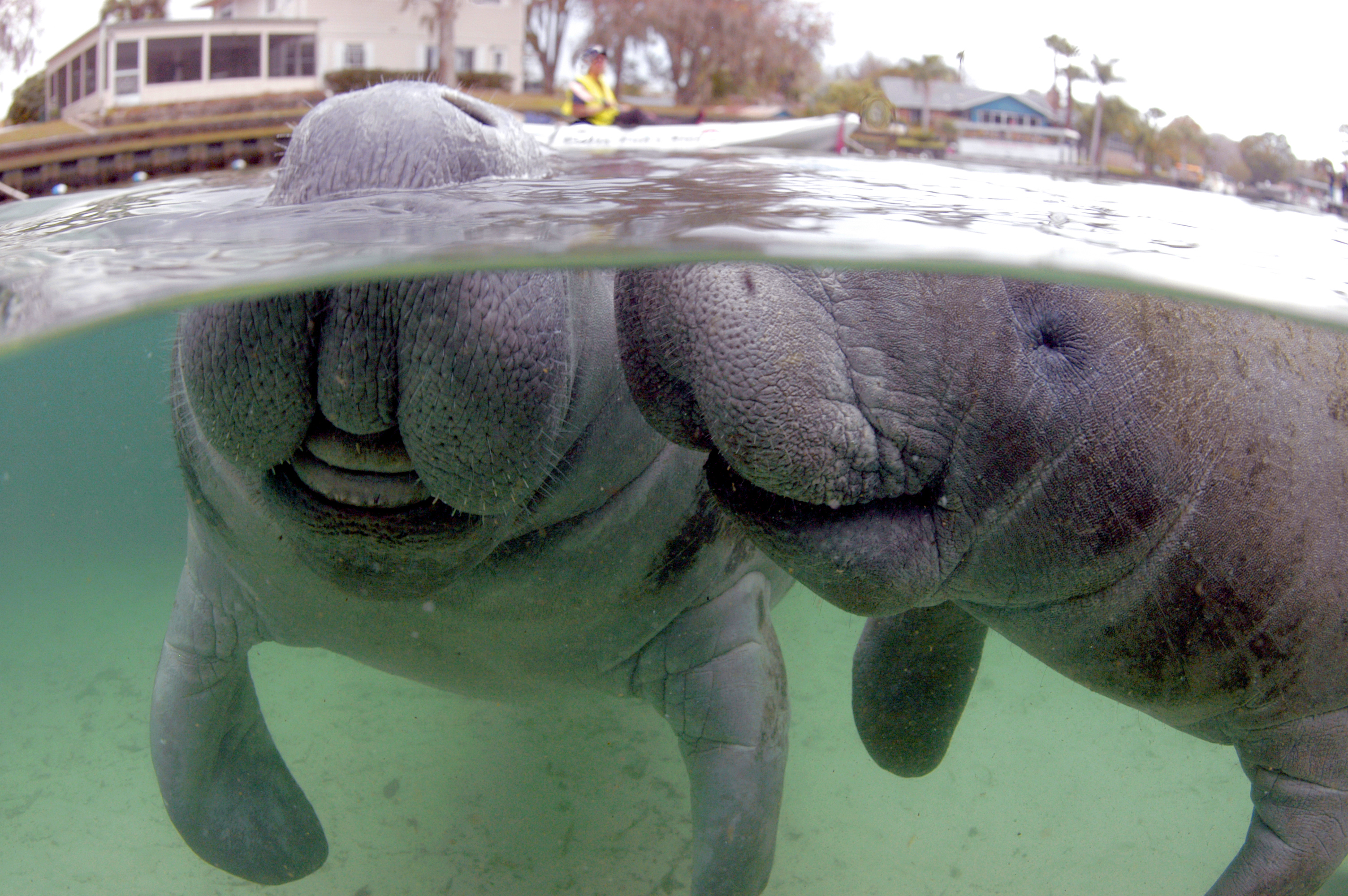 Manatees need a guaranteed 68F and above to avoid chronic cold stress syndrome (basically, maritime frostbite for warm-water animals), hence they head into the rivers and canals that are spring-fed and offer a year-round temperature that prevents them from becoming overgrown sea-popsicles.
The 'season' is officially from the end of November to late March, but January, being the coldest month – averaging barely 70F but also dropping into the 30s occasionally – means mass manatee time as they crowd into places like Three Sisters Springs in Crystal River, where the underground springs bubble up and maintain a constant 72F.
Three Sisters holds the world record for the most manatees in one place at the same time – a mind-boggling 528 in the winter of 2014/15 – and you could certainly dub it Manatee Central thanks to that watery warmth.
This is good for the animals themselves, and it's even better for Real Florida Adventures as a company that specializes in taking guests to the epicenter of Florida nature. While there is rarely a shortage of these gentle, blubbery bundles of curiosity on our year-round tours, to have them in such abundance is a rare and deeply satisfying experience.
And this is where the all-day Real Florida Adventures Tour (from $139 per person, on this link) really comes into its own. Not only do they take you in total comfort on the smooth 80-mile drive from Orlando to Crystal River, providing a tasty breakfast to kick things off, but they also deliver you into the midst of this manatee-fest at the perfect time to get the full nature vibe, up close and personal.
They will get you fully kitted out in wetsuit, mask, and snorkel* and take you off for an adventure unlike any other under the full supervision of a Coast Guard Certified boat captain, right in the middle of this astounding natural environment, where you can snorkel alongside the headline animals themselves.
It is a full 2-hour experience and will leave you breathless with the underwater wonder of being in the manatees' world of Kings Bay, which forms the headwaters of Crystal River from the various pristine springs that bubble up here, including Three Sisters.
As if that isn't enough in itself to constitute a genuine Floridian excursion on the wildlife side, Real Florida Adventures will then whisk your group away to nearby Homosassa Springs State Park for more encounters with Florida's natural side. This 210-acre preserve offers a look at the endangered Florida panther and black bears, as well as those not-quite-so-cuddly alligators and turtles that all go into making this such a wildlife-rich destination.
Lunch is provided, and there is also time to check out the amazing Fish Bowl, an underwater viewing platform that provides another view of the park.
Finally, your super-memorable day will conclude with an exciting airboat ride on the Withlacoochee River, another typical state water haven where you can see more animals in their natural habitat and enjoy the thrill of skimming the water at up to 45mph in these exhilarating, flat-bottomed craft.
Sound good? And this still isn't doing it justice.
It should also be pointed out that Real Florida Adventures continue to operate small, semi-private excursions in order to be extra careful with Covid compliance, and continue to go the extra mile with strict mitigation procedures. While they want their guests to get the full Florida experience, they don't want that to include anything that isn't a natural part of the state.
One last reason they are gung-ho for 2021 is more prosaic, but still, good news, in that they have just taken delivery of two brand new vehicles in the full Real Florida Adventures livery. This adds extra comfort to the fleet and ensures they can conduct visitors on all their tours in the utmost style.
* NB: any person wishing to do the manatee swim must hire a wetsuit prior to boat departure. Snorkel equipment is provided free.