When it comes to the heart of Florida, most potential visitors think theme parks – and the long lines that come with them.
But it doesn't have to be that way.
Instead of sticking to the theme park script, why not take a gander at mind-bending architecture, or visit a one-of-a-kind nature reserve. Heck, why not stop at a haunted hill or visit a singing tower?
Welcome to Central Florida's Polk County, where you can enjoy the best of Florida while leaving the rest of Florida behind.
Take in Some Nature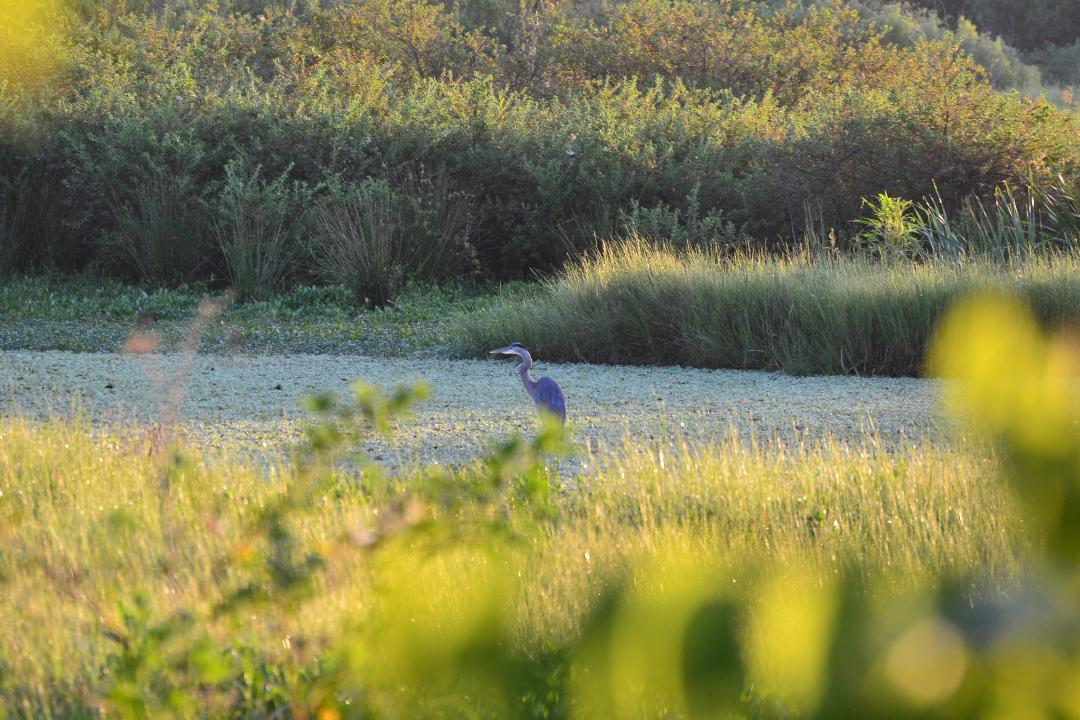 If the state's most popular reptile is on your must-see list, the world-renowned Circle B Bar Reserve, often on the top list of nature reserves in the nation, is the place. Perhaps the best place to observe alligators in the wild, Circle B Bar Reserve is comprised of nearly 1,300 acres. Featuring numerous trails, the most popular trail in the park is, without a doubt, Alligator Alley Trail.
Running along alligator-inhabited Lake Hancock, the star attractions are observed at a distance from shore or from a number of piers. Ranging in size from mere inches to nearly as long as your average hatchback car, the alligators are at home in the oak hammock, freshwater marsh, hardwood swamp and the lakeshore on the reserve.
With all the alligators around, it's the perfect place to bring a camera – but don't miss out on everything else around you. Circle B Bar Reserve, with a series of well-maintained marked trails of different lengths, provides countless opportunities for photographers and painters looking to capture the beauty of nature. The tremendous bird population includes a variety of wading birds, waterfowl, ospreys and bald eagles.
No matter your fitness level – or how hot it is – there is a trail that'll be just the right length for you. The extensive trail system includes the Shady Oak Trail (1.3 miles), Lost Bridge Trail (0.5 miles); Alligator Alley (1.0 miles); Marsh Rabbit Run (0.7 miles); Heron Hideout (0.5 miles), Eagle Roost (0.7 miles), Wading Bird Way (0.7 miles), Windmill Whisper (0.4 miles) and the Otter Trail (0.2 miles). Many of the trails interconnect to provide for longer hiking or biking opportunities.
Innovative Learning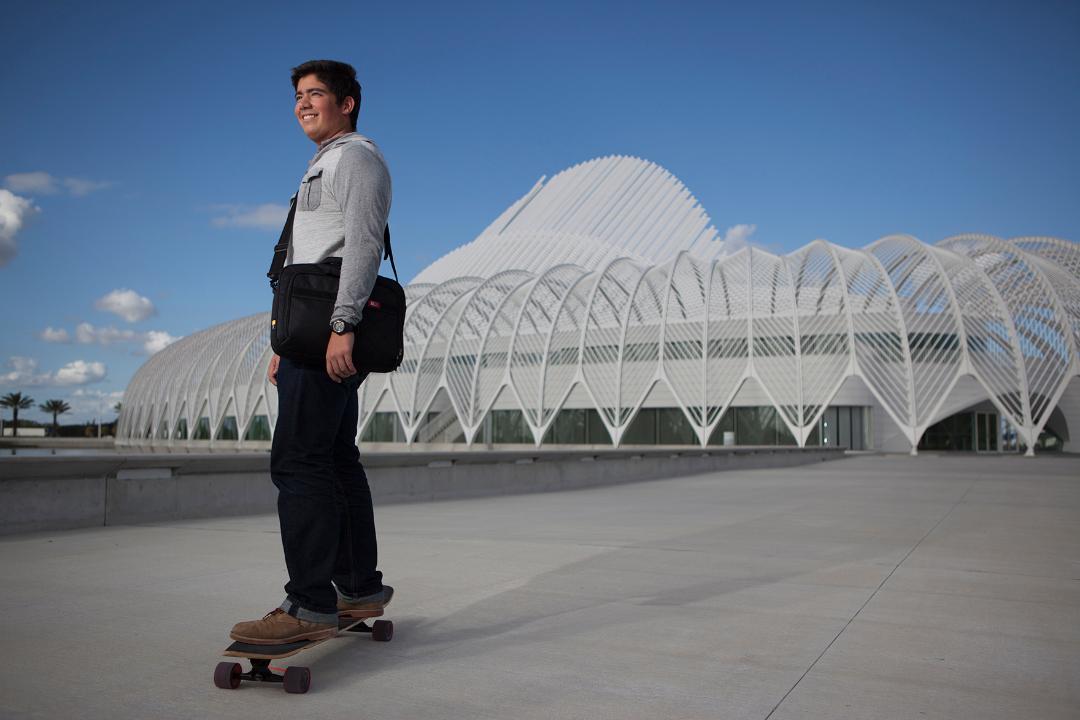 Rising up from the flat, veldt-like terrain outside of Lakeland – and just minutes from Circle B – is an architectural feat unlike any other in the Southeastern United States. Welcome to the grounds of Florida Polytechnic University and its signature Innovation, Science and Technology Building designed by famed architect Santiago Calatrava. Featuring arched pergolas and operable louvres, the building actually changes during the day as the moving louvres keep the students below in the shade.
Considered a working piece of avant-garde architecture, the complex houses Florida's only state university focused on science, technology, engineering and mathematics. A few of Calatrava's other works include the World Trade Center Transportation Hub in New York City, Garde de Oriente in Portugal, Reggio Emilia AV Mediopadana in Italy and the Museu do Amanha in Brazil, as well as the under-construction Greenwich Peninsula project in London.
The Innovation, Science and Technology Building earned more than 20 architectural and engineering awards. For visitors, the white arcs and lines contrast nicely against Central Florida's typical blue skies, making the grounds one of the most photographed – and Instagrammed – locations in the area.
Does Rapunzel Live Here?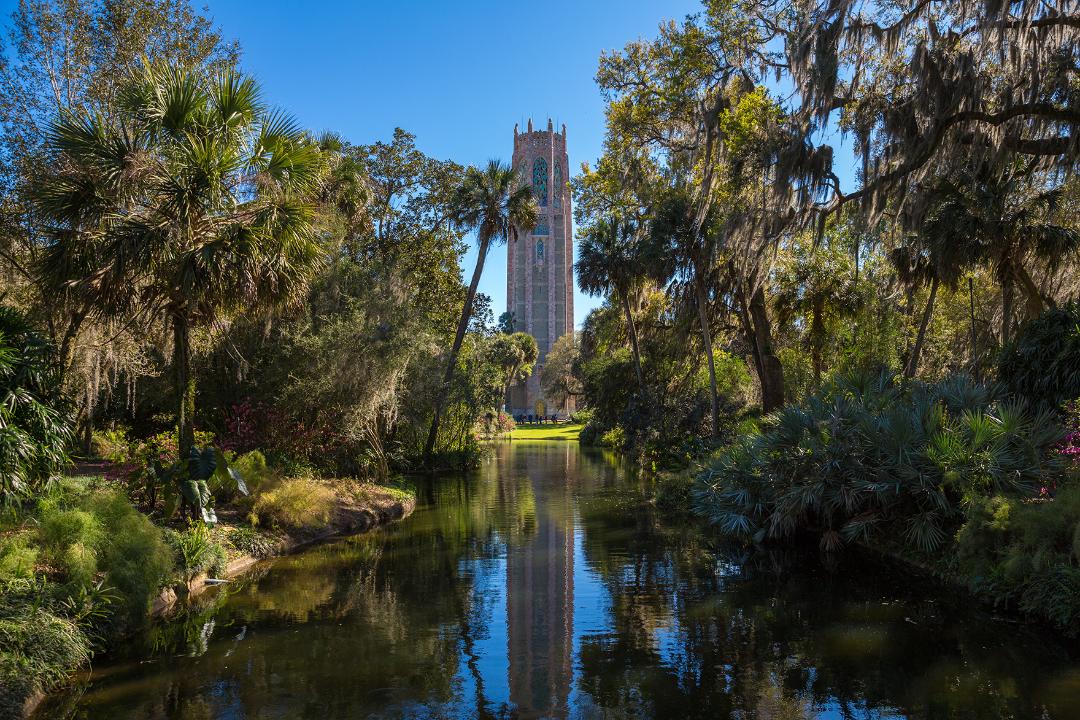 Since we're talking about pictures, perhaps luscious gardens and sweeping vistas are more your styles. If so, visit Lake Wales' world-famous 205-foot art deco and neo-Gothic legend, Bok Tower. Built upon the highest elevation in peninsular Florida, guests can stroll in the shadow of the tower that houses a carillon – and instrument comprised of a series of bells played by a keyboard.
Listed on the National Register of Historic Places, Bok Tower Gardens is the lasting work of Edward Bok, a Dutch immigrant. Bok, a journalist by trade, won the Pulitzer Prize in 1920 for his autobiography. Before that, Bok had risen to fame and influence as the editor of The Ladies' Home Journal, which became the first magazine in the world with one million subscribers under his leadership. His wife was the founder of a music institute in Philadelphia.
The Boks commissioned Frederick Law Olmsted – the man who designed Central Park in New York City and Stanford University in California – to design it. Opening more than five years later, Bok Tower Gardens were dedicated by then-President Calvin Coolidge in 1929. Built on Iron Mountain, what was once a desolate sandhill was transformed into a 250-acre lush tropical landscape that is both a contemplative garden as well as a bird sanctuary.
A recent addition to the grounds is Hammock Hollow, 2.7 acres of childhood delight featuring water areas, bridges, tunnels and an indigo snake sculptured sandbox. Not far away are areas for kids to climb logs, an outdoor stage area, art and music zones, and even a working hand-pumped well.
Get Spooked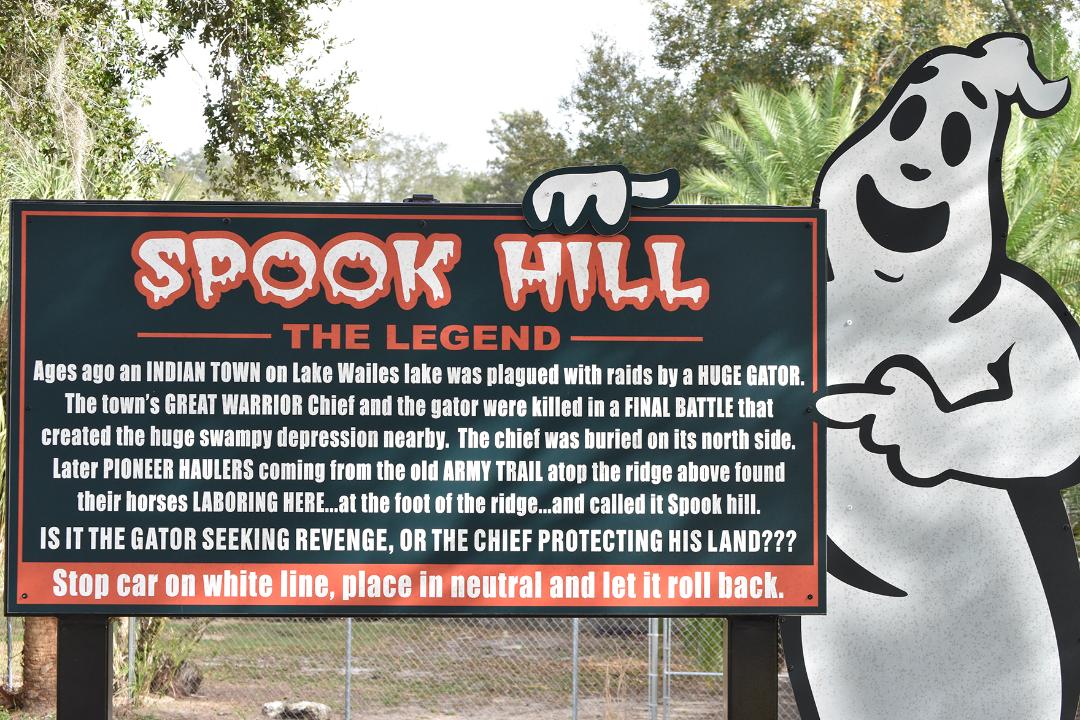 If you would rather scare up a little bit of Old Florida, go out to Spook Hill in Lake Wales. Legend has it that the hills are the site of a battle between a giant alligator and a Native American chieftain. Years later, riders using the old trail around the lake discovered their horses laboring when traveling what appeared to be a downhill route. With the advent of the automobile, residents found that their cars defied gravity and seemed to roll uphill by themselves. Could it be the ancient ghost of the chief?
The only one of its kind in Florida, mystery hills or gravity hills are located throughout the world, however, there are less than 50 in the entire United States.
So take a day or two, leave the theme parks and beaches behind and explore the best the Sunshine State has to offer in Polk County. For more Central Florida vacation ideas, visit www.visitcentralflorida.org.