There may not be a beach, but there is plenty to do on the water in Central Florida. With more than 550 lakes encompassing 213 square miles – 550 square kilometers for the rest of the world – Central Florida's Polk County has plenty of wide-open spaces for fun on the water. From sailing to swimming to just about anything else, Polk County is a water lover's dream.  Especially if that love is of water skiing.
However, up until now, you needed a boat. That's no longer the case for wakeboarders and water skiers as they cut through the rippling waters of Lake Myrtle in Auburndale at the Elite Cable Park. Offering all the excitement of being out on the water, the need for a boat is eliminated thanks to a series of overhead cables – kind of like a ski lift, minus the lift and the snow. Participants simply grab onto the handle and hold on, enjoying all the action of wakeboarding or waterskiing, complete with ramps and obstacles if they so choose.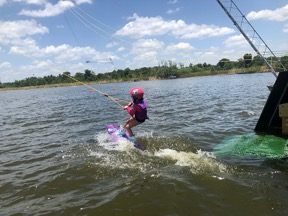 Located just minutes from the theme parks of Orlando, Elite Cable Park features a" Get Up" Guarantee program. Designed to create the best experience, new riders can take advantage of a one-on-one learning session with a staff member to master the art of standing in a practice area before venturing out into the cable park. Sharing the same building is Tantrum's Lakeside Grill.  Named after a classic wakeboarding trick, the eatery features hand-friendly favorites such as burgers, hot dogs, tacos and tater tots. Non-wakeboarding customers can enjoy watching the thrill-seekers – and an adult beverage – from the shade of the deck.
The park is the first phase that will ultimately include the headquarters for USA Water Ski and Wake Sports Foundation Water Sports Complex and Training Center. That complex will include a hall of fame, a manmade championship event water sports lake and an adaptive water sports center. Future expansion, including sites for a manmade surf park and hotels, is planned. If you'd like to try traditional water skiing, you don't have far to go. Just minutes away is Polk County's second-largest city, Winter Haven, known as the Water Ski Capital of the World. Yet another reason Polk County is a water lover's dream.
German natives Nancy Hirschfeld and Karsten Fahlbusch found Winter Haven through a water ski school recommendation. More than a decade later, they still return twice a year. "We were part of a German water ski show team," said Nancy. "We visited a team in Fort Myers in 2004. When I asked them where I could learn swivel skiing, they directed me to Winter Haven." A visit to Winter Haven's Chain of Lakes, comprised of more than 20 different bodies of water, and they were hooked. "We love the chain, and the ability to train from sunrise to sunset," she said, adding that waterway laws in much of Europe greatly restrict their ability to be on the water. "This is something we cannot do in Germany."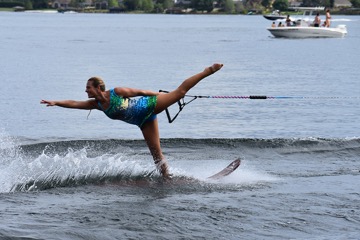 Hirshfeld and her husband Karsten – along with a team of fellow Germans – trained in Winter Haven last year before the 2018 World Water Ski Show Tournament in Ontario, Canada. With a number of public boat launch sites and more than a few places where boat rentals are available, the waters of Winter Haven beckon. Or, if you'd like to learn what some compare to ballet on the water yourself, there are plenty of facilities to choose from, such as the World Barefoot Center in Winter Haven. With an international cast of instructors, the center welcomes both amateurs and professionals.
"The vast majority of our customers come here for instruction," said Ben Groen, a native of New Zealand and a WBC instructor. "It's a proven method and proven success." A good portion of his customers are from out of town.
"In April we had folks from Canada, Australia, New Zealand, Italy, Germany, Belgium. Even Iceland," said Groen. "Part of it is that our staff of instructors is international as well, but certainly part of it is that Central Florida in general and Winter Haven, in particular, is the greatest place to water ski in the world." Water skiing, explained Groen, has a history of giving back to the sport. "Everyone who water skis remembers the first person who showed them something," he said. "So sure, sometimes we train people we compete against. Each instructor here is a champion in their own discipline, and Swampy Bouchard, he coaches all of us."
Located along Lake Conine, the staff includes numerous world champion record holder Australian Ashleigh Stebbeings, numerous title and record holder David Small of Great Britain, legendary instructor Bouchard from the United States and multiple medalist Groen. "We have so many champions, we have some folks who come here just to say they water skied with one," said Groen. "About 50 percent of our instruction is individuals."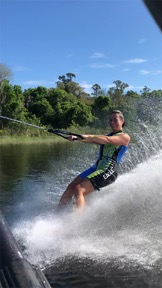 And while they may be on the water, even water skiers prefer not to ski in the summer. "Springtime is when we get most of our Europeans," he said. "In October, we mostly get individuals, although we've had everyone down here from the French barefoot team to the Germans."
According to Groen, many water skiers return time and time again. Take water skier Nancy Hershfield, for instance. "Now, when the plane lands at the airport here, we say we are home," she said. "We're home again." Proving, once and for all, that Polk County is a water lover's dream.
To learn more about everything a vacation in Central Florida's Polk County has to offer, visit www.visitcentralflorida.org.