Let's face it! Pizza is the perfect meal for any occasion. We can't think of a single instance where pizza night isn't a great option and on International Drive, finding the perfect pie is easy! If you find yourself craving a slice of deliciousness during your next trip to Orlando's Most Dynamic Neighborhood, check out these 5 popular pizza joints for a pizza night that won't disappoint!
New York Style Pizza in the Heart of Orlando

Kings Pizza offers a Manhattan-themed pizza joint for family and friends to gather around and bond over a delicious large pie of pizza!
Aside from notable specialty pizzas like Hawaiian, BBQ Chicken, Buffalo Chicken, Supreme, Meat Lover, and Veggie Lover pies, they also spin more unique pizzas like their Arugula and Prosciutto pie! If you or someone in your group has dietary restrictions, you'll also find a delicious vegan cheese pizza and gluten-free pies on their menu. Plus, if someone in your group is feeling something different, they also offer a variety of calzones, specialty salads, baked wings, and desserts like cheesecake and chocolate cake!
If you're looking for a large NY-style pizza while in Orlando, head to King's Pizza for your next pizza night.
Chicago Deep-Dish Pizza Lovers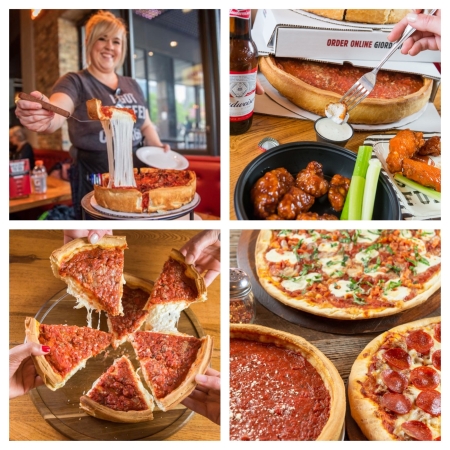 Giordano's offers a unique, fun-loving dining atmosphere that offers an array of famous sandwiches, salads, pasta, appetizers, entrees, and desserts – but the main attraction is their famous stuffed pizza!
It all started with Mama Giordano cooking up pizzas in a small town in northern Italy near Torino. Of all her renowned dishes, her most beloved meal was her "Italian Easter Pie", a double-crusted, cheese-stuffed masterpiece served on special occasions. This pie became a sacred tradition in the Giordano family and a legend in the town of Torino. Years later, in 1974, Giordano's opened their first location in Chicago serving up their famous stuffed pies. Over 40 years later, they've opened multiple locations nationwide and have served millions of happy customers, is called the city's "best-stuffed pizza," by hundreds of critics!
The deep-dish pizzas at Giordano's are famous but don't just take our word for it. Next time you do pizza night in Orlando, head here to taste why these stuffed pizzas have made headlines year after year for yourself!
A Man and His Pan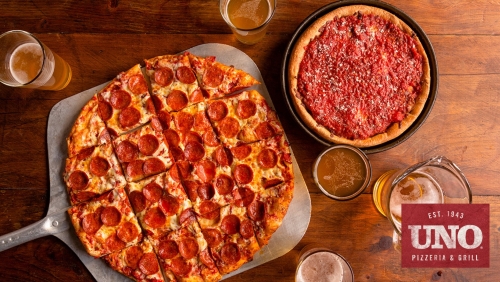 Uno Pizzeria was founded in 1943 by Ike Sewell, who was tired of pizza falling flat of his expectations. He set out to invent a pizza unlike any seen before, delivered big, bold flavors, rich, rewarding experiences, and of course, unbelievably delicious pizza!
From their legendary deep-dish pizzas to their Chicago thin crust pizzas and all of the burgers, pasta, appetizers, signature salads, and entrees in between – there's no doubt everyone in your group will find the perfect bite here.
All of their pizzas are crafted with quality toppings and fresh dough made daily, and you can taste the difference. But what's more is that aside from your traditional pizza favorites, you'll find a full menu of specialty pizzas that are each uniquely satisfying. For those who want to try their hand at creating their very own pizza masterpiece, both their deep dish and thin crust pizzas come with a build-your-own option!
Check out their full menu here, and try not to drool on your device too much.
Pizza & Beer – A Match Made in Heaven

With over 120 menu items, 50 craft beers, and 1 unbeatable attitude, there's something for everyone at BJ's Restaurant, but many don't know that BJ's actually started as a pizza place back in 1978, and still offers their incredibly popular Chicago-style pizza infused with a Southern California twist.
Served in a hot pan fresh from the oven, there's no question why so many pizza lovers take to BJ's Brewhouse for the perfect pie. Is deep dish not your style? They also have thin crust, tavern-cut style pizzas that are sure to satisfy. Gluten-sensitive? Don't fret, all of their pizzas can be made with a gluten-free crust.
Choose one of their signature creations, or have fun creating your own using their fresh, high-quality ingredients, either way, you're sure to enjoy pizza night at BJS.
*Pro Tip: Be sure to save room for dessert and order one of their famous Pizookies for the ultimate sweet indulgence.
Jimmy's – Where You Can Have It All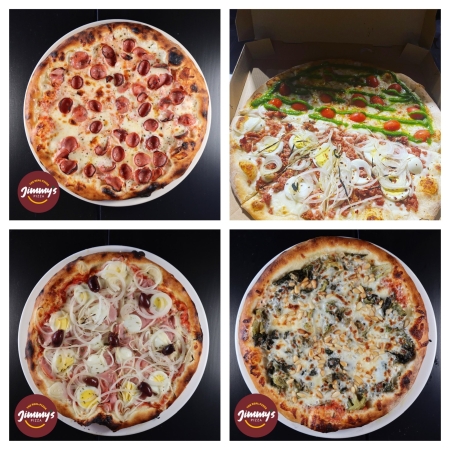 Committed to freshness, quality ingredients, and quick service whether you're dining in, having a pie delivered to your hotel room or home for a relaxing evening, or want to pick something up for take-out, Jimmy's Pizza has you covered.
Switch up pizza night with a delicious pie of authentic Brazilian pizza, and trust us, once you see the large variety of unique specialty pizza offerings, the hardest part of pizza night at Jimmy's will be choosing which pizza to order. But they were made to deliver and deliver within 10 miles of their location, which means digging into your favorite fresh-baked Brazilian pizza pie (or trying a new one) while on I-Drive is easier than ever!
Pizza. It's easy, it's delicious, and it's always satisfying! Next time you're looking to indulge in a pizza night on I-Drive, head to these five popular pizza stops to enjoy the perfect slice!