Orlando Attractions Update – Pleasing everyone when it comes to a dinner show is difficult – unless you happen to find 4 different shows at one convenient location! At Pirates Town that's exactly what they have on offer – from action packed & family friendly to ribald and risqué!  With all 4 shows dinner is included and there's boat loads of fun with the entire family!
Set aboard an authentically replicated 18th-century Spanish galleon measuring 46 feet long, 18 feet wide with 40-foot masts, the ship is anchored in a 300,000-gallon indoor lagoon with night sky lighting. Surrounding the lagoon is a six-sided showroom of six additional ships where the audience is seated.
Voyagers on each of the six ships have their own fearless pirate mascot whom they cheer on as the adventure unfolds with a cast of a dozen actors, singers and stunt performers engaging in a bounty of action-packed exploits, accompanied by cannon blasts, pyrotechnics and plenty of laughs.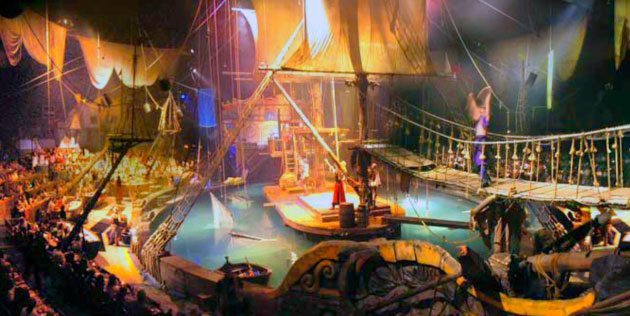 In addition, more than 150 guests have the chance to play an actual role in each show as the evil Captain Sebastian the Black leads his crews of renegades on a swashbuckling adventure before your very eyes! Great for all ages! Three Course meal and beverages included. Watch Video  |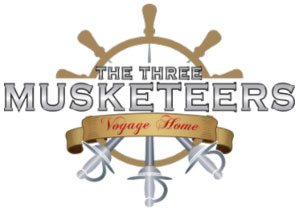 This legendary story by the French author Alexander Dumas comes to life inside the Pirate's Dinner Adventure arena with rip-roaring sword fights, exquisite French cuisine and more romance and gallantry on stage than has ever been seen before. Come and experience this high energy, action packed adventure replete with charming characters, fierce sword fights, daring stunts, aerial acts, music, and more! Join us as we recount the epic story of Athos, Porthos, Aramis, and, of course, D'Artagnan, in a whole new musical way with hits from the 80's through today! Great for all ages! Three Course meal and beverages included.
Watch Video |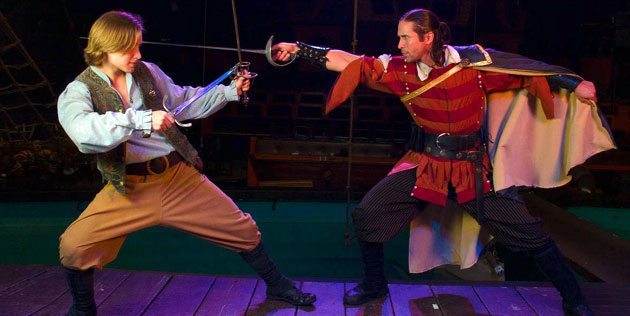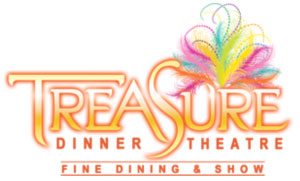 Central Florida nights just got a little hotter thanks to Treasure Tavern Dinner Theatre! While most Orlando attractions work to deliver family fare, Treasure Tavern urges its guests to leave the kids at home and enjoy an evening that is custom created for grown-ups looking for naughty but good-natured fun. At heart Treasure Tavern is a classic, European style variety show featuring entertainment from around the world. A quick-change act from Russia and acrobats from Eastern Europe are just a few of the unusual and spectacular offerings that grace the stage. The food service is certainly something you won't get to experience anywhere else in Central Florida! Each of the evenings four upscale courses are delivered through lavish musical numbers performed by the dancing and singing "Jewels" who dance right up to the table in true cabaret style as they serve your meal.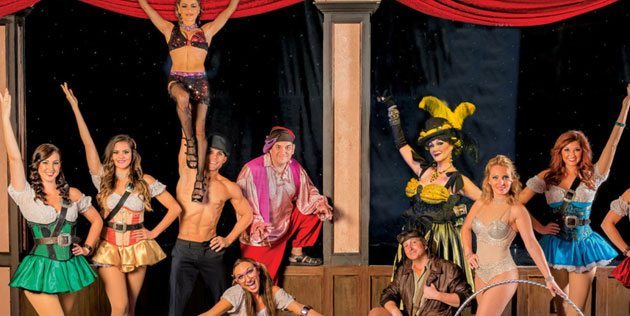 The Jewels may be a staple at Treasure Tavern, but many of the other acts are slated to change depending on the season, giving guests a reason to come back time and time again. Locals, conventioneers and travelers will find this show to be an experience unlike any other. Four Course meal and beverages included. Adults Only
Watch Video |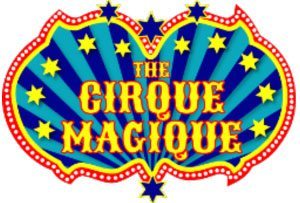 Join Chuckles, Giggles, and Snickers in the Treasure Tavern Theater for fun, laughs and excitement in our very own indoor Big Top Show – Cirque Magique! Be amazed by the artistry of our circus performers from around the world as they entertain you with their interactive, magical and hilariously funny acts. You've Never Been This Close to A Circus Before at The Cirque Magique! Two course meal and beverage included. Great for all ages!