Expect a blaze of excitement in Tampa Bay this coming Spring, as Busch Gardens brings to life a legend with its newest roller coaster "Phoenix Rising," – the park's tenth coaster, and the largest family-friendly addition to the Pantopia area of the park. This exhilarating new experience will have family members soaring above the Serengeti Plain before going on an exploratory journey over the Pantopia region, with its vibrant colours, thrilling attractions, and more. Riders will feel the rush of the wind and thrill of the flight in this suspended roller coaster that enables ride cars and riders to swing side-to-side as the train races along the track high above the Serengeti Plain. "Phoenix Rising" will be the first coaster to feature on-board audio, enhancing the ride experience with a one-of-a-kind soundtrack, integrated into an exhilarating array of twists, turns, and surprises for families riding together.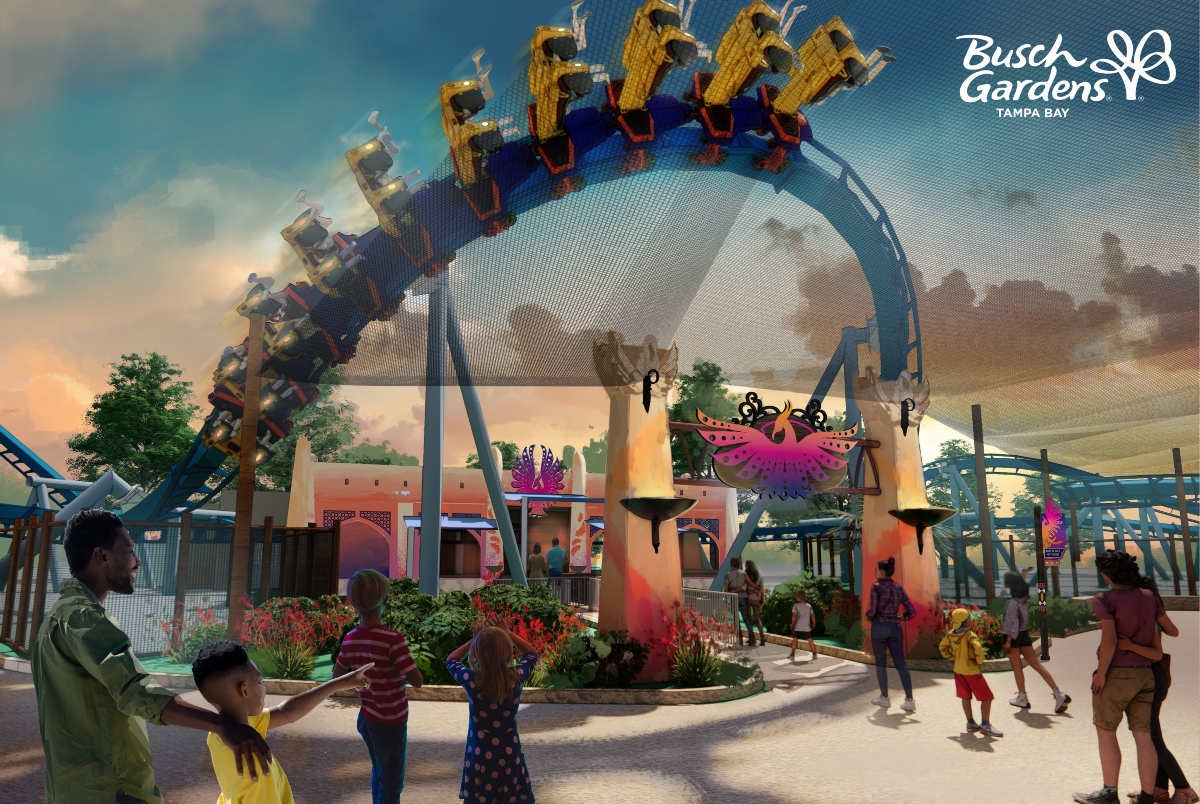 Manufactured by Bolliger & Mabillard, "Phoenix Rising" is a family-friendly suspended roller coaster, travelling at speeds up to 44 miles per hour throughout the 1,831-feet journey. With a minimum height requirement of 42 inches, "Phoenix Rising" will be the perfect attraction for thrill-seeking families to embark on and have fun together.
"Phoenix Rising" will be an extraordinary journey for our seasoned coaster enthusiasts and younger thrill-seekers alike," said Stewart Clark, president of Busch Gardens Tampa Bay. "Joining a comprehensive coaster collection, this new attraction reinforces our commitment to provide guests with new, immersive, and one-of-a-kind experiences."
About Busch Gardens Tampa Bay
Busch Gardens® Tampa Bay is the ultimate family adventure, offering 300 acres of fascinating attractions based on exotic explorations around the world. Busch Gardens is a unique blend of thrilling rides, an AZA accredited zoo with thousands of animals representing more than 200 species, and exciting seasonal events all year providing unrivaled experiences for guests of every age. Busch Gardens is owned by SeaWorld Entertainment, Inc. (NYSE: SEAS), a leading theme park and entertainment company providing experiences that matter and inspiring guests to protect animals and the wild wonders of our world.
GET TICKETS HERE