Tacos! No matter where you're from, how old you are, or what your favorite type of cuisine is, you've had the pleasure of enjoying a taco. They even have a day of the week designated just for them, Taco Tuesday! But if you're a fellow taco lover, you know that any day of the week is a good day for a taco, and that's why we've created a rundown of 5 of the best places to get perfect tacos right on I-Drive!
1. Uncle Julio's

Uncle Julio's is known for bringing the freshest ingredients to the table, to give you an authentic taco experience to remember! Over the 30 years that they've been serving up delicious tacos, they've become a favorite stop for any taco lover, and their location here in Orlando is no different! Enjoy your favorite meal in an inviting and authentic hacienda culture, as you indulge in your fresh and authentic taco, dip into a side of their famous tableside guacamole! Perfectly ripe Hass avocados mixed with onion, tomato, cilantro, and jalapeno, whether you have it added directly to your taco, or on the side with home-made tortilla chips, it is sure to be an experience bursting with flavor!
And while they do top the list for perfect tacos on I-Drive, leave room for the Chocolate Pinata!
2. Chuy's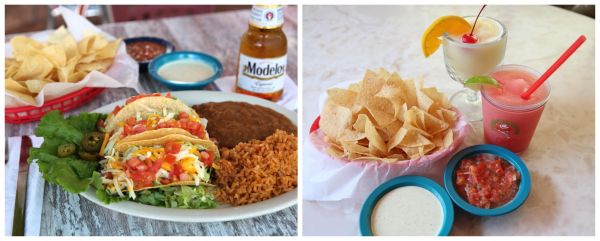 Don't be fooled by the carefree and relaxed dining environment at Chuy's, they take their food very seriously, and their commitment to providing guests with authentic Mexican food using the freshest ingredients is obvious once you've taken a bite of your first taco! With their start in 1982 out of an abandoned Texas barbeque joint in Austin, TX, they were humbled and have been serving up crave-worthy tacos ever since! Their menu features something for everyone, from all of your classic taco favorites, like steak, chicken, and beef to shrimp and fish options and even a vegetarian taco option too! Whether you order a soft or crispy taco, the tortillas are hand-crafted, and will surely hit that incessant taco craving that we all have experienced!
3. Cafe Tu Tu Tango

3 words: Food, Art, and Fun! A meal at Cafe Tu Tu Tango is anything but ordinary! With a menu that is multicultural and appetizer centered, you can enjoy a variety of full flavor foods with friends, while taking in amazing local art, in an atmosphere that resembles a wild artist's loft in Barcelona, Spain… whereas you can guess, a party is always in progress!
If you're looking for a tasty twist on a taco, this is the spot for you! Some of their taco menu options include egg and kimchi tacos, Baja fish tacos, and pibil style cauliflower tacos for vegetarians and anyone who loves bold flavors like sour orange, charred peppers, and garlic basil crema! If you're looking for a taco that is anything but ordinary, Cafe Tu Tu Tango is for you!
4. Pepe's Cantina

Pepe's Cantina is your one-stop shop for authentic Mexican food, in a casual and comfortable atmosphere. They've got all your favorite Mexican Cuisine menu items, and their tacos are something to taco-bout! If you're looking for lots of options, without compromising quality, freshness or flavor, this is the taco stop for you! Choose your tortilla, and then choose from one of their many fillings, including grilled chicken, shredded chicken, sliced steak, ground beef, grilled shrimp, red snapper, or al pastor pork! Next, you just need to choose your fresh fixings, like tomato, lettuce, onions, sour cream, and so on… and boom! You have a delicious taco, just the way you like it!
5. Señor Frogs

Tacos and fiestas go hand in hand, or at least they do at Señor Frogs! A favorite nightlife destination here on I-Drive, you can always expect a party and good times when you're at Señor Frogs, but don't forget to order up some fresh and delicious tacos to go with your ice-cold cocktail. Choose from juicy barbacoa, slow-braised pork, juicy steak, chorizo straight from Mexico, grilled chicken breast, or take your tacos Baja style with shrimp or fish!
Oh, and no meal is complete without getting some queso and guacamole that is made fresh right in front of your eyes at your table, to dip into or add to your taco! Get the party started with tacos and good times at Señor Frogs!
Tacos are powerful! The perfect taco can make any day a good day. So, next time you're on the search for an authentic taco that will tantalize your taste buds in all the right ways, stop by one of these delicious taco destinations and find perfect tacos on I-Drive.