SeaWorld Update – 'Wonder Twin' the penguin famous for her molting issues and her own hand crafted customized wetsuit is now in extremely fine feather, SeaWorld has announced.
The 26-year-old Adelie penguin and longtime resident of the SeaWorld park was simply not growing new feathers, a vital annual process for a species that spends it's life in cold climes. The result was bird pattern baldness, which affected much more than the bird's vanity.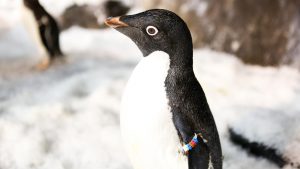 "The most important feature of a penguin, I believe, are the feathers," said TJ Dray, an aviculturalist at the theme park. The birds have about 70 feathers per square inch, he said, keeping them warm in water.
They spend three-quarters of their life in the water. They get their food from the water," Dray said. "If they don't get those feathers every year consistently, they can start having issues with their health."
Her scarcity of feathers – Dray estimates the coverage was at around 50 percent — the water in the SeaWorld habitat was simply  too chilly for Wonder Twin.
"She needed a little bit of help," Dray said.
The wee wetsuit suggestion came during a SeaWorld team meeting.
"Honestly, we laughed about it a little bit," Dray said. "That's crazy!"
Further inspiration came from the story of sweaters being knitted for little blue penguins after an oil spill off the coast of Australia.
Maria Barreto, who normally works in SeaWorld's costuming department stitching up costumes for nonfeathered human entertainers, was asked to sew a mini-wetsuit using neoprene. She took Wonder Twin's measurements and studied how much space to leave for her flippers and how to taper an outfit to fit her 2-foot body.
Unfortunately the first trial of the wetsuit back in August didn't make a splash in a good way. It was too warm  for the bird and it was too buoyant.
"She couldn't submerge. So she was floating on the surface not able to go underwater," Dray said. "We had to adapt."
The final version of the wetsuit was made of much
lighter material, the same fabric used for wetsuits of Discovery Cove visitors or while diving in warmer climates, Dray said. Wonder Twin took to the costume, preening the wetsuit as if it were her feathers. She started eating more, so much more that she outgrew the suit, which required alterations so it could zip up again. It also got a SeaWorld logo.
In addition, SeaWorld changed Wonder Twin's diet, giving her fattier herring, supplements and hormone therapy.
In December, Dray was taking her wetsuit off and noticed brittle feathers. That raised a red flag with him, but it turned out to be good news.
"She was growing her new set of feathers and starting molt," he said.
Today, Wonder Twin has a full set of feathers and has shed her wetsuit look. Now, she blends in with the other 300 or so penguins living at the park's Antarctica: Empire of the Penguin exhibit. Visitors might see her dive, swim and eat in a sea.
"I'm happy everything is going OK," Baretto said.
The cause of Wonder Twin's condition is unknown, but it's not unheard of in the natural habitat of the species, Dray said. Penguins that don't molt are more likely to be attacked by predators in the wild, he said.
SeaWorld staffers will monitor Wonder Twin, who hatched at the now-closed SeaWorld of Ohio, especially during next year's molting season. Dray is part of a 24-person team that looks after the theme park's bird population and injured birds brought in for medical care.
"If she doesn't go through her molt again next year, we're going to be right back where we were and start making those changes," Dray said. The team can't be sure if it was the suit or the herring or the hormones or a combination of those that was the key to Wonder Twin's feather growth.
"It worked for her. If it comes up again for her, we have a plan," Dray said.