It's open and it's so worth the wait. When Disney's Animal Kingdom guests journey to the far-away world of Pandora as probable eco-tourists, they encounter floating mountains, a glowing, bioluminescent rainforest and other wonders of an alien world. The Valley of Mo'ara on Pandora is undergoing a rebirth long after a destructive mining operation known as the Resources Development Administration (RDA) ceased operation.  Eco-tourists, for the first time, can travel to this exoplanet located in the Alpha Centauri star system 4.4 light years from Earth.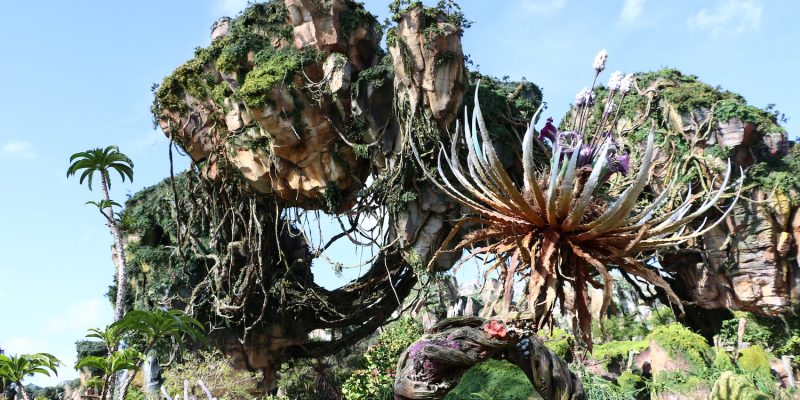 Check out those iconic floating mountains in the Valley of Mo'ara – there are 22 – peak at about 130 feet above the valley floor.  Sharp-eyed adventurers will see Pandoran Stingbats nesting in the mountains. Despite their lethal tail spines, these animals can be summoned by the Na'vi with clicking sounds made between the tongue and teeth. (still practicing!)  A team of more than 60 craftsmen from the U.S., Peru, France, Portugal, Japan, and Ireland contributed to creating the art-scape of the floating mountains – the effect is amazing!
It wouldn't be an alien planet without some extremely  bizarre plant life.  On Pandora, a diverse ecosystem is rebalancing as a variety of colorful plant life flourishes.Plants have names like Puffball Tree, Dapophet, Vein Pod, Scorpion Thistle, Episoth and Flaska Reclinata.Humans rapping on the Flaska Reclinata cause this large alien plant to pollinate by releasing spores within the environment. With its wide base tapering to a narrow top, the Flaska Reclinata is found just past the old RDA bridge. Many plants are bioluminescent, with internal lighting or material that makes them glow.  Plants are interactive. Guests can see and sense the energy of the plants that moves in waves.Pandora plays to a surreal soundtrack. Said Matt Beiler, WDI producer: "For the land to feel like a real jungle from another planet, we don't have traditional background music in Pandora – we have a soundscape designed to make it feel as though it is an alien jungle. We hear vocalization patterns like mating calls and hunting moments, and this makes it feel real.  When those moments happen, the lighting ties into that with waves of energy.  It gives us a connectedness to nature." 
The liquid elements within the new land are extremely relaxing. At the center of Pandora is an area, where waterfalls cascade from the mountaintops into gentle pools and streams.One stream follows a peaceful path along the entry to Pandora. The other flows into the Na'vi River Journey, where guests board reed boats for an excursion to see the revered Shaman of Songs. (He sounds like some big blue Karaoke dude!) As you sit in the reed boat and move through a dark tunnel, everything around you lights up. When you look up, lizards and other creatures make their presence known while moving on bioluminescent organisms. Plants hang from the ceiling and those very distinctive Na'vi warriors also put in an appearance.
Without a doubt the star of the show is the Avatar Flight of Passage. Getting to it is a journey within itself, as you move through rock-covered tunnels with Na'vi drawings and more before coming into an old Resources Development Administration facility that has a laboratory where avatars are created. One is literally floating weightless in a large glass tube when you walk into the lab.
After being matched with an avatar, you sit on a small motorcycle-type vehicle while wearing 3D glasses, and before you know it, you're in another world. It's like taking Disney's Soarin' ride to another very blue level. You dip through trees, over mountains, and even under massive tidal waves while on the back of a banshee. You interact with other Na'vi people, and even with the scary creatures they have to contend with in the air, water and on the ground.  Total immersion was the goal and the  Disney Imagineers have seen to every last detail – it's a feast for the senses. The vehicle your legs are wrapped around even 'breathes' in an out like a real life banshee – a bit weird but also brilliant!
"I'm blown away," said Laz Alonzo, who played Tsu'tey in Avatar. He, along with Avatar director and writer James Cameron, producer Jon Landau, Zoe Saldana, Sigourney Weaver and C. C. H. Pounder, showed up for the media preview of the park last week. "When I first got in, it was like, 'Ok, I'm taking everything in.' But after doing the rides, the banshee ride is hands-down my favorite ride ever! You know you weren't moving, but your mind thinks you are. People always talk about virtual reality, VR, but I would say this is the closest that I've seen it play out in real life. You're literally stimulated. You look all around you and you're in this world."
"For two years while we were working on the film, we had to imagine it," he said about shooting, which was done in front of green screens. "We had to figure out what things were and pretend. But now to see it come to life, I really am proud of this team. We got off the ride and Sigourney Weaver was crying. She was that moved by it. We were all just silent. For a minute, we just had to take it in because we didn't expect that. I personally did not expect that level of detail."