A visit to Florida's Paradise Coast means indulging in world-class dining, enjoying near-perfect weather, and taking in some unparalleled waterfront or downtown views.
It wouldn't be Paradise if you couldn't combine all three in the same unforgettable experience – and quite a few Naples and Marco Island restaurants with outdoor seating check all of the boxes. Here's a roundup of all the outdoor dining in Naples.
Fifth Avenue South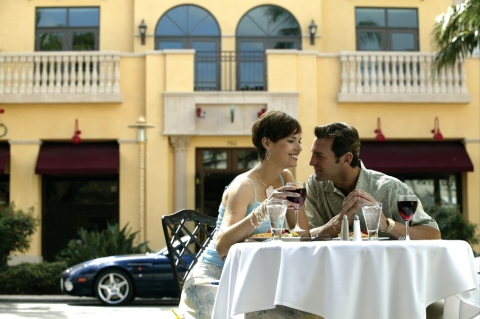 Some of downtown Naples' top restaurants are located along Fifth Avenue South, and many of them feature street-side patios perfect for enjoying delicious, fresh cuisine al fresco on warm Naples evenings.
Fifth Avenue South restaurants with outdoor seating:
The Café – Inspired by the European café culture, the menu here is filled with fresh, healthy offerings, including breakfast, salads, and sandwiches.
Osteria Tulia – Savor exquisitely prepared rustic Italian cuisine in the ambiance of a lovingly restored Italian farmhouse.
Bice Ristorante – For laid-back outdoor seating and Old World Italian cuisine, reserve a spot here.
Bellini on Fifth – Find authentic, traditional Italian, served al fresco on one of Fifth Avenue South's largest dining patios.
Fifth Avenue Coffee Company & Sixth Street Diner – Sit outside and enjoy freshly baked pastries, gourmet coffee, milkshakes, ice cream, smoothies, wine, and beer.
Caffe Milano – The menu here includes homemade bread, pasta, signature pizzas, a variety of sandwiches, and handcrafted drinks.
Dolce & Salato Italian Bistro – Classic Italian items here include sandwiches, salads, frittatas, freshly baked pastries, and a variety of coffee drinks.
Sails Restaurant – Here, you'll find European seaside cuisine, bringing together the finest French, Italian, and Greek flavors.
The French – Paying homage to turn-of-the-century Parisian brasseries, The French offers country and coastal French dishes amidst a bustling, vibrant atmosphere with a romantic street-side setting.
Vergina – This popular spot's menu offers a fine selection of authentic Mediterranean cuisine in a wonderful open-air setting.
Third Street South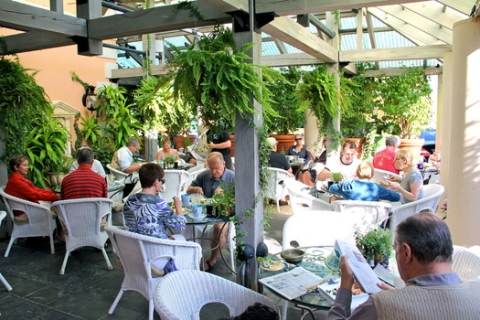 Nestled among the flowering courtyards and bubbling antique fountains of Third Street South – just a few blocks from the Naples Pier and beach – you'll find a variety of restaurants featuring outdoor tables and patio dining, expansive wine lists and chef-curated menus. These al fresco dining spaces provide not just a spot to enjoy the verdant scenery; they're also pet friendly! Definitely one of the most beautiful places for outdoor dining in Naples.
Third Street South restaurants with outdoor seating:
Campiello – This award-winning Italian restaurant features rotating menus inspired by the various regions of Italy.
Barbatella – A gourmet Italian trattoria, rotisserie, mozzarella bar, and wine bar, this spot frequently features live music on the patio.
Ridgway Bar & Grill – Serving American contemporary and French cuisine in a welcoming setting, here, you'll find plentiful seating indoors, on the patio or in the lush garden courtyard.
The Continental – This American provisions restaurant serves fine steaks, seafood, and craft cocktails, with an expansive courtyard patio and live music on weekends.
Old Naples Pub – This original neighborhood pub, serving a wide variety of American favorites.
Jane's Garden Café – The menu here serves imaginative, delicious, and healthy cuisine, with brunch served daily, with outdoor seating available.
Tommy Bahama's – Caribbean-inspired cuisine and cocktails are crafted in the open kitchen and Beach Bar here.
Sea Salt – Innovative, gourmet Italian fine dining, with a focus on fresh seafood, is what's on the menu here.
The Village Shops On Venetian Bay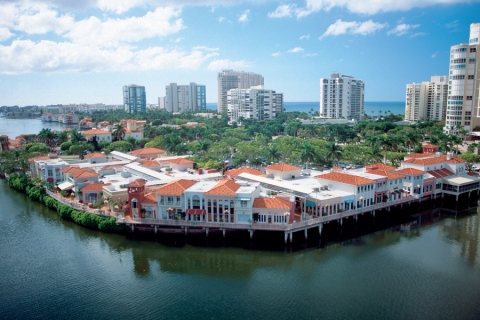 The Village Shops on Venetian Bay are a picturesque retail and dining destination on Gulf Shore Boulevard North in Naples. This open-air center is home to a variety of fine dining and casual restaurants, each of which boasts outstanding views of surrounding Naples Bay. Relax at an outdoor table, enjoy delectable menus and wine selections, and spend an afternoon or evening watching the boats go by.
The Village Shops on Venetian Bay restaurants with outdoor seating:
Bayside Seafood Grill & Bar – The outdoor Upper Deck Bar affords an unbeatable vantage point of Venetian Bay. Grab a seat at the outdoor bar, or enjoy dinner al fresco with live entertainment.
Fish – Serving a variety of fresh fish, oysters, clams, sushi, and other seafood, this spot offers unbeatable waterfront views.
MiraMare Ristorante – Italian cuisine is what's on the menu for lunch and dinner, along with outdoor seating directly over the water.
The Village Pub – This waterfront pub features friendly service and a whimsical nautical menu, including an ample selection of wines and beers.
T-Michaels Steak & Lobster House – A fine dining spot specializing in USDA Prime steaks and whole Maine lobsters, T-Michaels also offers a cozy, open-air atrium with views of Venetian Bay.
The Esplanade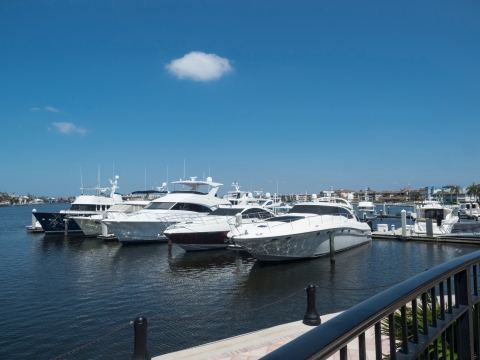 Accessible by car or boat, Marco Island's Esplanade is a collection of upscale shopping and restaurants, bordered by a 77-boat-slip marina and dazzling waterfront views of Smokehouse Bay.
Esplanade restaurants with outdoor seating:
CJ's on the Bay – Dig into seasonal seafood, pasta, salads, and an extensive cocktail menu at this beloved restaurant and an outdoor bar.
Mango's Dockside Bistro – Open daily for lunch and dinner (as well as breakfast on Sundays), this spot is a hit with families, thanks in part to its 750-gallon saltwater fish tank, waterfall and tropical-inspired menu, served on its umbrella-shaded patio.
Tin City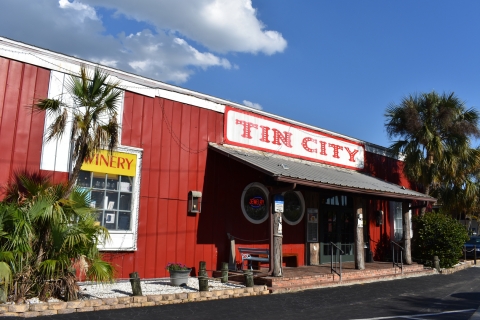 Overlooking a marina, historic Tin City is an old-Florida attraction made up of unique boutiques, souvenir shops, and eateries with waterfront views of the Gordon River and Naples Bay.
Tin City restaurants with outdoor seating:
Pinchers and Riverwalk – Both of these spots exude a laid-back atmosphere, with waterfront deck seating and menus chock full of fresh, locally caught fish, crab, seafood, and more. Whether its grilled, seared, roasted, barbecued, fried, or raw, you're sure to find new favorites on the menus – and enjoy fresh, open-air dining at the same time.
The Beach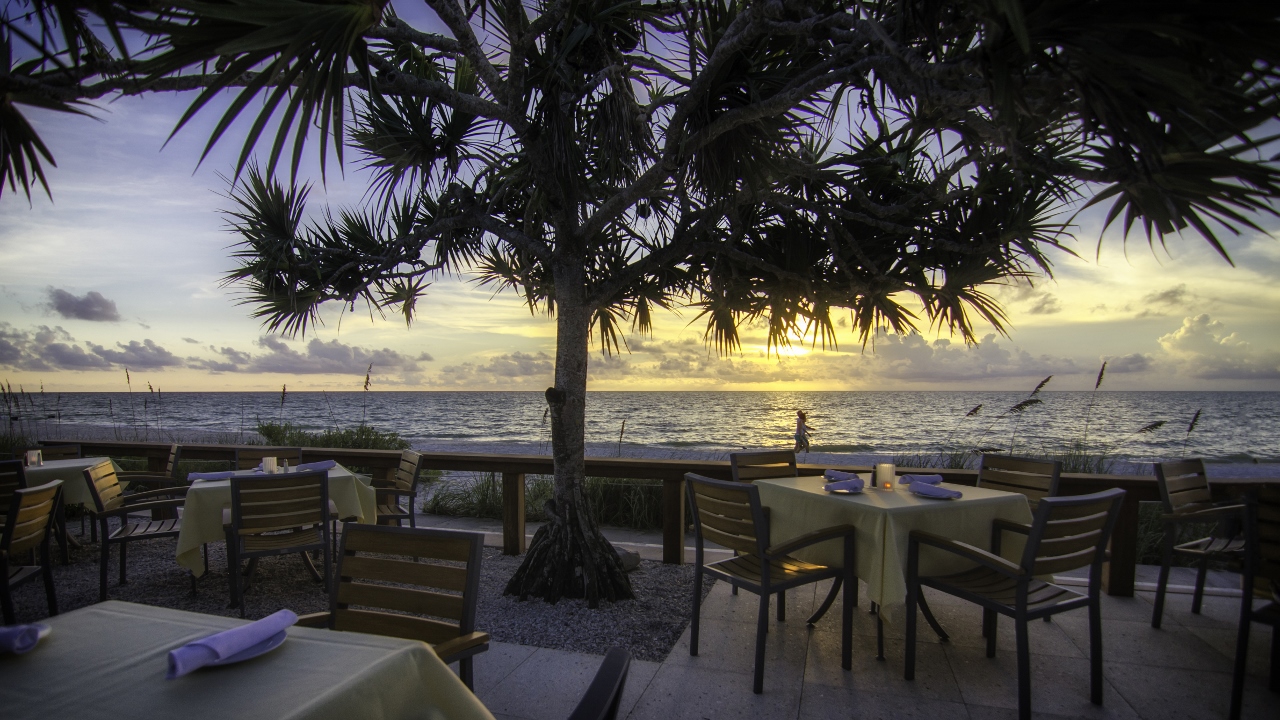 The Turtle Club – Dine with your feet in the sand while watching the nightly sunset. Located at Vanderbilt Beach Resort, this restaurant is a local favorite, so be sure to call ahead to reserve your beachside table.
HB's on the Gulf – Offering spectacular views of the beach and Gulf for lunch and dinner from its alfresco patio at The Naples Beach Hotel & Golf Club, this spot offers fresh regional seafood, great steaks, and American cuisine – as well as spectacular sunset vistas.
Baleen – Here, you'll find a fine dining experience with a toes-in-the-sand attitude. Located at LaPlaya Beach & Golf Resort, Baleen spills out through grand doors to a terrace with tables overlooking the sweeping beach, with more tables for cocktails where diners can go barefoot.
Gumbo Limbo – Sample seafood delicacies amidst warm Gulf breezes at this casual seafood restaurant with beachside seating at The Ritz-Carlton, Naples. Maybe you'll be the lucky one chosen to ring the ceremonial bell at sunset.
There you have it. A full list of outdoor dining in Naples so you can feel safe and just a little more like things are back to normal next time you visit.