LEGOLAND is an easy 30-minute drive from Disney World and for kids aged 2-12, it is the proverbial bomb!  Designed for the young and the young at heart, it is an absolute must if you have a big Lego fanatic in the family!  Always bear in mind that could be Dad.
Built upon what was once Cypress Gardens, once one of Florida's most famed destinations, it is a great location for a park built on a brand that is all at once retro and brand new.
Here are some of our favorite things to do at LEGOLAND Florida:
BUY DISCOUNT TICKETS – ADULT PAYS CHILD PRICE.
1. Dragon Coaster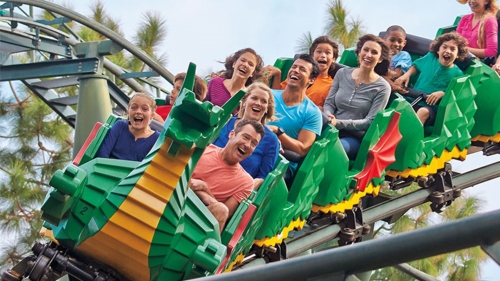 A combo dark ride and steel roller coaster, this ride was built on the leftover Okeechobee Rampage from Cypress Gardens. Legoland added the dark ride portion. One of the few thrill rides at LEGOLAND, hang on and have fun!
2. Miniland USA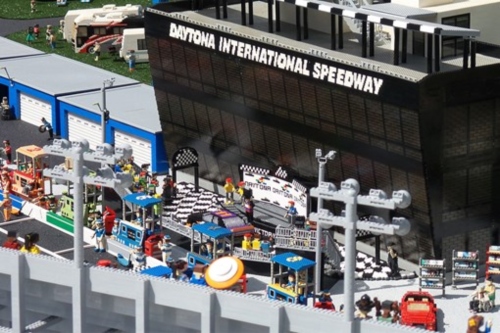 A living exhibit of America's great landmarks and cities recreated using LEGOS in miniature! Check out New York City, Washington D.C. and Las Vegas. There is a special Florida section where you can see LEGO versions of great Sunshine State landmarks and cities such as St. Augustine, Miami, and even the Daytona International Speedway.
3. LEGOLAND Water Park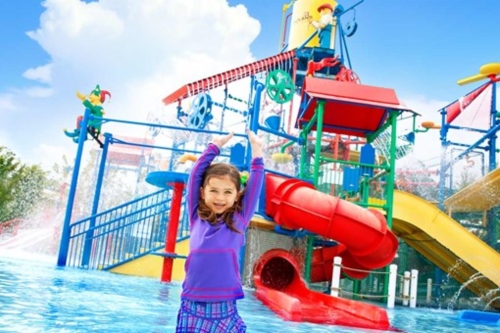 A MUST in the Florida heat for any theme park – a water playground! Ride the swells in the wave pool, or build your own raft and float down the lazy river. And of course, what waterpark is complete without slides and a water play area?!
4. Cypress Gardens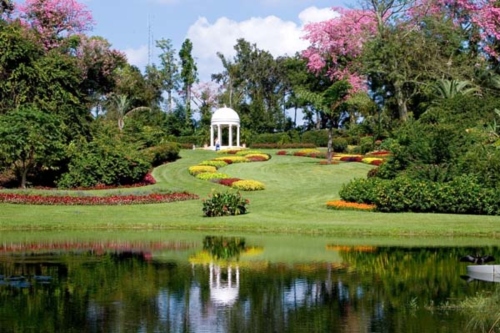 Probably the most unique attraction in the park, this is part of the original Cypress Gardens. Walk the lush grounds among huge old cypress trees and native Florida fauna – get some great pictures or better yet, a selfie with the LEGO version of the real Southern Belles that used to greet visitors.
5. LEGO Ninjago the Ride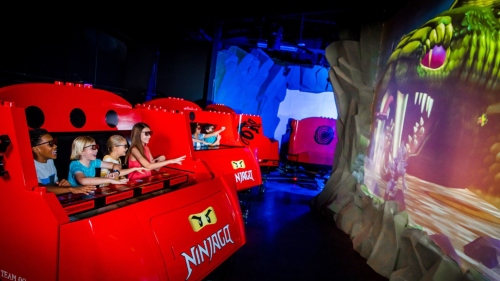 An interactive 4D experience based on the popular LEGO Ninja line, this ride interprets passengers' karate chops and other hand gestures and converts them into 3D orbs to battle evil forces and rack up points. Hi-YA! Interactive fun for all ages.
6. The LEGO Movie 4D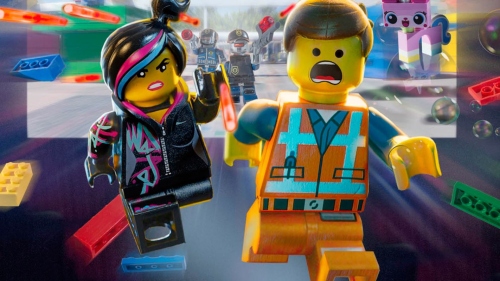 Based on the popular and incredibly funny Lego Movie and its spinoffs, this attraction channels the same kind of offbeat humor that appeals to kids and adults alike. Screening numerous times daily, the 4D elements include wind, water, fog, lighting and other special effects that will bring the experience off the screen and right into the audience.
7. The Great LEGO Race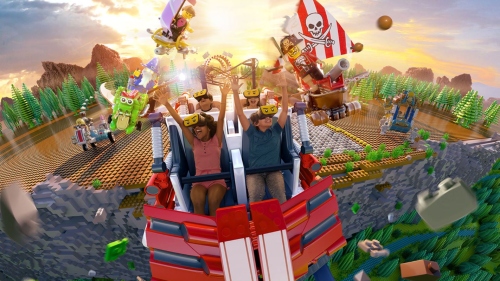 Passengers wear Virtual Reality goggles and experience a LEGO-themed race through computer-animated visuals. The VR action mimics the coaster's wild mouse track layout and movements.  So hold on!  It's going to be one wild ride!
8. Driving School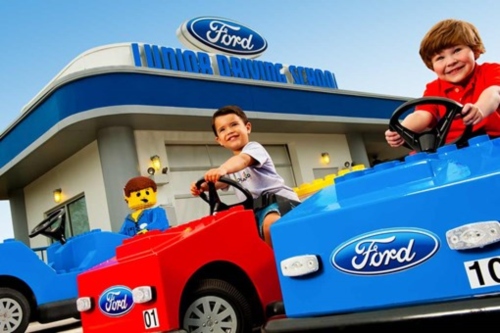 Kids get the chance to get behind the wheel of their own cars, learn the rules of the road and earn their Driver's License. Really! That might be the coolest souvenir in Florida. No Bumper Cars here, just a fun way to educate kids about motor safety and introduce them to driving.
9. Apple Fries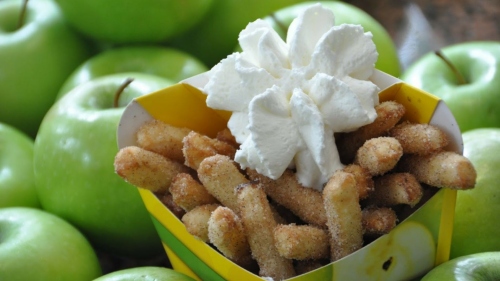 LEGOLAND'S signature treat, these apples are fried, and then served up with cinnamon, sugar, and whipped cream. Need something cool to beat the heat? There's a version served with ice cream as well.  Luckily it's always warm enough in Florida to include ice cream.
LEGOLAND is simply Brick-tastic – have fun y'all!