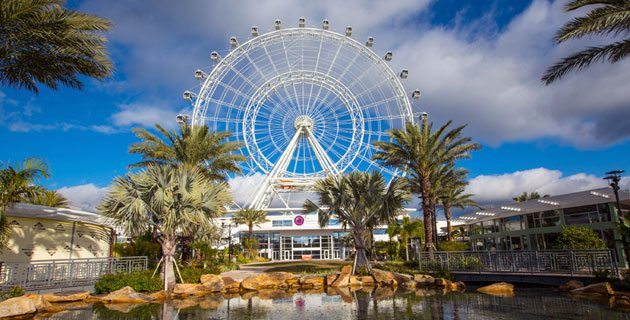 Orlando Attractions Update – The Orlando Eye, one of the most recognizable landmarks you can spot off Interstate 4 now has an opening date along with it's two sister attractions.  Merlin Entertainments said The Orlando Eye, Madame Tussauds Wax Museum and SEA LIFE Aquarium will open to the public on May 4. The new attractions are part of the I-Drive 360 complex.
The 400-foot Orlando Eye, which can be seen from Interstate 4, has taken months to build and is the tallest structure on South International Drive. It is also the largest wheel on the East Coast. The last of the 30 total capsules was installed earlier this month. Each one can hold up to 15 passengers.
"We've got all the finer details to do now on the [Orlando Eye], things like commissioning of the electrical programs," Orlando Eye General Manager Robin Goodchild said.
Goodchild said there is still work to be done before the May 4 opening.
"We've also got to get the lighting rig onto the [Orlando Eye] as well, which will be quite an exciting milestone to achieve, especially when we turn those lights on for the first time," Goodchild said.
Orlando Eye tickets are already available. They start at $18 and go up to $32.