Orlando Attractions Update – The giant observation wheel known as "The Orlando Eye" is rising above International Drive and is now clearly visible from Interstate 4.  The base of the observation wheel has been in place for a few months now and one-eighth of the wheel can be seen extending from its axle, which is about the size of a small bus. It's bound to become a distraction for drivers in both directions so visitors need to take extra care and allow for some 'rubber necking' on that stretch of interstate!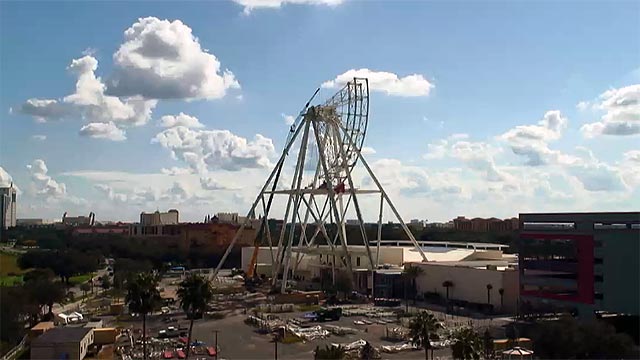 The Orlando Eye and adjacent entertainment complex is owned and operated by Merlin Entertainments PLC, which also owns LEGOLAND Florida.  The developer is Unicorp National Developments, Inc.
"At the moment, we're on the inner circle, so we're 100 feet out.  It's eventually going to be 200 feet out from the center, 200 feet from the other side, so it's going to be 400 feet wide and 400 feet tall," said James Paulding with Merlin Entertainment.
The 425 foot-tall cantilevered observation wheel
 is the "little sister icon to London's world-famous landmark" and is scheduled to open in the spring of 2015.
"It's actually a really beautiful
 view. Apart from seeing everything that's around the area, you'll get to see downtown Orlando really well.  You can see all the attractions and theme parks in the area, but you'll also get an appreciation of how beautiful and lush Orlando is," Paulding added.
In less than a year, the area will see a major transformation. Other anchors at the attraction will include Madame Tussauds, the world-famous celebrity wax attraction, and SEA
 LIFE aquarium, which will showcase colorful fish, jellyfish, sea horses and more in winding tunnels and floor-to-ceiling tanks.
The property is located at the site of the old Mercado shopping center and occupies roughly the size of 25 football fields.
See a live web camera of the The Orlando Eye construction progress on UNICORP's website, by clicking here.