As Hurricane Dorian turns slowly North the latest models still show it  staying off the east coast as it travels up towards Georgia and the Carolinas.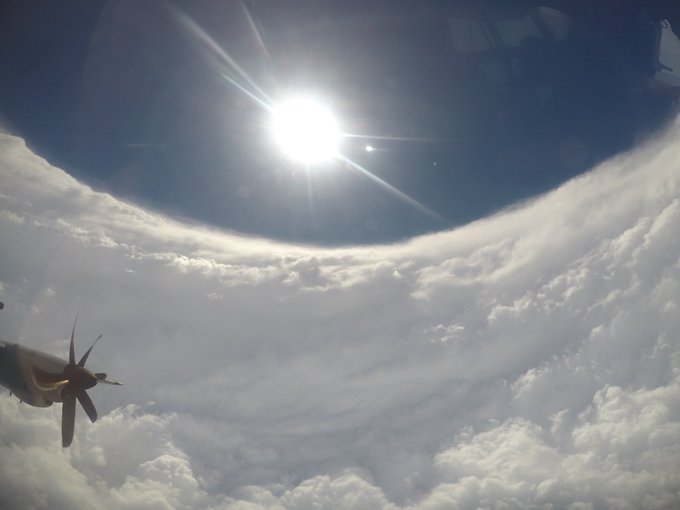 This amazing image is taken from a hurricane hunter aircraft flying through the eye of the storm!
Latest Update – Tuesday Sept 3rd
Threatening weather conditions from Hurricane Dorian have prompted Walt Disney World to rearrange today's operating hours for its theme parks.
Meanwhile, SeaWorld Orlando posted that the theme park, as well as Aquatica water park and Discovery Cove will be closed.
Universal Orlando Resort announced that its Volcano Bay water park will also be closed today, but that its Universal Studios and Islands of Adventure theme parks will open as scheduled at 9 a.m.
A Universal spokeswoman said weather conditions around Hurricane Dorian would be monitored to determine if closing times were to be adjusted.
Disney's Animal Kingdom and Disney's Hollywood Studios theme parks will be closing at 2 p.m. today. Animal Kingdom opens to guests at 8 a.m., with Hollywood Studios opening at 9 a.m. Both of those parks have "Extra Magic Hours" active for guests in Disney hotels early on Tuesday.
The Disney After Hours event set for Animal Kingdom has been canceled for tonight. Disney is offering to exchange that ticket for other events this year or full refunds.
Magic Kingdom will be open today 8 a.m.-3 p.m, and it also has Extra Magic Hours scheduled early in the day.
Epcot's hours today will be 7 a.m.-3 p.m.
Typhoon Lagoon water park will be open today 10 a.m.-3 p.m., but Blizzard Beach water park will be closed.
Disney Springs' hours today will be 10 a.m.-3 p.m.
Disney's Fort Wilderness campground will close at 3 p.m. on today. It will reopen after the storm, "when it is safe to do so," according to Disney World's official website. It's other on-property resorts remain open.
Kennedy Space Center is closed today and tomorrow Wednesday Sept 4th.
That's all on Hurricane Dorian for now y'all – Orlando looks like it has avoided the brunt of the storm but we know from experience that we are not out of the woods yet!