When it comes to family fun, Central Florida's Polk County is Florida's Sweetest Spot. And what can be more fun than spending time jumping into muddy puddles with everyone's favorite pink preschooler, Peppa Pig? At the world's first stand-alone theme park dedicated to the cartoon United Kingdom sensation, every detail has the smallest family members in mind. Located next door to LEGOLAND Florida Resort, the Peppa Pig Theme Park, the world's first dedicated only to her, brings the family favorite to life right before your eyes. So get ready for some oinktastic fun!
Aimed at pre-school children and perhaps their slightly older siblings, the rides, live shows, character interactions, and themed play areas are all reasonably downscaled. For example, the roller coaster is considered "introductory," with a 36-inch minimum height requirement for riders coupled with the ride itself only being 14 feet high.
Have an Oinktastic Time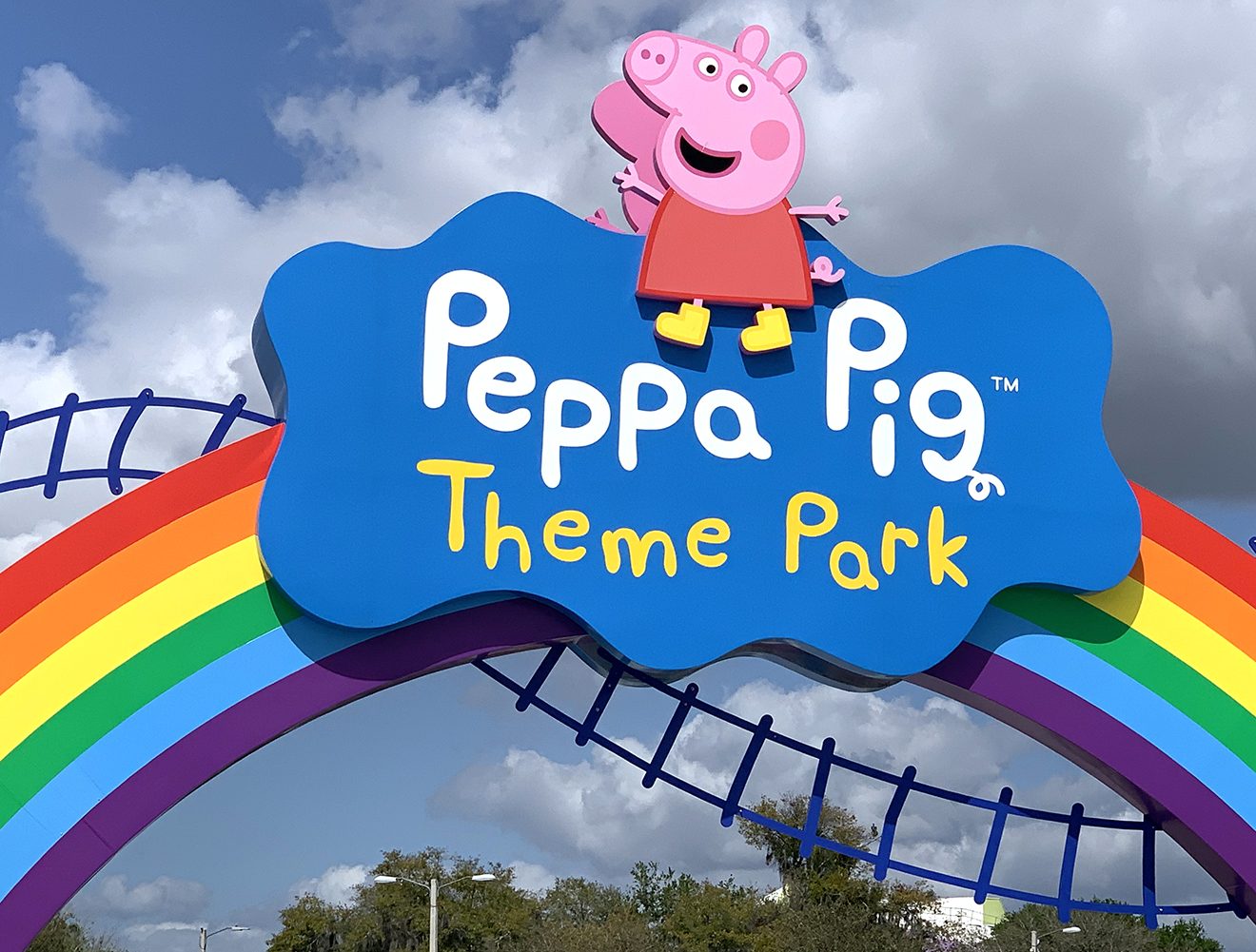 With six tike-size rides and a number of other attractions, visitors are sure to find plenty to keep little minds and feet occupied.
Granddad Dog's Pirate Boat Ride – Hop aboard and set sail with the seafaring Grandad Dog to find his hidden treasure on Pirate Island. Once back on dry land, you can dig for buried treasure and build your own sandcastles on the beach.
Grampy Rabbit's Dinosaur Park – Mount up on a tame prehistoric friend and travel back in time along this quest that takes you past smoking volcanoes, around giant eggs, and through pre-historic mountains, all at a family-friendly pace.
Mr. Bull's High Striker – Once the hammer hits the bell on Mr. Bull's High Striker, everyone goes straight up into the sky, just like the carnival "show of strength" game. Be prepared, because even on this kid-friendly drop ride, what goes up must come down.
Peppa's Pedal Bike Tour – Pedal your way through the icy mountain and the pine woods on Peppa's Pedal Bike Tour. Enjoy all the sights, smells, and sounds of the great outdoors on easy-to-move kid-sized trikes.
Peppa Pig's Balloon Ride – Hop aboard Miss Rabbit's hot air balloon for an amazing aerial view of the Peppa Pig Theme Park from the very top of this family-friendly aerial carousel ride.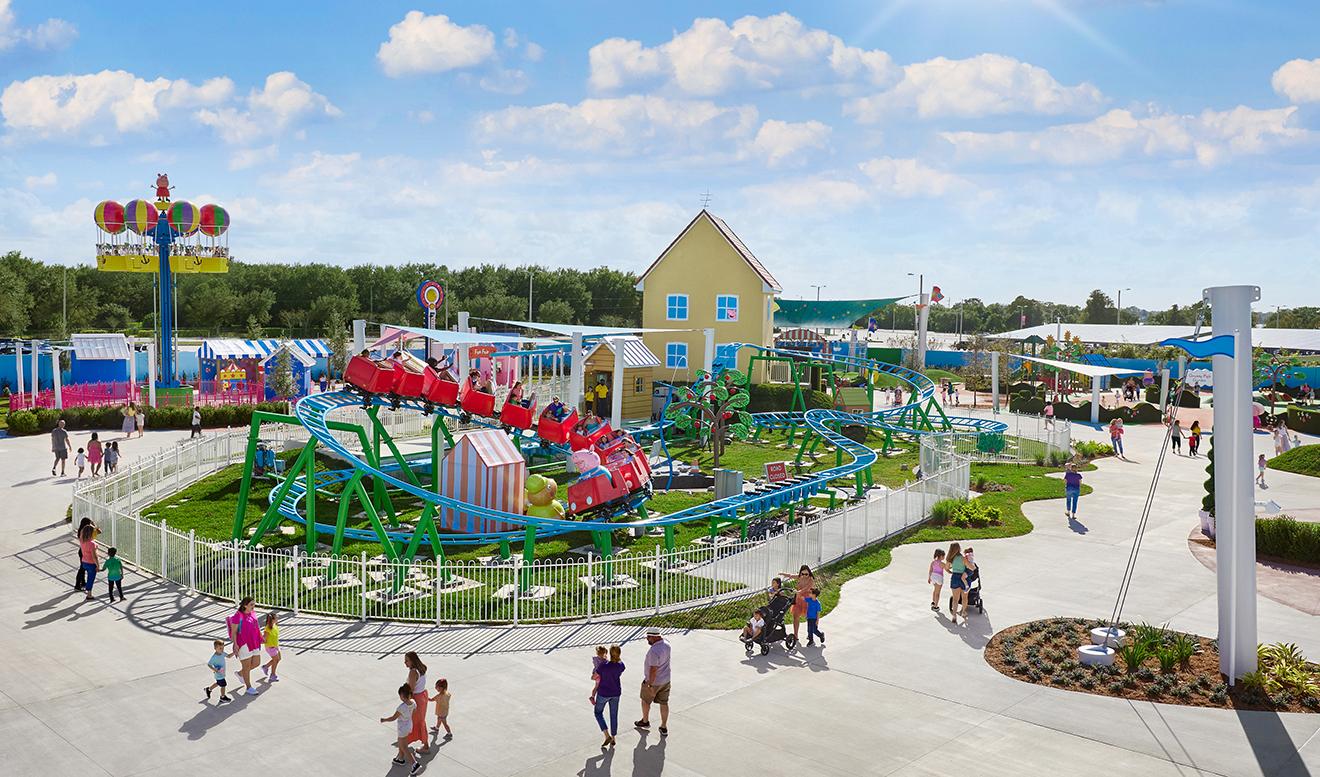 Muddy Puddles Splash Pad – Have an oinktastic time with Peppa and George doing their favorite thing: jumping up and down in "muddy puddles!" This lively play area has spouting fountains, slides, and other watery surprises to keep the play super splashy and fun, with nary a bit of real mud to be found. Getting wet has never been so much fun!
Rebecca Rabbit's Playground – Jump, hop, crawl and climb in Rebecca Rabbit's Playground. There is so much for little ones to do and see as they explore the rabbit burrows and discover the carrots in this outdoor active play area.
Daddy Pig's Roller Coaster – Take your fun family day to the next level when you join Daddy Pig on an unexpected adventure ride in his newly cleaned red car. While a roller coaster at one of the other theme parks may be too daunting, this Peppa pleasing ride aims to give youngsters a thrill but not a scare.
Of course, Peppa has never been shy when it comes to performance. Take in Peppa Pig and George's "Peppa Pig's Treasure Hunt Adventure," one of two 10 minute shows offered at the park under the canopy at Mr. Potato's stage. Just make sure to get there early to get one of the bean bag chairs.
More Right Next Door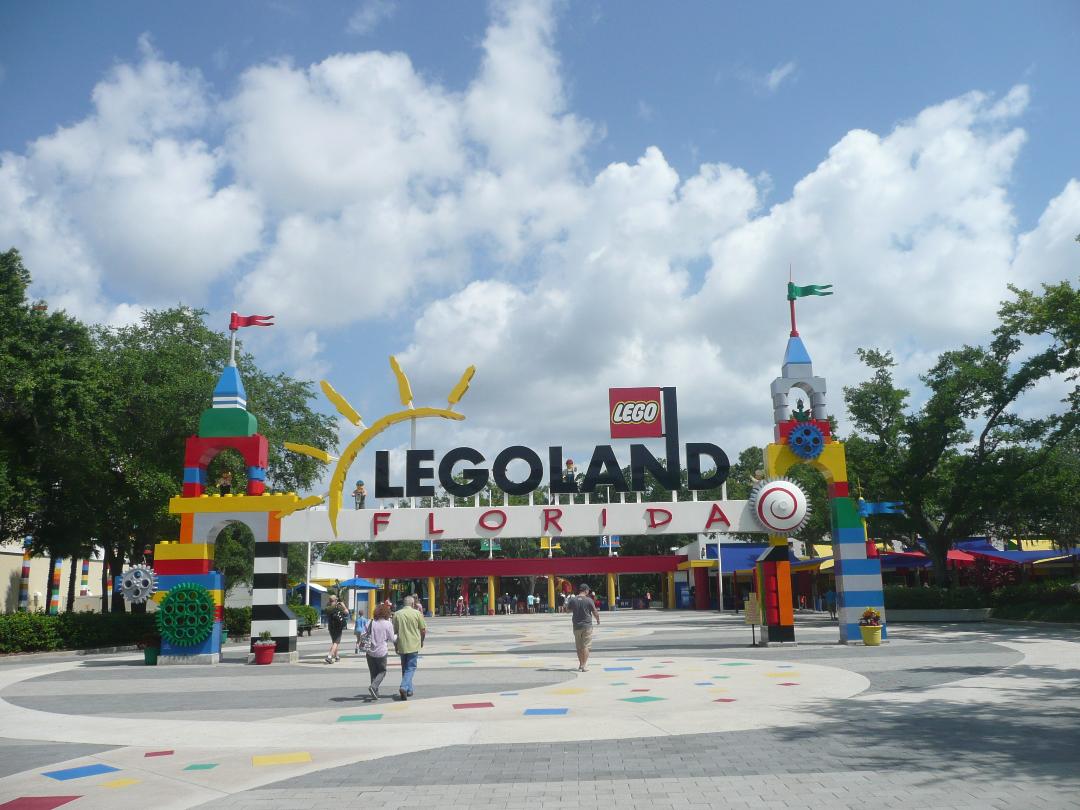 When you are done, LEGOLAND Florida Resort next door awaits. The 150-acre interactive LEGOLAND theme park features more than 50 rides, shows and attractions, restaurants, shops, the LEGOLAND Florida Water Park, two hotels, a beach retreat, and a botanical garden.
When it comes to fun in the sun, LEGOLAND Florida Resort can't be beat.
From the LEGO wave pool to the interactive water-play structures of Joker Soaker and Splash Out, your kids will soak up tons of fun. But there is more to do than splash and spray at LEGOLAND Florida Resort. At Build-A-Raft River, you can imagine, design, and build your own unique vessel before taking it along the 1,000-foot-long lazy river.
For those who would rather stay dry while their creations get wet, there is Creation Cove. Here, kids can build their own LEGO-sized boat and earn boasting rights after racing their creation against friends and family. Rides in the park include pink-knuckle roller coasters, the Imagination Zone, Miniland USA, and THE LEGO MOVIE Masters of Flight, where you and your family jump on Emmet's Triple-Decker flying couch and take to the sky.
Another unique feature is the LEGOLAND Beach Retreat, where visitors can extend their time in the warm Florida sun. Filled with LEGO-themed items both inside and out, the village-style vacation resort features brightly colored bungalows grouped into 13 horseshoe-shaped coves. Looking like larger-than-life LEGO homes, each bungalow features cozy areas for the kids as well as a privacy curtain for the main bedroom. Ideal for families and groups traveling together, each cove-worth of bungalows features its own outdoor play area. Additionally, the LEGOLAND Beach Retreat has its own swimming pool, surrounded by plenty of beach sand for sandcastles.
Having opened in spring 2020, LEGOLAND Florida Resort's Pirate Island Hotel is the first LEGO Pirate-themed hotel in North America. The newest on-site accommodation invites brick fans to vacation like a pirate just steps from the entrance to the theme park built for kids.
Outside, a City Awaits
Downtown Winter Haven – just minutes from the theme parks – is a foodie's dream come true. There is Adler's Burgers, whose original Davenport location in the northeast corner of the county was recently listed in Money magazine – thanks to all the positive Yelp Reviews – as one of the best burger locations in the nation. Family-owned and operated, the Bourbon BBQ and Classic burgers are favorites, but make sure to leave some room to try the fried Mac 'N' Cheese bites.
Winter Haven's food explosion hasn't stopped at burgers. Just around the corner in downtown is BL Sandwich, which features an array of Vietnamese finger food. Infused with flavors from classic French cooking, Vietnamese finger food includes sandwiches on fresh bami, a twist on the French baguette, boba tea, Pandan waffles and sweet, crispy fried sesame balls.
If it is bread you seek, Honeycomb Bread Bakers should be your destination. Producing artisan bread and pastry – and even milling their own organic flour – they feature everything from sourdough breads to brioche donuts and their amazingly popular sticky buns. Keep an eye on their website for their weekly bread schedule or to order in advance.
With all this food to pick from, you might need a post-meal jolt. Also downtown is Haven Coffee Roasters, bringing not just the freshest but also a unique twist on coffee. Owner Jon Lane roasts all they serve. Grounds – from their own Haven blend to a Brazil Salmo dark roast – are available. If you'd rather just grab a hot cup of their latest hand-crafted creation and a baked good, you can do that too. Locals try their new coffees sans sweetener or cream since the flavors tend to rise up on your palette after a sip passes your tongue.
From food to fun, family adventure to theme park fun, a Central Florida vacation has it all. To learn more about what Florida's Sweetest Spot has to offer, go to VisitCentralFlorida.org.