One thing that makes International Drive so special is that no matter where you are, you're never too far from a new, exciting, and unique experience; and when it comes to nightlife on International Drive, you'll see there are plenty of spots within hopping distance to make your next night out an epic one!
Next time you're planning a night out on the town in Orlando's Most Dynamic Neighborhood, hop over to these nightlife destinations to keep the drinks flowing, your dancing feet moving, and the good times rolling!
Cuba Libre Restaurant and Rum Bar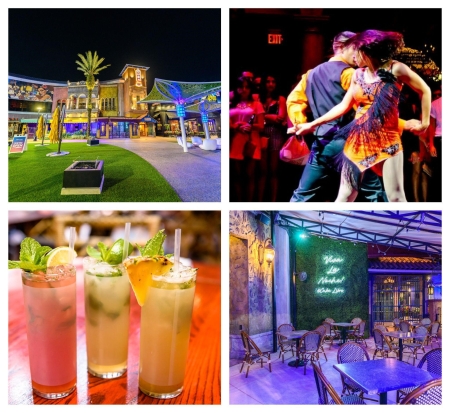 Take your next night out to an Old Havana courtyard. Complete with exotic foliage, vintage decor, and a menu boasting authentic Cuban flavor, we're sure a stop at Cuba Libre will have you feeling like you've been transported to Cuba.
Aside from delicious Cuban cuisine, Cuba Libre offers a wide array of delicious libations, including rum flights, sangria, caipirinhas, and of course, their famous mojitos that come in a variety of different flavors, and are all made using fresh-pressed sugar cane, freshly squeezed lime juice, and mint!
Enjoy dinner, drinks, and dancing, and if you'll be enjoying a late night at Cuba Libre, be sure to check out their late-night menu, and their late-night Latin entertainment every Friday and Saturday, from 11 pm to 2 am (2:30 am on Saturdays), with music and salsa dancing on International Drive.
Mango's Orlando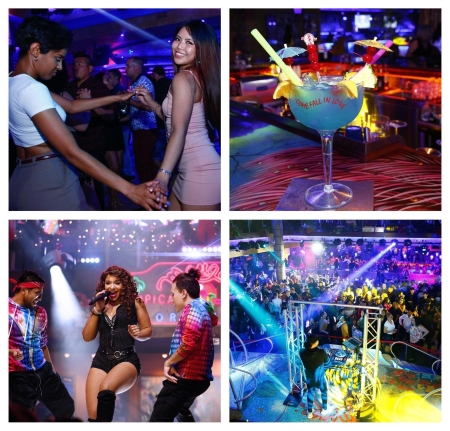 No night out on International Drive is complete without a stop at Mango's Tropical Cafe!
There's no doubt that Mango's is Orlando's premier nightlife destination, where a party is always in progress, and a one-of-a-kind experience is always in order at this uniquely Latin-themed experience that brings award-winning dining, shows, and nightlife to I-Drive.
If you're planning your next night out on Internatioanl Drive, here are some events at Mango's to keep in mind:
Latin Thursdays at Mango's may be the hottest night of the week with drinks, dancing, and mingling from 9 pm to 2 am as DJ Lokoton sets the tone for a night out full of spice!
Rumba Fridays are a true fiesta, bring your dancing shoes and get ready to show off your moves on the dance floor to the sounds of DJ Leony from 9 pm to 2 am.
Caliente Saturdays let you witness the power and heat things up with salsa, bachata, reggaeton, and trap by DJ 22.
And finally, Sunday for the ladies! Every Sunday ladies enter free before 11:30 pm in the Boom Room with DJ Lokoton.
Get ready to drink, dance, and celebrate at the best party in Orlando during your next night out at Mangos!
Ole Red Orlando

Grab your dancing boots and get ready for a boot-scootin' good time at Ole Red Orlando, located in the heart of all the action at one of Orlando's most popular entertainment complexes, ICON Park!
If you didn't know, Ole Red gets its name from Blake Shelton's breakout hit, "Ol Red," and the experience is a lot like hanging out with Blake himself; laid-back, genuine, up for anything, a bit irreverent (but always fun) – all set to great music.
With a full menu of piled high BBQ-inspired, American-fare favorites, you'll have no problem finding some delicious grub to enjoy alongside one of their ice-cold cocktails or your favorite brew. Sip to the tune of live music Wednesday through Sunday!
Also, if you're a hospitality employee in the area, every Thursday they have a hospitality night with specials that are sure to get you on your feet! From 5to 8 pm bring your employee ID, paystub, or business card to enjoy 20% off food and non-alcoholic beverages and 10% off retail merchandise! Get all the details about this deal here.
Next time you're enjoying a night out on International Drive, be sure to head to Ole Red Orlando for an edge-of-your-seat good time!
Howl at the Moon

Sing, dance, clap stomp, and maybe even dance on the piano as you enjoy a night out to the sound of a `Rock n' Roll dueling piano show! Part concert, part piano show, all centered around audience interaction, and two baby grand pianos, there's no doubt that this unique stop will add some rhythm to your next night out on International Drive!
Whether you're shouting bottoms up with a Gummy Bear, Pineapple Upside Down, Cinnamon Toast, or one of their other unique shot concoctions, sipping on a signature cocktail, or wrapping your hands around one of their popular bucket drinks, we're sure you'll find delicious flavors and a dueling piano show to savor during your visit to Howl at the Moon!
Senor Frogs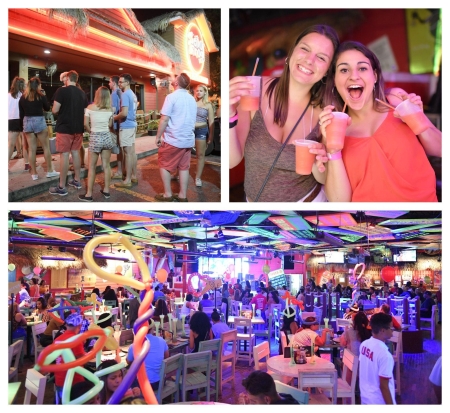 Fiesta time, but isn't it always at Senor Frogs? If you're looking for a true fiesta, from the colors, lights, sounds, and textures, to the humor and outrageousness, all in a casual and comfortable atmosphere, Senor Frogs is the spot!
Grab a steak taco, a humongous hamburger, a fajitas platter, or a mixed appetizer to go with your Yard, full of either an ice-cold brew or signature cocktail, and enjoy singing karaoke, joining the conga line, dancing it out to the sound of the DJ, and any other exciting development that may unfold during your visit, because every night at Senor Frogs is a party!​​
With so many exciting nightlife experiences to be had on I-Drive, it can be hard to choose just one, but luckily you don't have to! International Drive is the perfect place for hopping from one lively destination to the next for a night out that you and your group will be talking about for years to come!
See a full lineup of nightlife destinations on International Drive and start planning your next night out in Orlando's Most Dynamic Neighborhood.