Universal Orlando has filed documents with the city of Orlando showing that its former Wet 'n Wild water park property will be developed for new hotel use, with 4,000 rooms.
New Universal Hotel Plans Show Plenty of Rooms & Parking
Universal filed a master-plan framework with few details. A sketch with the filing also shows three parking structures on the property, and indicates that Universal wants a portion of a street, Precision Drive, vacated.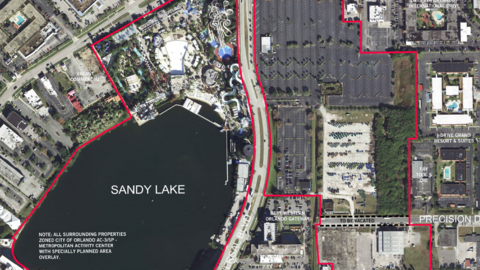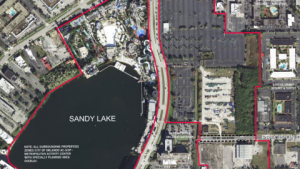 Many in the hospitality industry and the surrounding area expected development plans for Wet 'n Wild to include hotels. Executives with corporate owner Comcast Corp. have made no secret of their desire to build a lot more Universal lodging options. Work is underway on a sixth hotel, called Aventura, at Universal's main resort and also new towers are set to open this year at the Cabana Bay Beach Resort.
Last year, 2,243 rooms were added to Central Florida's inventory according to STR, which tracks the hotel industry. This year an estimated 1,298 rooms are expected, including expansions such as Cabana Bay's. And in 2018, about 4,200 rooms are expected to be added – Orlando just keeps on growing!
Plans along I-Drive include multi-use projects with large lodging facilities, such as Skyplex and iSquare, as well as smaller hotels touted as boutique or midsize aimed at niche clienteles.
Wet 'n Wild, at the corner of International Drive and Universal Boulevard, closed in December. Universal Orlando's new Volcano Bay water park, on its main resort property, is set for a grand opening May 25 2017 – we can't wait!