Orlando Attractions Update – The Orlando Sentinel is reporting that SeaWorld will open a 200-foot-tall roller coaster next year at its Orlando park, a move that analysts say could signal an attempt to diversify beyond marine animals. Orlando's tallest current roller coaster is the 167-foot-tall Hollywood Rip Ride Rockit, which opened in 2009 at Universal Studios.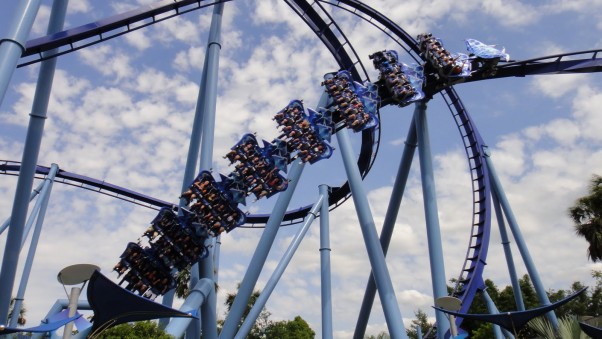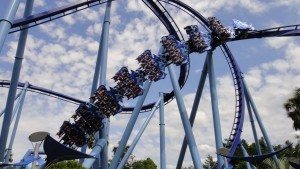 SeaWorld is fighting both negative publicity over whales in captivity and intense competition in Orlando. There were few details given about the new SeaWorld roller coaster , the park saying it would reveal more in late May. In a news release, it touted its "awe-inspiring animal encounters" alongside its thrill rides. It said its new coaster would be Orlando's longest, fastest and tallest — although the Skyscraper opening on International Drive in 2017 would soon eclipse it at 500 feet.
"Maybe this is a slight step away from … being kind of a marine park," said Michael Erstad, an analyst with ITG Investment Research.
SeaWorld has also added thrill rides at its Busch Gardens parks. SeaWorld spokesman Becca Bides said the company is aiming for a diverse array of experiences and is not moving away from marine mammals. She pointed out the Orlando park's last big attraction — an Antarctica land — features penguins, although those had already been in the park in a different display.
SeaWorld has two other big coasters — Kraken, 149 feet tall, and Manta, 140 feet tall. As its name implies, though, SeaWorld parks emphasize marine life such as dolphins, sea lions and its signature killer whales.
Those whales have become increasingly controversial following the 2010 death of an Orlando trainer and the 2013 anti-captivity documentary "Blackfish." Attendance has declined and corporate partnerships have ended.
Orlando's competitive landscape poses another challenge for SeaWorld. In the past two years, Walt Disney World revamped Fantasyland and Universal Orlando added its second Harry Potter land. The rivals have a slew of new things coming up, including Universal's water park and King Kong attractions, and Disney's Frozen ride and Avatar land.
In response, Erstad said, SeaWorld "had to have something new and refreshing."
The ride should provide "some kind of lift to attendance," said Tuna Amobi, an analyst with S&P Capital IQ. "Sure, it will have some impact. The question is how much; and given it's just one attraction, I tend to be a little more conservative in my expectation and projections."
SeaWorld will need to continually invest to keep up with its competitors, Amobi said.