Orlando Attractions Update – Bora Bora has finally arrived in Central Florida!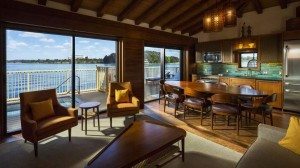 The Polynesian Villas and Bungalows  at Disney look like something out of Conde Naste magazine.  It's very  close to the Magic Kingdom, yet has all the trappings of a luxurious island getaway.
"The real spectacular addition are the bungalows — 20 of them are behind me," said Ken Potrock with Disney Vacation Club.  "These are incredible! They sleep up to eight people, they have two bedrooms, they have two bathrooms, they have a private porch."
"….and there's a private plunge pool that's sure to create a splash with any guest. They have a great viewing, of not just the electrical water pageant which goes by every night, but also the Magic Kingdom fireworks with audio systems that pipe in the sound to your porch," said Potrock.
But for many folk, this may seem like more of a pricey patch of paradise.
Tracy Powell, Vice President Deluxe Resorts said, "If you'd like to rent one of the bungalows, it's anywhere between $2,100 and $4,500, depending on the time of year you come and visit."
It's part of the timeshare program through Disney's Vacation Club. Despite the price, employees said it's a great value, where families will eventually save 50 percent or more through a lifetime membership.
Potrock added, "Not only do they lock in pricing at today's pricing, but they lock in pricing for decades."
Guests can also rent a bungalow for a similar price.
A new lounge called Trader Sam's Grog Grotto will spark lots of interest for parents looking for a place to have a date, while their kids are at childcare on property.  They offer tropical drinks with fusion appetizers, a delicious way to add to your island retreat.
Even if you can't afford to stay in one of those bungalows, there's still about 500 rooms that have just been renovated. Rooms start at $429 a night depending on the time of year. A deluxe suite that holds 5 people starts at around $439 a night.