Orlando Attractions Update – Skyplex developer Wallack Holdings unveils Skyscraper's track design at 2014 IAAPA trade show at the Orange County Convention Center. Skyscraper, the world's tallest roller coaster, will tumble, twist, loop and dive from more than 500 feet above International Drive when it opens in 2017, according to the track design unveiled today.
A 4-minute computer animation of the Skyscraper Coaster attraction was released by Orlando-based US Thrill Rides. The video shows the takeoff from inside the Skyplex entertainment complex and climbing upward. The vehicles hold eight passengers — two rows of four people. The footage includes on-board perspective — and day versus night experience — at times.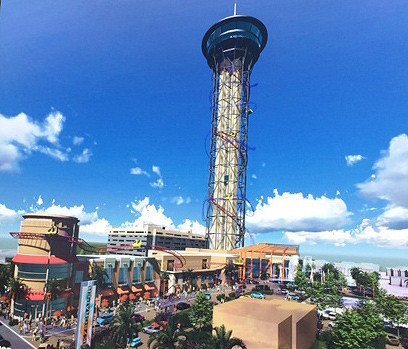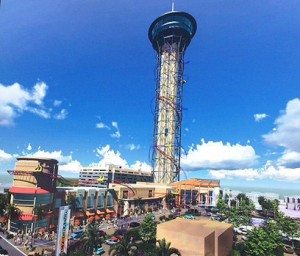 "The unique design of the Skyscraper Coaster means more incredible, heart-pounding inside and outside loops, dives, spirals and inversions in a vertical area than riders have ever before experienced," said Bill Kitchen, founder of US Thrill Rides.
The simulation shows blue cars steadily going up a red track that surrounds the white tower capped by an observation deck. The route down is a roundabout path that includes corkscrew moves along with sudden drops and unexpected elevations. Glimpses of International Drive sites, including the under-construction Orlando Eye observation wheel,can be caught.
Once near the ground, the track turns and goes around the edge of the Skyplex structure.
"Skyscraper will not only take riders higher than ever before, but also introduce one thrill right after the next – there's no 'down time' on this four-minute coaster experience," said Michael Kitchen, president of US Thrill Rides. "It is an absolute cutting-edge engineering marvel that will deliver pure adrenaline unlike any roller coaster in the world today."
The Skyscraper Coaster will be built near the intersection of International Drive and Sand Lake Raod. Developers expect to break ground in 2015 and open for business in 2017.
The 495,000-square-foot Skyplex is designed to include upscale arcading, simulators, rock climbing, bars, restaurants and retail, officials say.
The attraction's observation deck will offer views 535 feet from the ground, and it will be accessible by glass elevators. Skyplex was designed by Orlando-based architectural firm HHCP and will be constructed by Euforria, a construction management division of Winter Park Construction. It will will include a 1,800-car parking garage.