2020 is officially behind you, and if you're looking forward to a new year full of new experiences it's time to check out the new I-Drive Attractions in 2021! Get excited and take a look at these highly anticipated attractions coming to Orlando!
Break the Ice
SeaWorld Orlando's Ice Breaker coaster was originally scheduled to open in 2020 but was pushed back due to the pandemic. They have since released an updated time frame for the grand opening of this one-of-a-kind coaster, and we've got our calendars marked for Spring 2021!
This Arctic-themed, multi-directional coaster will feature four launches and a chilling 93-foot-tall beyond-vertical 100-degree spike. Not sure what that will look like? Take a look for yourself! #BreakTheIce
A New Species of Rollercoaster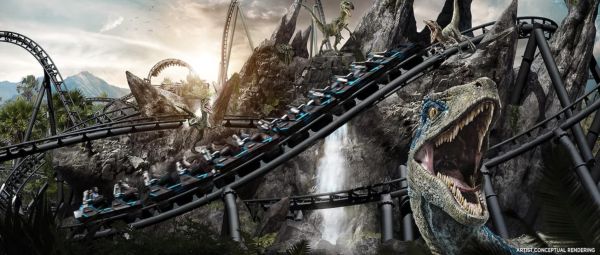 Get ready to fall prey to this new coaster coming to Universal Orlando in the Summer of 2021! This roller coaster will reach speeds of up to 70 mph, sending riders along a 4,700 feet trek of ruthless coaster track! Some other features of this soon-to-be favorite new coaster include a "top hat" that will propel riders 155 ft into the air before a deep plunge at an 80-degree drop. Plus for all you Jurassic Park fans, you can expect this coaster to provide an original story based on the popular Jurassic World franchise, as well as characters that you're sure to recognize throughout the ride!
New Heights at the Home of Giants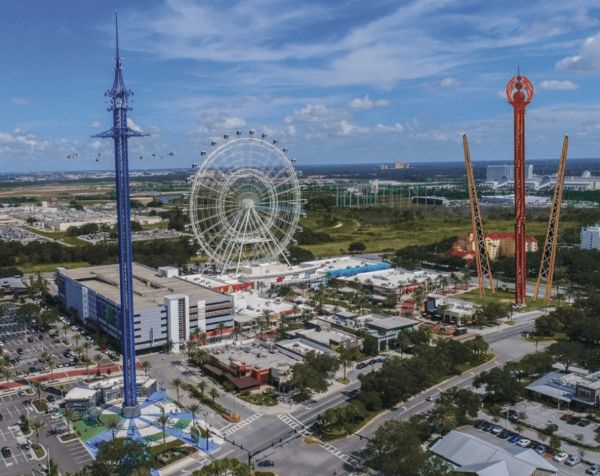 ICON Park is one of Orlando's favorite entertainment complexes, with two giants already calling the park home; the Orlando Starflyer, the world's tallest swing ride, as well as the famous Wheel that takes you 400 ft up over Orlando for sights you just can't get anywhere else. But this year, they'll be making room for two new highly anticipated giants.
The ICON Park Drop Tower will stand at a dizzying 430 ft up, and will be the largest attraction of its kind – in the entire world! This summer you'll be able to take your Orlando adrenaline rush to a whole new level as this giant takes you to the sky of Central Florida in a rotating ascent, before sending you plummeting at 75 miles per hour; only the bravest will take the plunge!
The Slingshot!
A state-of-the-art ride, the ICON Park Slingshot, will launch the most fearless of riders 450 ft into the air and out of the mouth of a bubbling volcano. Top speeds of 100 miles-per-hour are sure to have you hanging on to your seat, and bracing yourself for an extremely thrilling experience.
Prefer to Stay at Ground Level?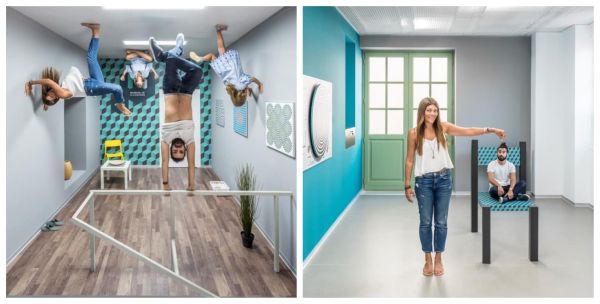 ICON Park will also be welcoming two other attractions that the whole family can enjoy; including the Museum of Illusions, set to open on January 9th. This attraction will leave you feeling baffled, as optical magic appears right before your eyes. Enjoy jaw-dropping walkthrough exhibits that will force you to take a step outside of the laws of nature, while allowing for plenty of insane photo ops!
Another ground level attraction coming for ICON Park in 2021 is In The Game, and this is not just any arcade. In The Game has pioneered a whole new kind of play, creating a completely immersive gaming experience unlike any other. Located inside of The Wheelhouse, you'll be asked to step inside of transformative worlds that will challenge and delight all ages; with everything from digital diversions to real-world and interactive play-lands – this will be the perfect addition to the gaming experiences already available at ICON Park and just another of the new I-Drive Attractions in 2021.
Bronze Kingdom
You've never seen this much bronze in one place before! Bronze Kingdom recently opened up to the public in December 2020 and is sure to bring with it a lot of buzz for anyone looking to stroll through an extensive collection of amazing African statues and art. Everything is made out of bronze and collected directly from African leaders by philanthropist, and entrepreneur, Mr. Rawlvan R. Bennett, over the course of 37 years! If you want to see some incredible art and learn something new, be sure to add this to your list of stops in 2021 – they offer guided tours and self-paced walkthroughs.
Whether you're a thrill-seeker or looking ahead to your next family vacation there are so many new I-Drive Attractions in 2021. There are always new, ground-breaking developments going down that are sure to appeal to everyone's inner adventurer! Stay up to date on all of the up and coming attractions, retail stores, and dining spots that look to call I-Drive home, and start making plans!