Fun Spot Kissimmee's newest addition continues to grow at a spectacular pace.  Rising high above the skyline on highway 192 Mine Blower will be 2,256 feet long, 82 feet tall, and reach speeds of 48.5 mph, just a hair slower than Expedition Everest coaster at  Animal Kingdom.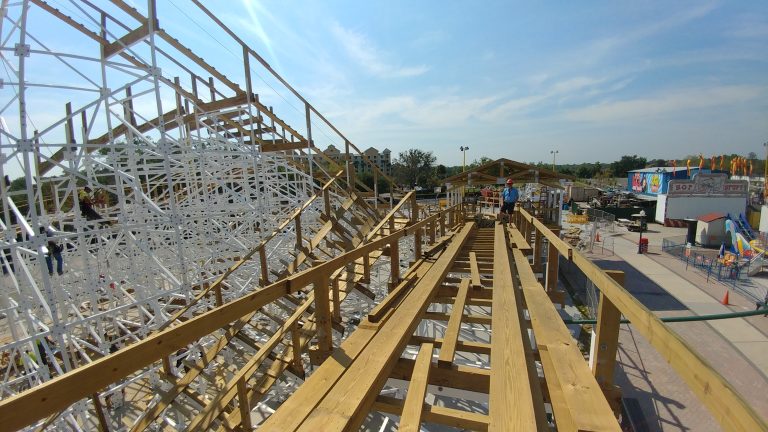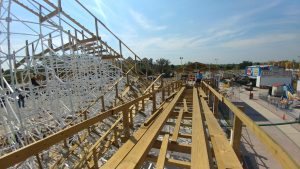 Hold on to your hats! The newest Fun Spot wooden roller coaster, which is expected to be completed sometime this summer, will be the first wooden coaster in the Southeast to do a 360-degree barrel roll.
Mine Blower is designed by the Ohio-based coaster design firm Gravity Group. Gravity Group is known for building the first wooden coaster in China and the Voyage coaster at Holiday World in Indiana, which was ranked as the best wooden coaster five years in a row.
[ult_buttons btn_title="BUY TICKETS" btn_link="url:https%3A%2F%2Fwww.orlandoattractions.com%2Forlandoattractiontickets%2F|title:Book%20Now|target:%20_blank|" btn_title_color="#ffffff" btn_bg_color="#e524c2″ btn_hover="ubtn-top-bg" btn_bg_color_hover="#c0f1f7″ btn_title_color_hover="#358ee8″ icon="none" icon_size="32″ btn_icon_pos="ubtn-sep-icon-at-left" btn_border_style="solid" btn_color_border="#d023e0″ btn_color_border_hover="#26b9de" btn_border_size="1″ btn_radius="5″ btn_font_family="font_family:Nunito|font_call:Nunito|variant:700″ btn_font_style="font-weight:700;"]