There's a new face at Gatorland – in the talking head role that is! The "Alligator Capital of the World," is proud to announce the appointment of Brandon Fisher as Director of Media Production, with responsibility for working with members of the local, national, and international media on site in the park, off site, and in-studio for ongoing education on the alligators and other animals that call Gatorland home.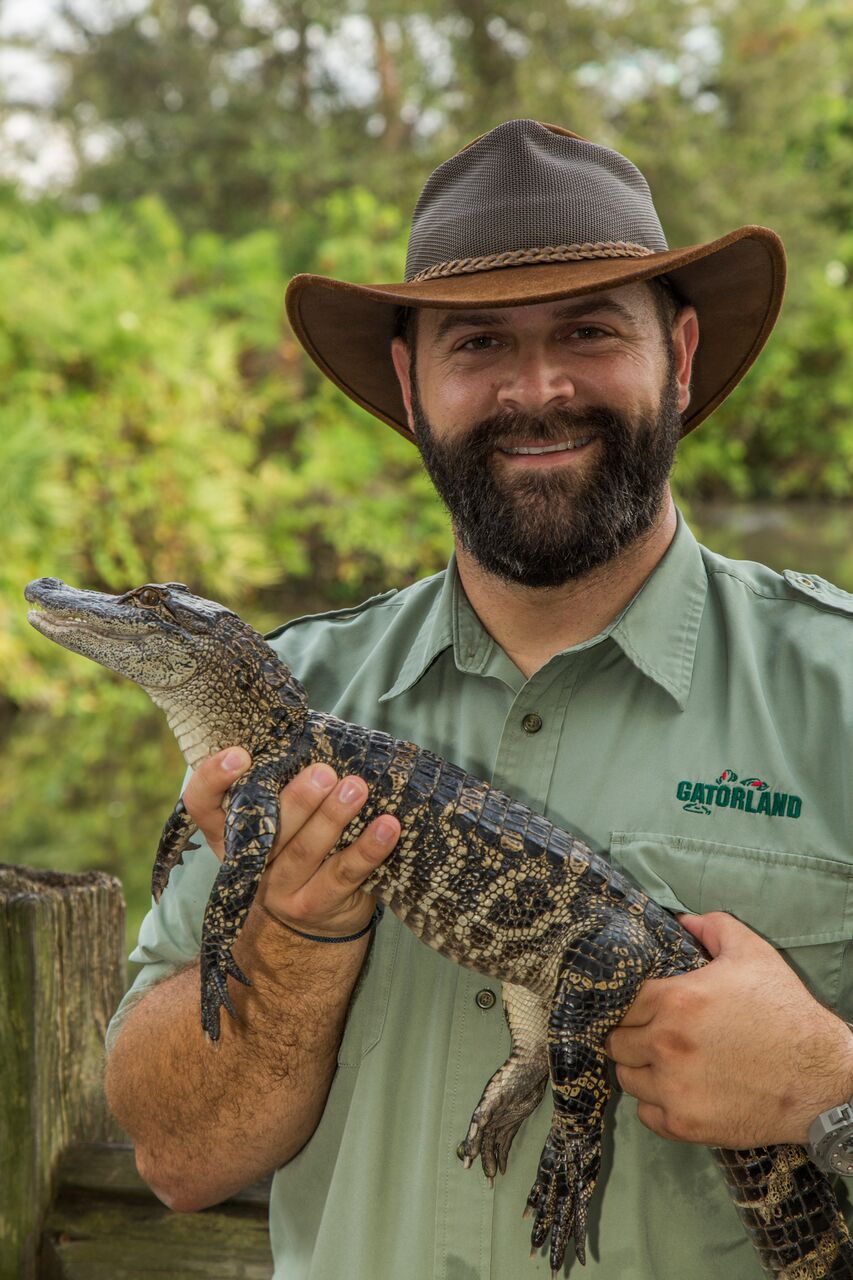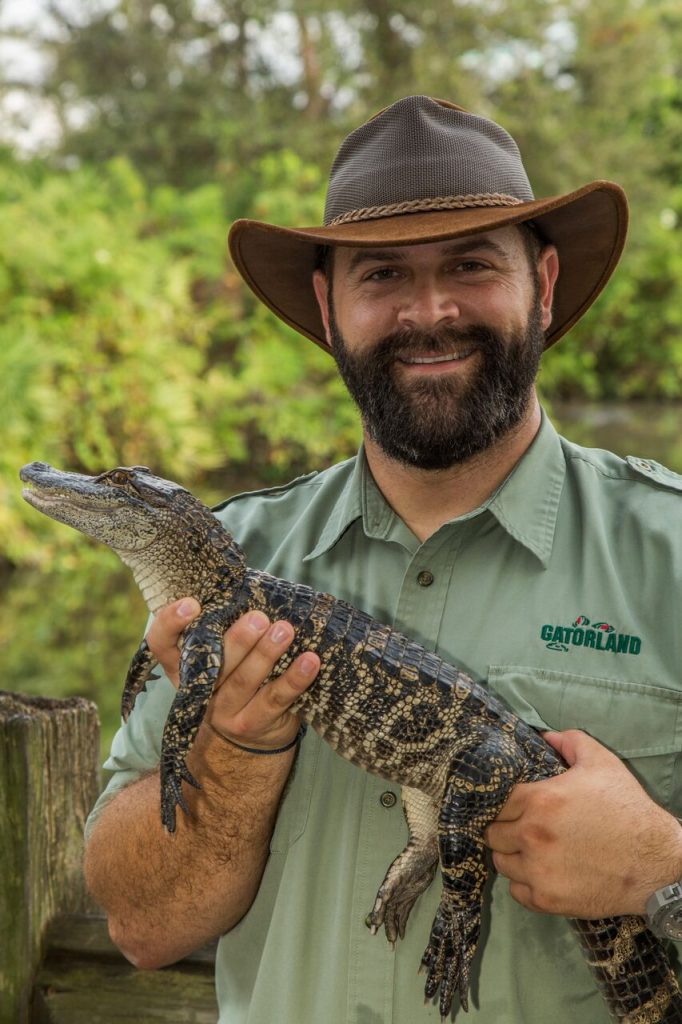 For 13 years, Fisher was the protege of long-time Dean of Gator Wrestlin', Tim Williams, who just retired from 27 years in his iconic role.  A native of Newport News, Va., Fisher started working at Gatorland as a summer job in 2004, and has had numerous hands-on roles in the park including off property coordinator, entertainer for the Gator Wrestlin' Show, Gator Jumparoo Show, snake handler and supervisor of off-property shows and entertainment.  He left the park briefly to join a Central Florida engineering firm to assist with relocation and research on the gopher tortoise.
"I always wanted to work with animals since I was a kid," he exclaimed.  "I love being out in the park with the guests, and sharing my passion with them."
On behalf of Gatorland, Fisher has worked with major market media in Boston, Chicago, and New York City, including The Today Show, The David Letterman Show, and The New York Post. He has also worked with film crews for movies such as Ace Ventura Pet Detective.  He is a father of two children, Ben, age 7 and Emma, age 4.  His hobbies include fishing, hunting, and sports of all kinds.
"We are thrilled to promote Brandon to this very important role for Gatorland," said Mark McHugh, President and CEO of Gatorland.  "With his extensive knowledge and professionalism, he represents us so well."
In addition to the new Baby Gator Marsh that opened this summer, Gatorland will open the brand-new Gator Joe's Adventure Outpost and Stompin' Gator Off-Road Adventure in Fall 2017.  Stompin' Gator Off-Road Adventure will take guests into a section of the park that has never been seen, running alongside the swamps that feed the headwaters of the everglades.  Each of the three monster-style, off-road vehicles seats 12 riders, plus the driver, and is decorated to represent iconic alligators and crocodiles in Gatorland's rich history.  Gator Joe's Adventure Outpost will be located in front of the Stompin' Gator Off-Road Adventure, and serves as the park's home base for reserving and purchasing all separately-ticketed park adventures, including the Stompin' Gator Off-Road Adventure, Screamin' Gator Zip Line, Adventure Hour, Gator Night Shine, and Trainer For The Day.
To learn more about alligators, crocodiles, reptiles and other animals, visit the 110-acre Gatorland theme park at 14501 S. Orange Blossom Trail, Orlando, FL  32837. The park originally opened as a roadside attraction in 1949.  Today, Gatorland provides affordably-priced family fun featuring thousands of alligators and crocodiles, breeding marsh with observation tower, free flight aviary, nature walk, petting zoo, educational wildlife programs, award-winning gift shop, Florida's best train ride, Gator Gully Splash Park, on site restaurant and one of a kind shows including Gator Wrestlin', Gator Jumparoo, and Up-close Encounters.  Another not-to-be-missed adventure is the Screamin' Gator Zip Line with over 1,200 feet of high flying thrills, five intense zip lines, and a massive 150-foot suspension bridge.