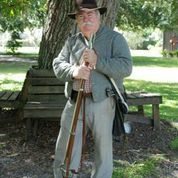 In partnership with Osceola County, the Osceola County Historical Society will host a ribbon cutting at the Pioneer Village at Shingle Creek Regional Park on November 5th
 to celebrate the completion of this nearly $1.5 million relocation and renovation project.   The Ribbon Cutting will take place at the NEW Pioneer Village at Shingle Creek (2491 Babb Rd. Kissimmee FL 34742) from 9AM – 11AM. During this event there will be food, drinks, guided tours and guest speakers. There will also be plenty of photo opportunities. Be one of the first to see Central Florida's newest attraction!
About the Village: The Pioneer Village at Shingle Creek Regional Park brings together the best of Osceola County's natural and cultural heritage on 10 acres of preserved land at 2491 Babb Road.
The Osceola County Historical Society partnered with Osceola County government, developers, and businesses to collect eight of the county's oldest structures and relocate them to this peaceful park, located near the earliest settlement sites in Osceola County. These historic structures have been fully restored and furnished to exemplify the lifestyles of Florida's pioneer families in the late 1800s.
The Pioneer Village at Shingle Creek Regional Park explores not only the home lives of Osceola County's earliest families, but showcases structures and artifacts from some of Florida's earliest industries such as an original citrus packing mill and a replica cow camp like those used by Florida cracker cowboys.
RESTORED/RELOCATED STRUCTURES
Caretaker House (Partin House) – Early research shows this structure was built in 1932. It was originally located on Henry O. Partin's Ranch. It currently serves as the Entrance Building at the Pioneer Village.
Blacksmith Shop – where the local blacksmith would craft horseshoes, nails, tools and other items.
Tyson House – This house represents an average family living in Osceola County as hard working farmers. The family had 11 children and at one point all 11 were living in this one dwelling.
Lanier "Cracker House" – Built in 1889 by the Lanier Family, prominent ranchers in Osceola County. Included with the house are a wash house and smoke house.
The Cadman Complex – includes the Bungalow, Kitchen, Bachelors Quarters, and a Citrus Packing House. The Bungalow fit the Cadman's needs with Colonel Cadman and Mrs. Cadman occupying one bedroom, their daughter in the second bedroom and their three boys in the Bachelors Quarters. The Citrus Packing House was a staple for the Cadman's citrus operations.
Seminole Village – The Seminole dwelling known as the Chickee is an open, round log wood framed structure with a thatched gable roof.
Come celebrate the 23rd annual Pioneer Day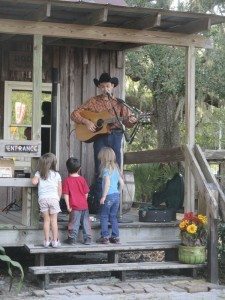 Pioneer Day is an annual outdoor festival in celebration of Osceola County's rich heritage. This tradition started in 1991 as a way to share Osceola County's history with its residents and visitors.
In addition to celebrating the heritage of our county at our 23rd Annual Pioneer Day, the Osceola County Historical Society will open the doors to Central Florida's newest attraction, the Pioneer Village at Shingle Creek, on November 8th, 2014 at 2491 Babb Rd. Kissimmee FL 34746. History is happening as old becomes new in the Pioneer Village at Shingle Creek.
Pioneer Day features family friendly activities, including live music, a kids craft zone, historic reenactment, and lessons in pioneer chores like cow-milking and butter-making. As they explore the Pioneer Village, guests will learn how Florida Seminoles and early pioneer families lived off the land long before electricity and air-conditioning. See a blacksmith at work, hear tales at the cracker cow camp and more!
Location – Picture yourself in a peaceful village with 10 acres of land and 8 historic structures only a short hike from Shingle Creek. This place now exists at the Osceola County Pioneer Village at Shingle Creek. You can take a tour of each of the structures and learn more about how the Seminole and Miccosukee Indians live in Chickees or how it wasn't uncommon for a farmer family of 11 to live in a single dwelling house.
Music – With a mix of County and Bluegrass playing all day you won't want to miss a beat. Local favorites Slickwood and Kenyon Lockry are on the schedule to perform!
Food and Drinks – The best BBQ in town! We will have local BBQ vendors selling pork, chicken, and brisket to keep with our tradition. For those who are 21 and up we will have beer and wine for sale.
Admission – FREE admission all day!
Kids Activities – Children of all ages will be able to participate in Kids Crafts, Kids Chores and even hear stories from the local library about the history of Osceola County.
Alligator Wrestling – Gator Adventure will have two Gator Wrestling shows throughout the day. They are scheduled for 12pm and 2pm!
Historical Re-enactment and Demonstrators – See firsthand a Black Smith in his shop, how swamp cabbage is cooked and how to make your own rope. There will be demonstrators showing off different trades from the 1800s all day long!