Orlando has the theme parks but Naples, Marco Island & The Everglades just could be Paradise! Welcome to the one destination that offers the idyllic Florida experience, along with excitement and adventure found nowhere else on Earth.
Swaying coconut palms and sweeping white-sand beaches only begin to tell the story. Thrill to the outdoor adventure of the Everglades. Discover one-of-a-kind culinary delights infused with local traditions. Immerse yourself within a whirl of shopping excitement. Plunge into a water-filled world that offers Florida's best fishing or find inspiration in its breathtaking array of art and culture.
Naples is well known for its high-end shopping, world-class culture and sophisticated dining, but it's also an affordable family destination that appeals to nature lovers and beach aficionados. Fifth Avenue South and Third Street South are the focal point for Naples shopping in the historic downtown area, with numerous art galleries, chic clothing boutiques and home decor shops.

Take in the view or the ability to fish for free at Naples Pier. At Vanderbilt Beach, take off your sandals and splash in the gentle waves. Visitors and residents flock to Delnor-Wiggins Pass State Park's mile-long stretch of sugar-white sand. Since Naples beaches have been named among the nation's best in TripAdvisor's Travelers' Choice Awards, you will not be disappointed with any beach you choose to unwind on.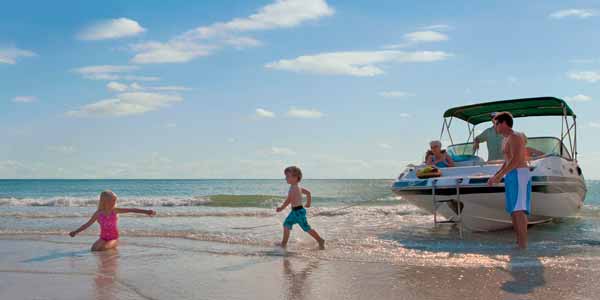 On quiet Marco Island, life moves at a slightly slower pace than in Naples. The main attraction is the beautiful, white-sand beaches, where long beach walks, boat excursions and shelling are favorite pastimes.
Sophisticated, full-service beachfront resorts are sprinkled along the island's western shore. Many offer watersports rentals of all sorts, including kayaks, Jet Skis, stand-up paddleboards and more, along with sightseeing cruises so resort guests can stay busy from sun-up to sundown.
Near the island's northern end, Tigertail Beach Park is a great spot for wildlife viewing. Wading birds often line the shores of a lagoon that separates the parking area from the beach. Park rangers offer several educational programs each week, including birding tours and presentations on sea turtles, manatees and dolphins.
The stunning beauty and vast wilderness of the Everglades covers much of the southern end of the Florida peninsula. This area is home to hundreds of species of colorful birds, fresh and saltwater fish, bobcats and elusive Florida panthers, as well as its most famous residents, alligators.
Not surprisingly, wildlife watching and other nature-related activities are popular with visitors here. Because the Everglades is a unique ecosystem, many of its plant and animal species are found nowhere else on Earth.
Perched on the Gulf of Mexico in Southwest Florida, Naples, Marco Island & The Everglades is a destination like no other.