While many International Drive Resort Area attractions have 
paused operations during this difficult time, they will re-open to engage and entertain your family when it is safe to do so. 
So keep reading!
Thrill-seekers from across the globe visit Orlando every year to find the thrilling experiences that they crave, but no matter what level of thrill you're looking for, you'll be able to find the perfect adrenaline rush for you on International Drive! Stop by the must-see I-Drive stops for thrill-seekers.
The Slingshot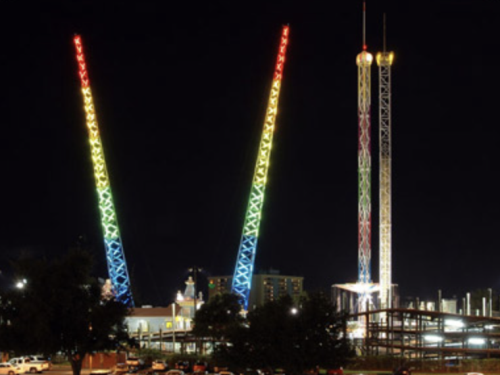 If you're looking for one of the most heart-pounding, adrenaline-pumping, exhilarating thrill ride experiences in Central Florida, take your seat and buckle up for The SlingShot at Magical Midway.
So this is how it goes, you and one other person can sit side by side on the ride, once seated and buckled, the entire platform you're sitting on will tilt you back into a reclined position and then will lower you into the heart of a volcano. As the heat rises, surely from the blood rushing through your body in excitement, the volcano will start to erupt causing you to catapult out at a force of 3-5G's. Once you reach the highest peak, you experience total weightlessness as you are rocketing over 390 feet above the ground.
If you want a good laugh, check this video of past Slingshot riders.
Chances are you will be too distracted by the intensity of the ride to see a stunning view of Orlando, The City Beautiful, from the top of this ride. But, if you can brave opening your eyes on the "World's Largest Slingshot", get ready for some spectacular sights!
SeaWorld Coasters

SeaWorld Orlando is so much more than an attraction that allows you to explore, touch, and learn all about the animals that call the deep blue sea their home. They are always hosting events in the community drawing large crowds for world-class entertainment and cuisine. But let's not forget about the many rides at SeaWorld Orlando that prove fun for thrill-seekers of all calibers.
For the more extreme thrill-seekers, there are three roller coasters only found at SeaWorld Orlando that are consistently ranking on the top 10 list of coaster enthusiasts.
Get hyped!
Their newest addition is the hypercoaster, Mako®. Orlando's tallest, fastest and longest roller coaster in Orlando. Named for one of the ocean's fastest known sharks, this roller coaster speeds up to 73 mph and up to 200 feet high. Surge through a shipwrecked reef and get ready for high speeds, deep dives, and thrills around every turn.
No ceiling, and no floors
That's right. Kraken® is a monster coaster like no other and is Orlando's only floorless roller coaster. It was born from the tales that struck terror in sailors for centuries. Themed after a massive, mythological underwater beast, unleashed from the depths of the sea. Be prepared for your feet to dangle as you travel in open-sided seating, riding on a pedestal above the track at highway speeds to heights exceeding 150 feet!
Flying…Face Down
SeaWorld Orlando's, Manta®, is one of the top-ranked roller coasters in Orlando and is really, in a class all of its own. Find out what it's like to spin, glide, skim and fly like a giant ray on this one of a kind coaster! Once seated, riders are taunted by a head-first, face-down, inverted nosedive…and that's just the beginning of the full force and power of riding the high seas, all on one of the smoothest tracks in the world.
Fun Spot America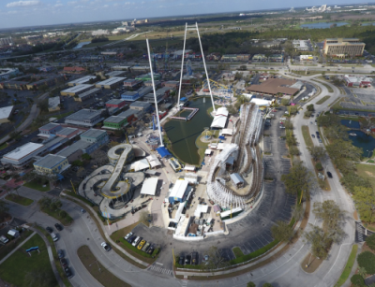 There is something to do for everyone at Fun Spot America Orlando. Whether you are a thrill-seeker who wants "Bigger! Faster!" or someone who prefers the lights and sounds of the arcade, they have exactly what you are looking for. With nearly 30 rides to choose from, the top two recommended for extreme thrill-seekers are:
White Lightning
A throwback to the days of Coney Island, this is Orlando's only wooden roller coaster, but provides a super smooth experience! Be prepared to travel this track at a top speed of 48 mph. White Lightning treats riders to the old-school thrills of gravity-driven speed and unexpected airtime while offering great views of other major park attractions. This is absolutely a must-see I-Drive stop for thrill-seekers
Switch Things Up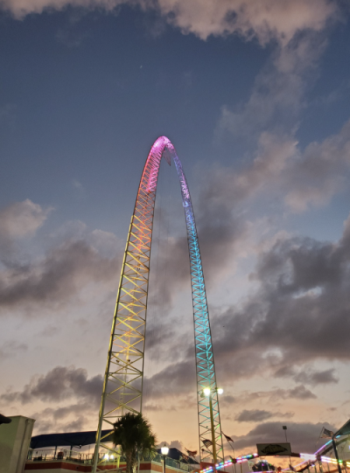 The World's Second Tallest Sky Coaster standing at an impressive 250 feet is for the ultimate thrill-seeker! The experience on this ride is one that can be compared closely to jumping out of a plane. But don't worry, you won't have to brave it alone; the ride seats up to three people so, be sure you bring your bravest friends along for the ride.
The Orlando StarFlyer

Located just outside of the beautiful ICON Park, and the many attractions that call ICON Park home, is the Orlando StarFlyer. It is the world's tallest swing ride attraction, towering over I-Drive at 450 feet high. There is no age limit or weight limit but riders must exceed 44 inches in height, making this attraction a unique one that appeals to the young, old, adventurous and not so adventurous.
Double seating allows you to sit next to someone for the ride, as you take to the Orlando sky for a ride that is thrilling and allows you to see over International Drive like never before.
Whether you are the most adventurous of spirits, or you're simply looking for a small adrenaline rush, you'll be able to find the perfect experience on I-Drive! And if you're looking for the ultimate thrill, be to check out the must-see I-Drive stops for thrill-seekers on your next visit.