It's a Disney premiere nearly 100 years in the making – Mickey & Minnie's Runaway Railway makes its long awaited public debut today! Despite all of his many adventures, though, there's one thing MM has never done: starred in his own ride-through attraction in a Disney theme park.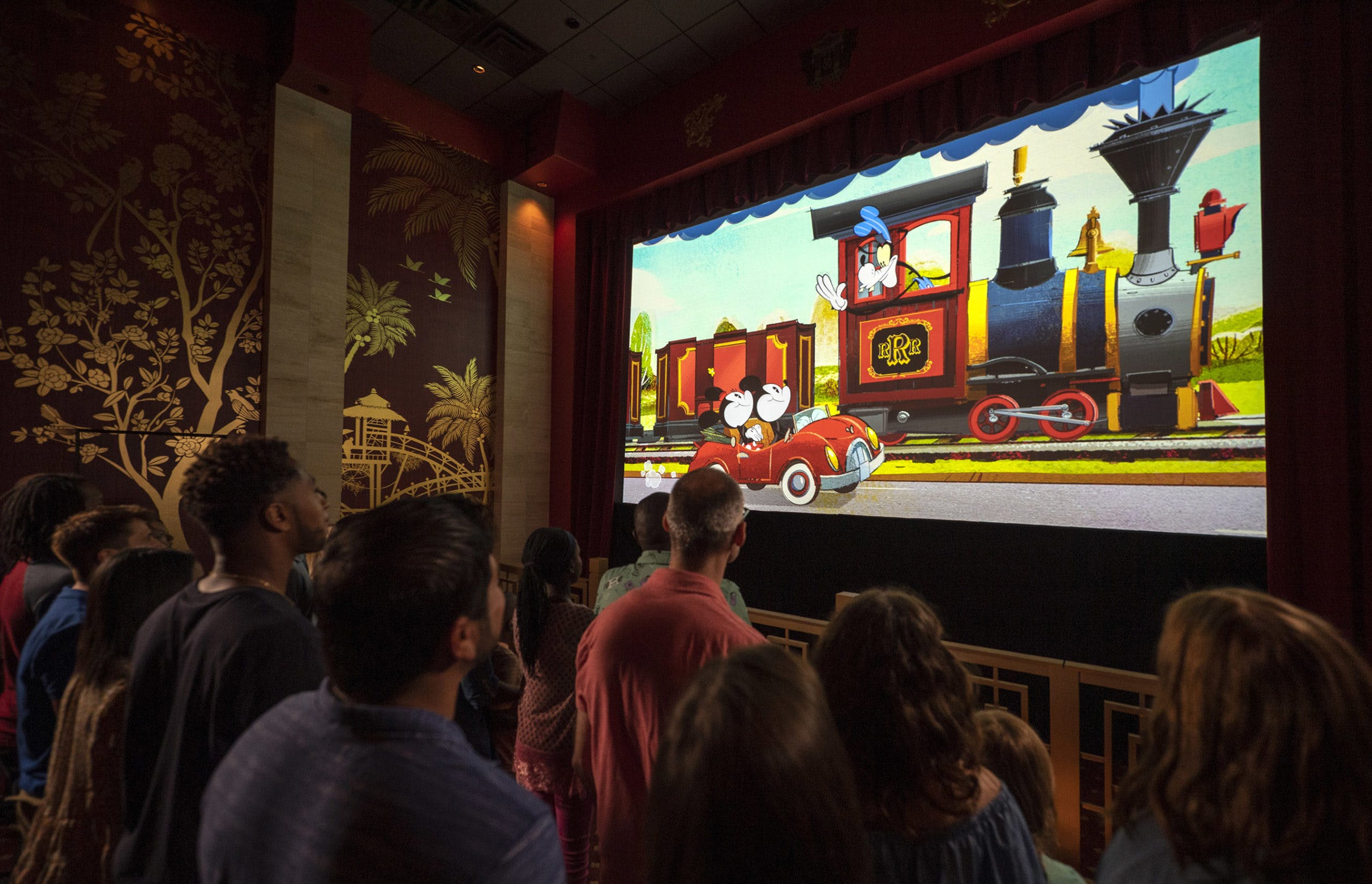 The theme park hounds from the Orlando Sentinel were one of the first on scene and the reporting was suitably positive.
" The name of the new Mickey & Minnie's Runaway Railway ride may sound like a disaster, but in the end, it may be one of the most happy-go-lucky attractions to open in a while. Its feel-good family friendly features include a picnic, a glowing choo-choo-train, dancing with Daisy Duck and next-generation animatronics.
It's a trackless ride, not unlike its decidedly more dark side sister attraction, Star Wars: Rise of the Resistance, which opened nearby in December. In both cases, there's a lot going on in there.
"As showmen, we set out from the onset to put as much show in our attraction as we possibly can," creative producer Charita Carter said during a preview at the attraction Tuesday. "We want to entertain our guests and give them a lot to connect with."
Passengers board vehicles tethered behind a locomotive that enters, Disney's storyline goes, a Mickey Mouse animated short titled "Perfect Picnic." The four trailing cars disengage from one another and soon are hurled through a series of scenes with Mickey and Minnie in bits of peril, including a swirling storm and teetering on the edge of a waterfall. Riders also swing through a desert scene, a sewer and a wild carnival. Later they move through dance lessons given by an animatronic Daisy Duck. (Donald Duck, Goofy, Pluto and Pete also make appearances)
Runaway Railway is its first ride-through attraction to be Mickey-centric, Disney has said. The look of the ride echoes the current animated shorts seen on Disney Channel. Imagineers have put projections onto curved and staggered flat surfaces to create a gentle 3-D look that doesn't require riders to wear special glasses.
"We're using lighting, we're using UV prints, we're using projection. We're using every tool available to us because at the end of the day, it's really theater," Carter said.
There are no water effects, but there is some vibration used with jackhammer scenes, and sudden movements of the cars are tied to the projections and scenery. The independent movement of the cars means your next ride is likely to have a different angle or timing through the scenes.
"One of the things that does is it makes it very repeatable. So you have an opportunity to go back and discover things that you might not have seen the first time," Carter said. "That was all by design."
Among the dozens of little details along the Runaway Railway are hidden gems such as a sign for "Yensid Valley" (that's "Disney" backwards), a 1901 street address (a reference to the year Walt Disney was born), and a carnival poster for the "Great Moving Ride," a nod to the Great Movie Ride, the attraction that operated in the same Chinese Theater building before closing to make room for the Railway.
The new ride and its trackless system don't follow the path of its predecessor, although the loading area and portions of the remodeled lobby area will seem familiar to GMR fans. The exterior of the building remains the same, except for a colorful marquee above the entrance and a new gift shop near the exit.
Another parallel between the park's latest "Star Wars" ride and Runaway Railway is the use of memorable music. Disney worked with Christopher Willis, composer of the Disney Channel shorts, to create the extremely hummable theme song "Nothing Can Stop Us Now," an apt attitude for the optimistic Mickey who sings the ditty to Minnie throughout all sorts of mishaps and into the happily-ever-after scene at the end.
"The impression I'm getting from early riders is really, really positive and what I had in mind … which is that it's fun to get stuck in your head, but it doesn't kind of drive you insane," Willis said Tuesday.
"It's pretty light at the start. They're just talking about the picnic. So, it's just really happy," he said. "And then by the end of the ride, it means something different because they've done so many things. 'Nothing can stop us now' means something different when you get to the end of it."
We can't wait to try it!