The most visible features of any zoo or aquarium are without a doubt it's collection of animals. With a ZooQuarium ticket, guests have the opportunity to visit two popular attractions in Tampa, Florida where they may view countless species from around the world. The two attractions include The Florida Aquarium located in the channel district of Downtown Tampa and ZooTampa at Lowry Park. Both attractions are accredited by the Association of Zoos & Aquariums (AZA), which ensures that member institutions meet the highest standards of animal health and welfare. Each has a dedicated staff of biologists who ensure the animals are getting the best care possible. So read on to meet the Animal Care Staff of Tampa's ZooQuarium.
ZooTampa at Lowry Park
ZooTampa at Lowry Park is home to more than 1,100 rare, endangered and exciting animals from across the world. As an accredited institution of the Association of Zoos and Aquariums, ZooTampa provides the highest standards of physical and mental care for wildlife led by an expert staff made up of curators, behaviorists, caretakers, veterinarians, and veterinary technicians. Let's meet some of the incredibly dedicated staff behind the animals:
Veterinarian and director of animal health, Dr. Lauren Smith leads one of our cornerstone conservation programs, the rescue, rehabilitation, and release of manatees. A native of Texas and a child of a military family, Lauren graduated from Texas A&M's College of Veterinary Medicine in 2010. After earning her veterinary degree, Dr. Lauren spent several years in companion animal practice before being selected for a prestigious internship in aquatic animal medicine at the University of Florida. In that capacity, she worked with a wide variety of species across several facilities throughout Florida. Following the completion of that program, Dr. Lauren returned briefly to private practice and spent time in Alaska before joining the veterinary team in ZooTampa in 2015. Dr. Lauren has a passion for aquatic animals and is currently the zoo's lead manatee veterinarian, managing all care of these gentle giants. With her insight and passion for manatees, ZooTampa has been able to successfully rescue and rehabilitate several manatees throughout her tenure including 18 successful releases this year.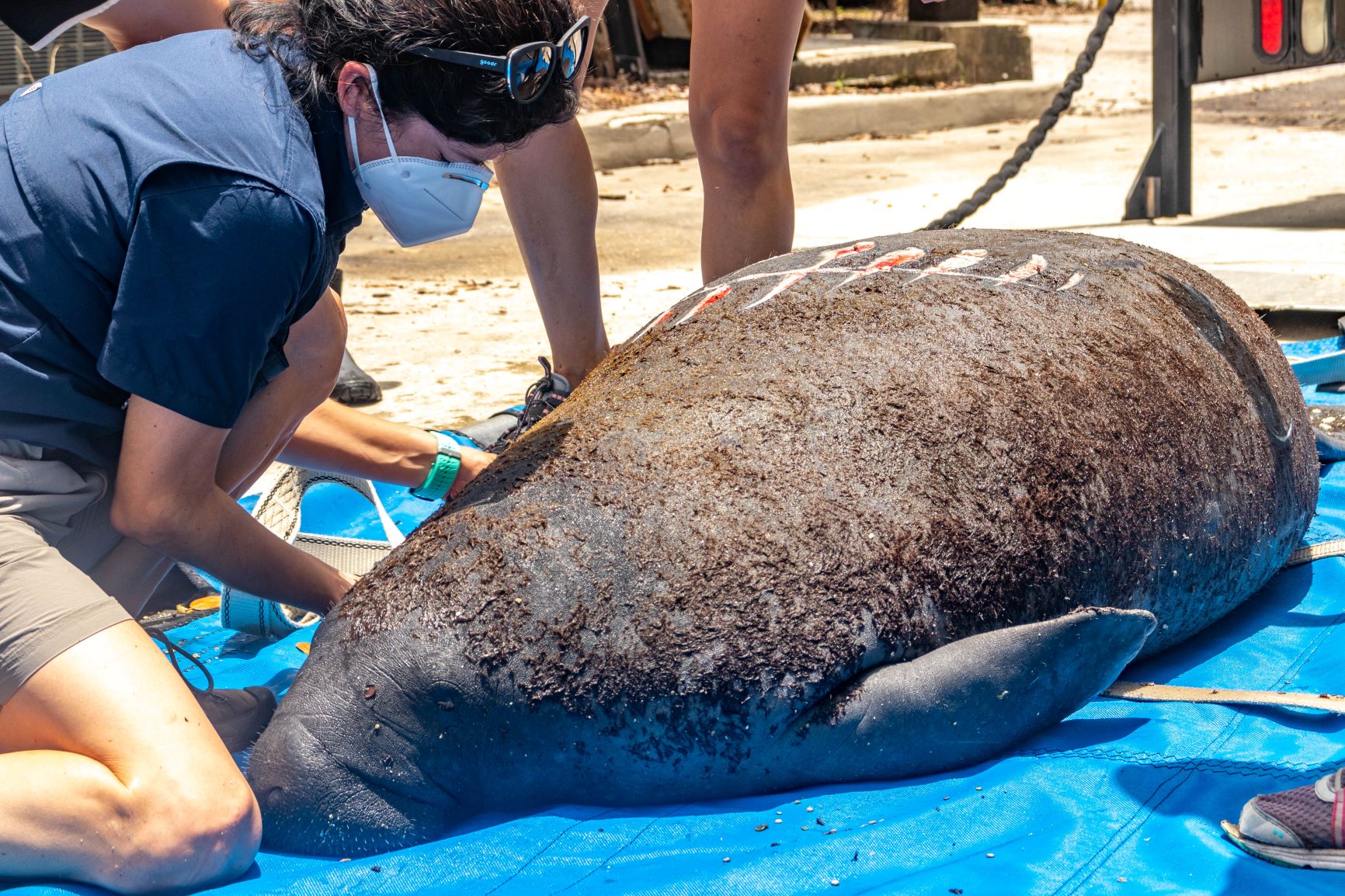 At ZooTampa, enriching the lives of each animal through voluntary behavioral exercises is of utmost importance. The program is led by Associate Curator of Behavior, Sue Pasquine. Sue was born and raised in Cleveland, Ohio where she attended the University of Findlay to study pre-veterinary medicine, but ultimately changed her mind to follow her love in animal training. Her passion for animals was sparked during her volunteer work at her local animal shelters and clinic. She started her career at the Cleveland Zoo. After some further career exploration abroad, she got a full-time position at the Miami Seaquarium as a marine mammal trainer working with 16 bottlenose dolphins and multiple species of parrots. She later furthered her experience at the Clearwater Marine Aquarium, where she got to work closely with the animals from Dolphin Tale 2.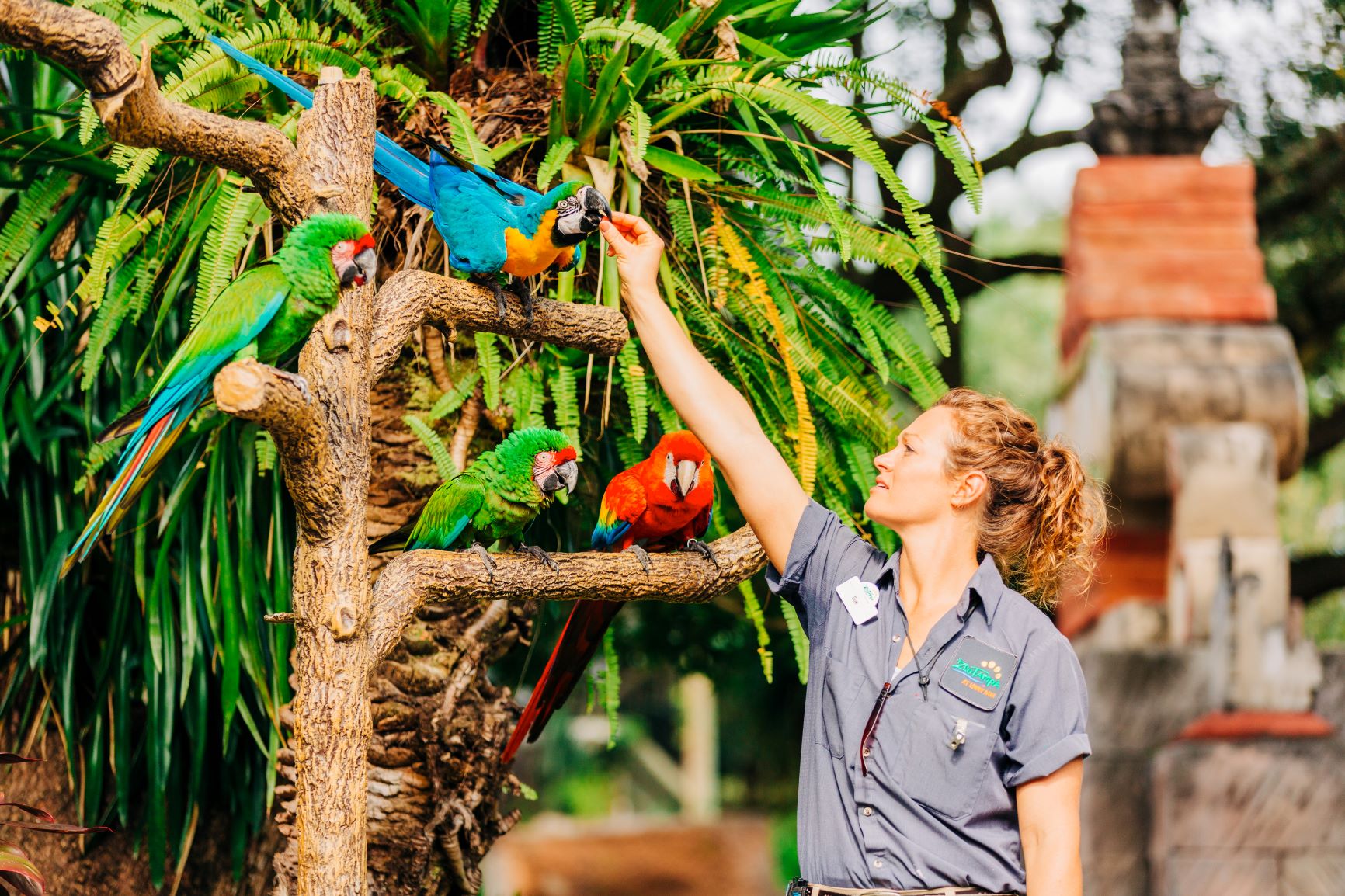 Coming to ZooTampa she had to hang up her wet suit and switch it out for boots beginning her work in the Africa section of ZooTampa working with elephants and rhinos. Two years ago, she transitioned into the position of Behavior Manager and was subsequently promoted to Associate Curator of Behavior. Sue is able to share her passion for animals as well as teach staff how to modify behavior, improve animal welfare, and bridge that connection between animals and the guests. One of her proudest accomplishments at ZooTampa was the reinvention of the Macaw Flyover — teaching 14 macaws a brand-new flight path after years of flying a certain way. Her favorite part of working at the Zoo is being able to bring new ideas and support to the animal care team. She constantly adds new and exciting ways to engage guests and make impactful encounters between them and our 1,100 animals.
Last but certainly not least, the ZooTampa team is made up of animal care professionals that tend to the daily needs of each animal. ZooTampa's Senior Animal Care Professional Jason Reiter specializes in our outstanding herpetology and aquatics department. Jason graduated with a bachelor's degree from Augustana College in 2008, where he majored in Biology and minored in Biochemistry. After college, Jason worked with marine systems and herpetofauna in the private sector before moving to work with sharks and rays at the St Louis Zoo. After a few years of getting his feet wet, he moved to Tampa in 2014 and worked briefly on the bird/reptile team at Busch Gardens before finding his way to ZooTampa and joined the Herps and Aquatics team. Some career highlights at ZooTampa include breeding Panamanian golden frogs, Fiji banded iguanas, and Puerto Rican crested toads. He also has worked on a "Conserving the Common" initiative with other Florida institutions, helping to protect Florida species for future generations. Jason works with bridging the gap between reptiles and people showing how wonderful and affectionate they can be. Jason is most noted by his time spent with Cuban iguana Sandwich, who he has developed a very strong bond with.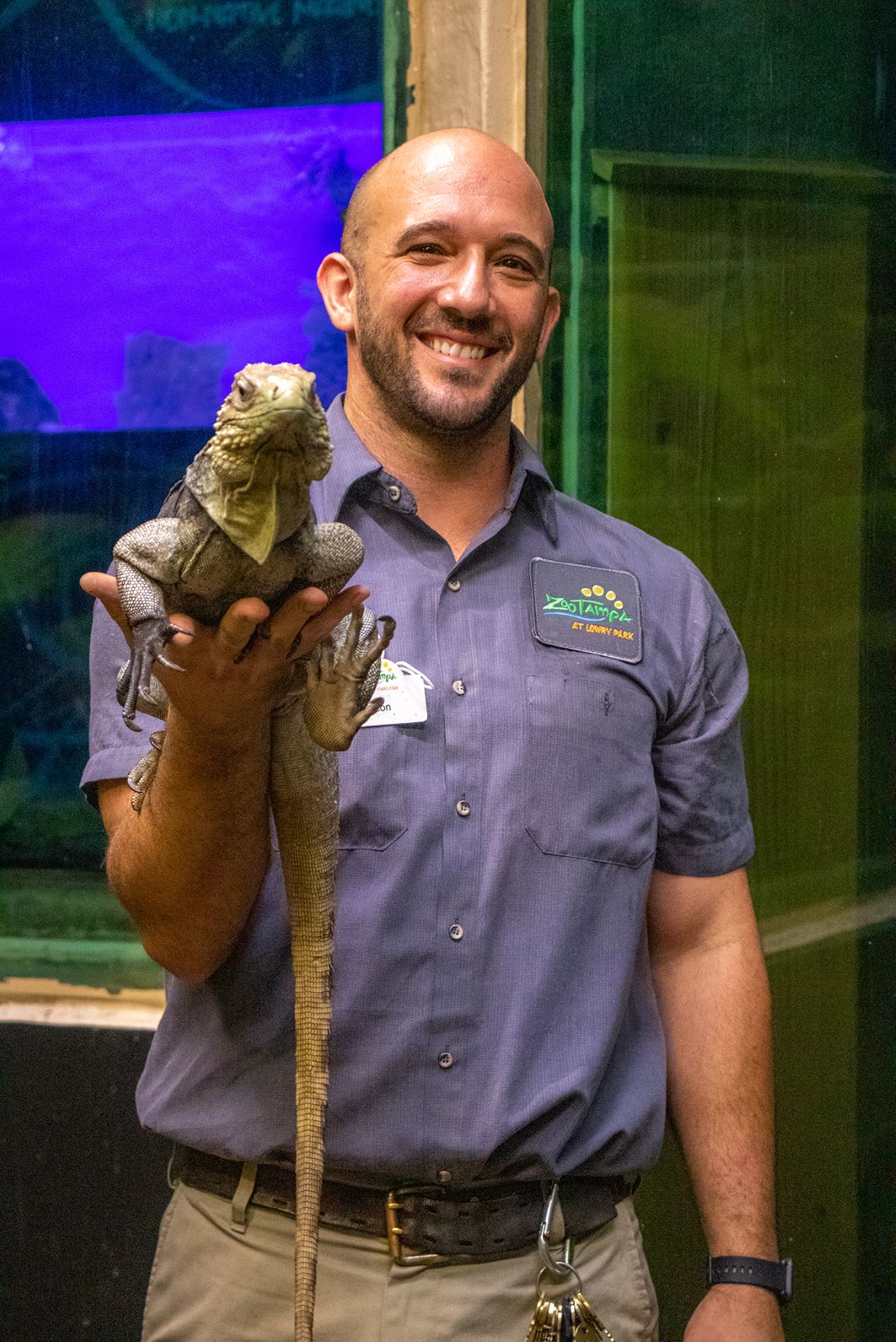 Our team ranks among some of the most qualified zoological professionals in the world, known in their field for excellence in animal care, conservation, and education.
The Florida Aquarium
Next, as we meet the Animal Care Staff of Tampa's ZooQuarium, we move to the Aquarium. With a collection of over 9,000 animals, The Florida Aquarium continues to support both native and non-native species in order to protect and restore our blue planet and inspire stewardship of our natural environment. Taking care of such a robust number of animals is no easy task though, and The Florida Aquarium's Animal Care & Health Staff work hard to ensure these animals are in the best health possible for guests of all ages to enjoy. Each biologist at the aquarium is highly skilled in their field with demonstrated experience and commitment to the health, safety, and handling of our animals.
As a Senior Biologist at The Florida Aquarium, Maegan Gentry has cared for a number of different animals for over 9 years. Starting as an intern in 2010 and officially hired as a full-time biologist in 2011, Maegan has cared for a number of animals over the years including River Otters, Ring-tailed Lemurs, and South African Penguins among many others. With a degree in Psychology specialized in behavioral analysis, Maegan continues to bring her expertise, passion, and commitment to caring for and training animals at The Florida Aquarium.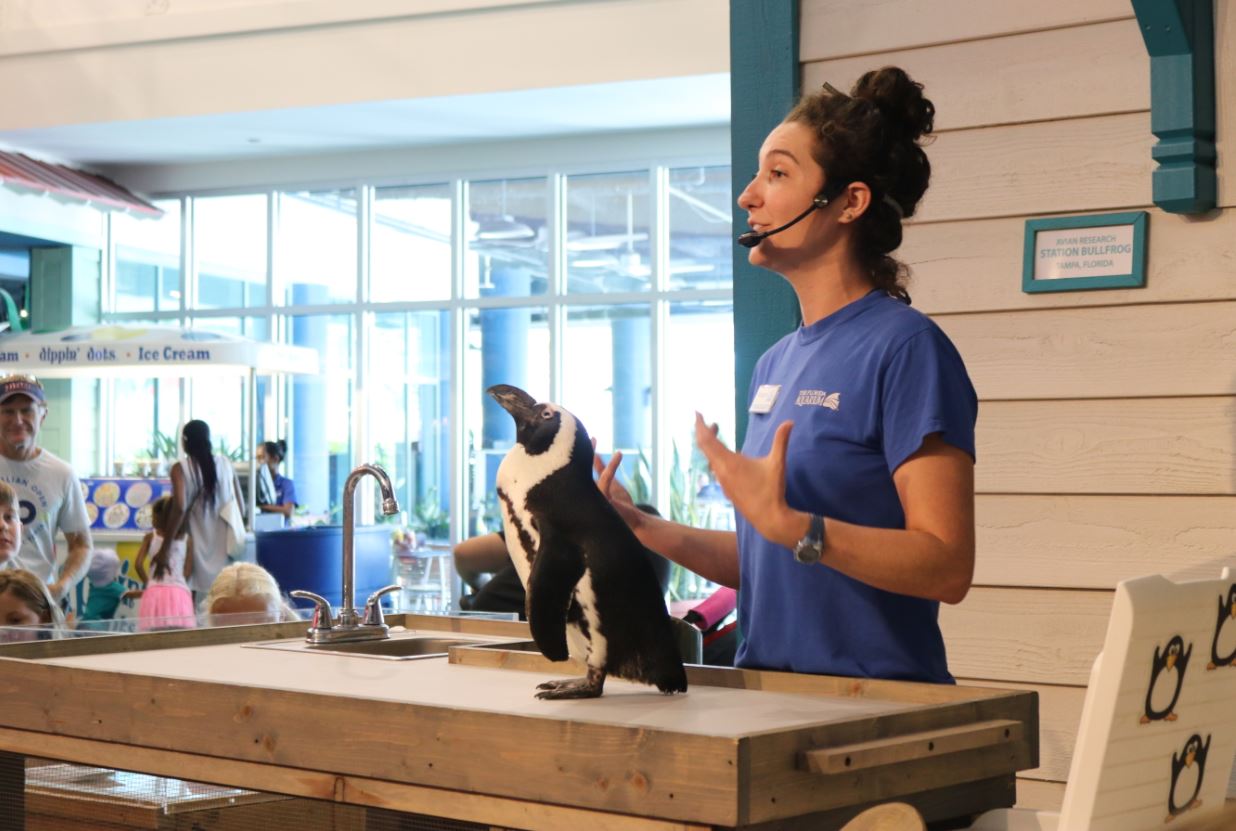 Maegan works with some of the aquarium's most popular animals. The South African Penguins, in particular, are fan favorites and guests have the opportunity to see these endangered birds up close during their visit. Ring-tailed Lemurs are featured animals at the aquarium's Journey to Madagascar exhibit where guests can visit these playful creatures (along with Madagascar Tortoises and Hissing Cockroaches). Plus, lucky guests may even get the chance to see Maegan working with special aquarium residents during their animal enrichments.
Caring for and tending to the needs of the animals in our Coral Reef Gallery is Senior Biologist Shawn Garner. Shawn started at The Florida Aquarium in 2015 and works very closely with the aquarium's live coral and diverse collection of Seahorses in the Dragons Down Under exhibit. Shawn brings a wealth of experience and passion to his role and is particularly fascinated with the Ribboned Pipefish. These pipefish are well camouflaged in the seagrass meadows and reefs of Western Australia and Indonesia where they are found living in the wild.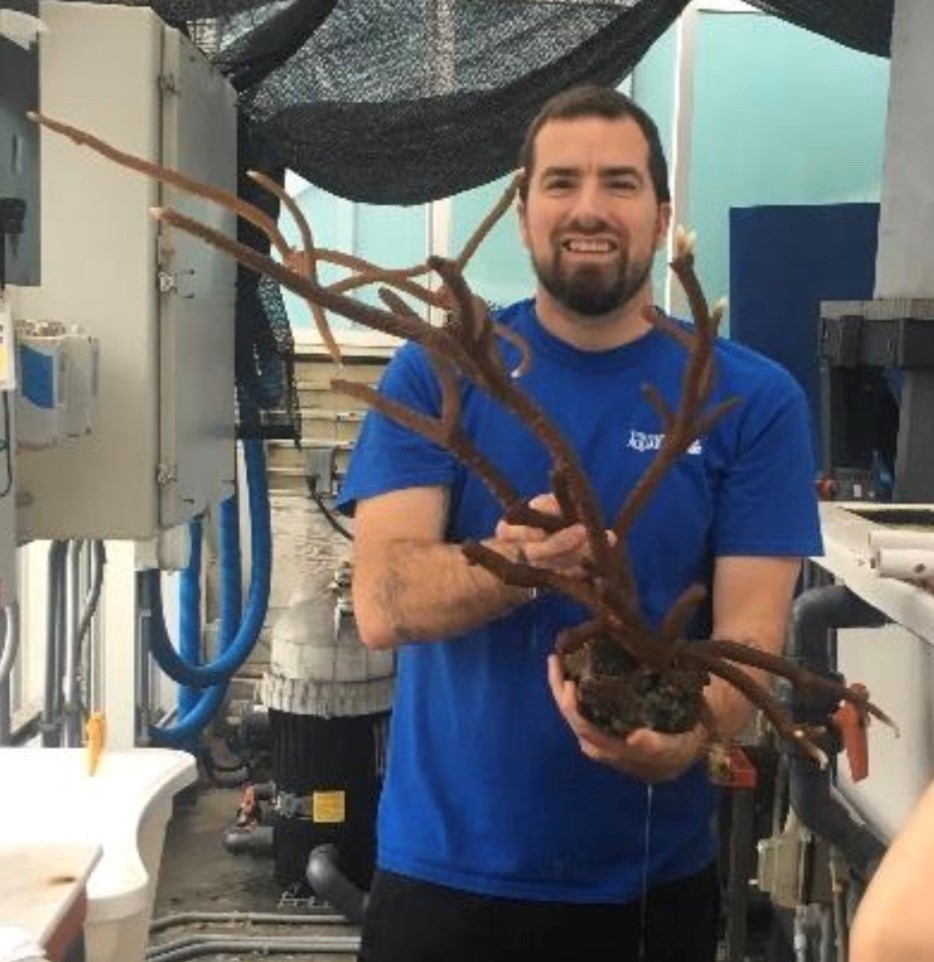 Shawn also works very closely with live coral, a pillar of conservation at The Florida Aquarium. In fact, the aquarium has made national news on more than one occasion for the important conservation work being conducted in the reproduction and proliferation of coral within a lab setting. This work could potentially ensure the survival of the Florida Reef Tract, which has been showing signs of decline due to climate change. Coral Reefs are vital ecosystems to the world's oceans and their health sustains countless aquatic species worldwide.
Maegan and Shawn both do vital mission-based work at The Florida Aquarium. Each is part of a larger team and organization of professionals who dedicate their time and expertise to caring for the animals that call the aquarium home. Their commitment is why the aquarium continues to maintain its AZA accreditation and offer guests the experience of a lifetime when they visit. You can see all of this and much more with Tampa's ZooQuarium Ticket because portions of the proceeds contribute to the mission and vision of The Florida Aquarium!
Now come and meet the Animal Care Staff of Tampa's ZooQuarium for yourself!