Kevin Logan, an over 10 year veteran of the Medieval Times Dinner and Tournament show in Orlando, he is walking behind a majestic white Andalusian Stallion, as he participates in the "Long Reins", one of the several acts in the show demanding exquisite control over a horse, along with athletic chops. Read on for a true Medieval Times Knight's Tale.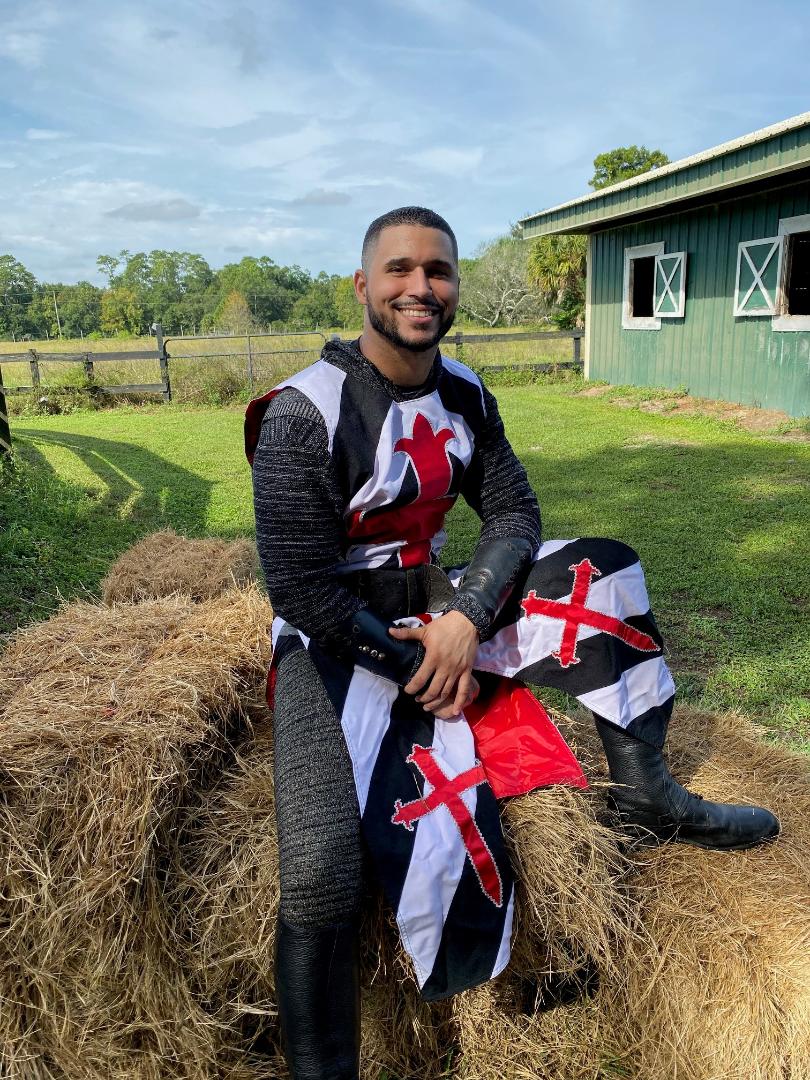 Logan plays one of the six knights, each distinguished by the colorful tunic he wears and the unique set of choreographed maneuvers he performs. Logan got his start as a photographer shooting and selling souvenir shots of guests as they milled about the castle's entrance hall, bar and gift shop before the show when he was noticed by manager Tim Baker. Logan's muscular build, height, and affable personality caught his eye and asked him if he wanted to be part of the show. The very next day, the former high school football player found himself on the back of a house (he'd never ridden one before), embarking on a long and arduous training journey. In Logan's words "I was so excited. It was the perfect job for me, I'd been a serious athlete and loved all the hard effort and practice involved, but then I hurt my knees and couldn't advance in football. I'm drawn to the athletic aspects of the Medieval Times Dinner and Tournament and the intense patience and focus it demands of me."
Gradually, over time, he expanded his repertoire to include more complex choreographed stunts and assumed additional roles, including speaking parts, which transformed him from a stunt man into a theatrical actor. "The horses receive incredible training at the Medieval Times ranch in Texas, but they have a personality and mind of their own," Logan says, "I still never quite know what to expect and yet, because of my experience, I'm often given the most difficult animals to work with. I'm literally always learning something new. "
The nightly show lasts about two hours, but the entertainment experience begins the moment visitors enter the castle grounds. They can tour the Medieval life village that lies to the right of the castle drawbridge and see authentic structures, artisans, and displays of ancient weaponry. Or they can cross the moat and enter the castle's huge entrance hall, where they are given a specific knight to root for. Soon after, they are seated in the arena section dedicated to that knight and treated to a scrumptious four-course feast (served by wenches in costume and eaten with finders only during the show). Various acts highlighting the horses, falconry, the knights, tournament-style games, and battles move the action along, keeping guests of all ages on the edge of their seats.
Despite his long tenure at Medieval Times, Logan's enthusiasm for it only continues to grow. What fuels his excitement these days are the reactions of the kids. "Every day I'm out there and see the joy in their faces I feel more of a responsibility to give them a great time and model this fascinating period of history for them, "he says. "While they're here, they learn a lot about the medieval era and many of them come away wanting to be a knight, like me."
There you have it. a true Medieval Times Knight's Tale.