April showers bring May flowers, and there are lots of exciting events in bloom on International Drive. If you are visiting Orlando's Most Dynamic Neighborhood this month, plan to enjoy these exciting events happening throughout the month and make this your best trip to I-Drive yet!
Cinco De Mayo
Make lasting memories on I-Drive this May with a Cinco De Mayo celebration to remember for years to come! If you're looking to celebrate May 5th with a fiesta, check out these special events.
Hard Rock Cafe

Hard Rock Cafe will be offering a special menu and hosting the Mariachi Nuevo Guadalajara for a live performance from 8 to 10 pm!
Grab your amigos and dive into a mouthwatering order of Chips & Queso featuring warm cheese sauce topped with seasoned ground beef, hatch chilies, and green onions served with crisp tortilla chips. Enjoy the sounds of the mariachi band in the air as you sip on a 36oz margarita, like the Baja California Blackberry, Mexico City Mango or Cancun Orange Cadillac jumbo margarita.
For the main course, dig into Tequila Marinated Chicken Fajitas that pack quite the punch of flavor with a hint of lime, fresh pico, roasted corn, Monterey Jack and cheddar cheeses, and housemade guac and sour cream – perfect for sharing with your whole crew.
Mango's Tropical Cafe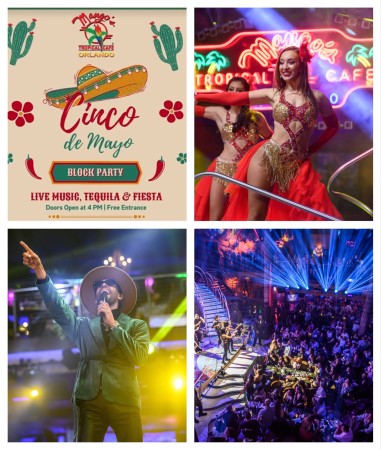 Mango's Tropical Cafe is one of Orlando's top nightlife destinations, offering guests a uniquely Latin-themed experience, from the full dining menu featuring Latin-inspired favorites and the specialty cocktails, to the DJ's, lights, and special performers who take the stage. A night at Mango's is always one for the books.
There's always a fiesta going down at Mango's, and Cinco De Mayo is no exception! Head to Mango's on May 5th to enjoy a Mango's Block Party featuring live music, special entertainment and enough tequila options to keep the fiesta going strong all night long. The party starts at 4 pm, and admission is free. Get all the details here.
Howl at the Moon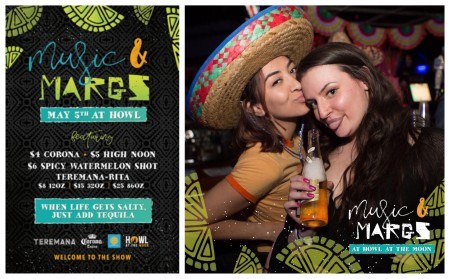 Kick off Margarita season with a bucket of booze, the best of friends, singing along to a live band on stage, and dancing the night away at Howl at the Moon! Head to Howl at the Moon to celebrate Cinco De Mayo with Music & Margs. On May 5th they'll be offering various drink specials, plus hosting live entertainment on their stage that is sure to have you dancing your way into a Cinco De Mayo to remember in the heart of Orlando!
SeaWorld Orlando

SeaWorld will also be celebrating Cinco De Mayo this year, bringing guests an exciting celebration that has everything a true fiesta needs!
Happening from April 27th through May 7th, head to SeaWorld to experience a Cinco De Mayo celebration unlike any other.
Enjoy a fiesta in the street as The Wild Arctic Plaza comes to life with entertainers, stilt walkers, and party starters to kick-start this full-blown fiesta. Head to the DJ Dance Party to hit the dance floor and get your feet moving as a DJ spins new and old beats that are sure to keep the energy alive! Then as you're savoring delicious Mexican dishes like street corn, tacos al Pastor, and tostada de barbacoas, sip on an ice-cold beer or marg, and immerse yourself in the sounds of the traditional music of Mexico as classic bands bring their beautiful and bold sound to Orlando.
Note: This is the final weekend of their Seven Seas Food Festival, so why stop at Mexico? Bring your appetite, and sip and sample your way around the world during this special foodie festival. Get the delicious details here.
Run for the Roses
The Kentucky Derby is on May 6th, and if you're hoping to enjoy a Kentucky Derby celebration, these destinations on I-Drive will be hosting special events to commemorate this iconic cultural horse racing event that brings so many people together each year!
Live Viewing of the Kentucky Derby at The Hampton Social

Get your hats and bowties ready for this Kentucky Derby – Run for the Rosés event! On May 6th, from 3 to 8 pm, head to Hampton Social at Pointe Orlando to enjoy $10 Rosé Mint Juleps, live music, and live viewing of The Kentucky Derby! Derby attire is highly encouraged, and if you come dressed in your Derby best, you may win a prize for best dressed and best hat! Get the details and get ready to celebrate the Kentucky Derby in the heart of Orlando!
Cooper's Hawk Winery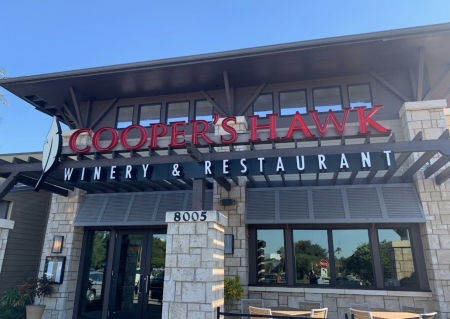 The Kentucky Derby horse races are a celebration of longstanding, festive traditions. Two weeks in May are filled with fashion, food, and a unique combination of high-class traditions and down-home comforts, sipping Mint Juleps and, of course, wine. Dig out your colorful hats, fascinators, and fedoras and head to Cooper's Hawk Winery on May 8th or 9th for the ultimate celebration of The Run for the Rosés. As one of the country's largest wine clubs, if you're looking for a seasonally inspired menu that features an award-winning list of handcrafted wines, Cooper's Hawk never disappoints. Check out this sneak peek of what will be on the menu during this event, including special wine pairings for each menu item, here.
Kick Start Your Summer Fun at SeaWorld Orlando
If you're hoping to kick start your summer fun in Orlando this May – SeaWorld is heating up for summertime with many special events kicking off this month!
Pipeline: The Surf Coaster
Surf into summer fun on the world's first surf coaster! Pipeline: The Surf Coaster is set to open in May! This new coaster brings an exciting new experience to the Coaster Capital of Orlando! Feel the awesome power of the ocean in a whole new way as you launch 110 feet up and feel every bank and curve as though you're really riding the waves thanks to innovative dynamic seats that give you unparalleled freedom of movement. If you're hoping to experience the ultimate thrill during your visit this May, you can't miss the opening of this highly-anticipated attraction! Learn more here.
Viva La Musica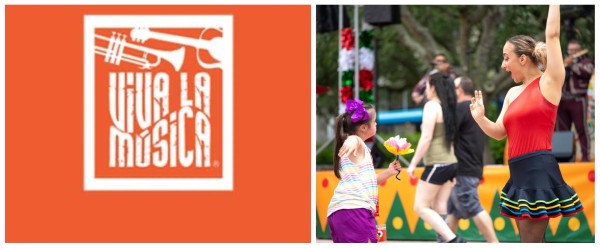 Between May 13th – 21st experience all the color and culture in a new way as this festive, family-friendly Latin celebration returns to SeaWorld for just two Saturdays and Sundays. This event is included with park admission and features the hottest Latin entertainment alongside your favorite attractions and unforgettable animal adventures. Don't let the sound, spice, and spirit of this special event pass you by. Get all the event details and see a full line-up of live performances happening here.
Guy Harvey Weekend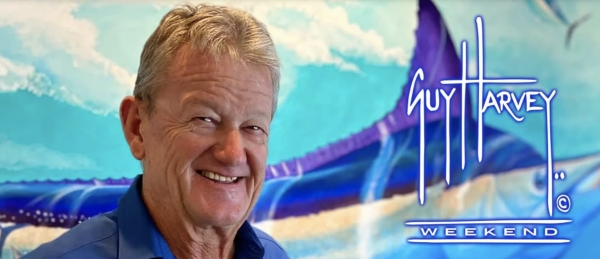 On May 19th – 20th join Guy Harvey, famous marine wildlife artist and conservationist at SeaWorld for meet-and-greets, autographs, photo opportunities, and more.
Summer Spectacular

From May 27th – September 4th, when the sun goes down, the night comes to life with electrifying dance music, colorful lights, and a spectacular fireworks show! This is a can't-miss summer event in Orlando, so be sure to check back before your visit and end your May with excitement in the heart of Orlando!
Summer Fun at SeaWorld's Aquatica

Every Saturday and Sunday in May, Aquatica is introducing an all-new event to kick off summer in style! Get ready to say, 'Aloha' to summer with extended park hours until 8 pm and exclusive early entry for Pass Members. Take to one of Orlando's top water parks to enjoy splashing around at all of your favorite attractions, plus during this special event enjoy live music, entertainment, and special offerings from their on-site restaurants.
Orlando Expos

Hoping to get in on one of Orlando's famous expos during your trip this May? Two fan-favorite shows will be returning to Orlando this month, so mark your calendar!
Central Florida Home Expo: Spring cleaning have you thinking about those home improvement projects you've been putting off? Enjoy a productive and fun weekend during the Central Florida Home Expo returning to the Orange County Convention Center on May 6th- 7th. This show has everything you need to take your home improvement projects to the finish line! View and interact with the industry's hottest home and garden products, find the latest products and services for home improvement, and meet with professionals who can make your next remodeling, renovation, landscaping, or decorating project a huge success! Get the details for this FREE event today, and don't miss out on what is sure to be a productive and fun event for the whole family.
Spooky Empire: Since 2003 Spooky Empire has been delivering the best sights, sounds, and screams to Halloween lovers, and this year is no different! Head to Double Tree by Hilton from May 19th through the 21st to enjoy an enormous room full of vendors, a film and tattoo festival, music, celebrity speakers, and more to satiate even the most diehard aficionados of the spooky season. Get all the details and see what celebs will be making an appearance this year!
Don't forget about Mom!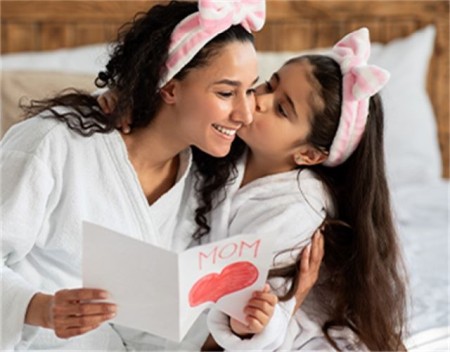 Mother's Day is just around the corner. Peep our upcoming events calendar to view Mother's Day events happening on I-Drive and stay tuned for a blog post featuring the top ways to celebrate your mom this May in the heart of Orlando!
April showers bring May flowers, and I-Drive is the perfect place to stop and smell the roses. Get ready to embrace new experiences at these exciting events on International Drive this May! Check out the calendar of upcoming events to see a full lineup and events happening in Orlando's Most Dynamic Neighborhood this month and make this your best trip to I-Drive yet!