Universal Orlando Update –  Mardi Gras, that annual bead-throwing, spice-flavored, Louisiana -inspired festival is once again back at Universal Orlando.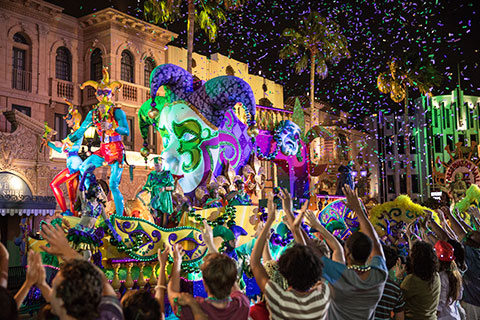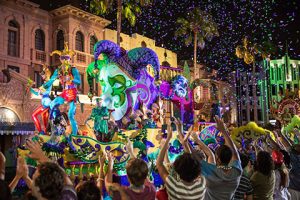 For 2017 that means the festivities — including the parade — will take place for 50 consecutive nights. The big music concerts will be held on 12 select nights, beginning with a rousing performance by Trace Adkins at 8:30 p.m. this coming Saturday. The park's French Quarter Courtyard will be open each night and various Louisiana-based bands will provide some upbeat entertainment.
The Mardi Gras celebrations will take place every Saturday through March 25 with nightly parades. Parade start times vary between 5 p.m. to 7:45 p.m. (This Saturday, it's 7:45 p.m., then next week it's 6:45 p.m. every night except Tuesday, when it's 5 p.m.) Daily times are listed on the Universal website so check out the day in question just to be sure.
Admission to the Mardi Gras celebrations is included in regular park admission.