March is here, and with the vibrant colors and new beginnings of Spring just around the corner, there is an undeniable energy in the air.
If you're looking to spring into good times in Orlando, International Drive is the place to be.
If you'll be in Orlando's Most Dynamic Neighborhood this March, these are some happenings around the area that you aren't going to want to miss.
March means Mardi Gras!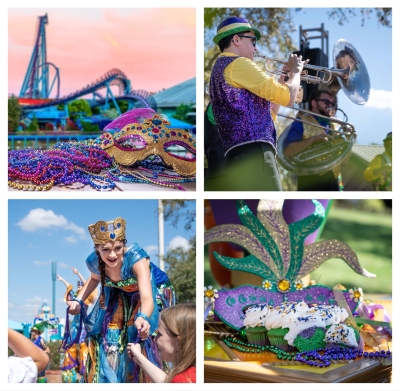 In Orlando, we celebrate Mardi Gras all March long, meaning there is plenty of time to make plans and get in on the party of a lifetime.
Fun Spot America
Get jazzed up for Mardi Gras at Fun Spot America! We're talking all of your favorite coasters, rides, and games in addition to mouthwatering Bayou Bites, Nawlins Spirits, and a French Quarter feel that will make you feel like you've taken a trip to The Big Easy right here in Orlando! Enjoy exciting jazz music, family-friendly parades with beads, Foto Spots for you and your "krewe", and so much more!
The family-friendly Mardi Gras celebration will remain in full swing at Fun Spot America throughout the entire month, so get the details and start planning your visit today!
Universal Orlando
If you're looking to throw your inhibitions to the wind and truly let loose, a trip to Universal Orlando during their Mardi Gras celebration is a must.
Welcome the beads, parades, concerts, and authentic New Orleans grub with arms wide open all month long at Florida's Biggest Party of the year, and the loudest, wildest blowout this side of the Bayou.
Catch beads flying through the air as you are dazzled by authentic New Orleans parade floats, throw your hands up and dance to some of the biggest names performing live on select nights, take your tastebuds on a culinary journey with an assortment of authentic New Orleans cuisine that fuel the party and keep the good times going long after the sun sets. Get the details and see who will be performing live this month here.
SeaWorld Orlando
If you'll be heading to SeaWorld Orlando this month to indulge in the true foodies paradise that is their Seven Seas Festival, an experience that lets you sip and sample your way around the globe with exciting flavors and local craft beers, alongside live performances from artists like LoCash, Flo Rida, Everclear and more – be sure you check out their Mardi Gras festivities before your visit so you can enjoy a taste of Mardi Gras too!
Get details about the Seven Seas Food Festival, going on all month long, here, and during your visit, this March enjoy Mardi Gras festivities throughout the park that will transport you to New Orleans without having to step foot out of this expansive theme park!
Throughout the month Pop-up Parades will make the Wild Arctic Plaza come to life with entertainers, bead captains, stilt-walkers, and musicians bringing the spirit of Mardi Gras to you in full force right here in Orlando.
Hop into street parties that offer the sights and sounds of Bourbon Street, complete with DJs, and street performers. And of course, enjoy the classic gulf coast flavors as part of their Seven Seas Food Festival, bringing you beignets, po'boys, and southern libations that will have you licking your lips and savoring every flavor along the way. Get the details about the Mardi Gras festivities happening at SeaWorld Orlando this month here.
Hash House a Go Go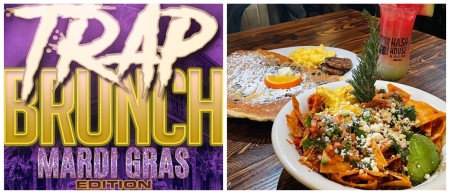 Maybe your idea of the perfect Mardi Gras celebration is a delicious, New Orleans-inspired brunch in the heart of Orlando? If that sounds like you, save the date for March 13th and head to Hash House A Go Go for a delicious Mardi Gras celebration from 4 to 8 pm.
Smokin' Aces Events has partnered with Hash House A Go Go to bring Orlando a Trap Brunch. Enjoy music by DJ Gryo, DJ Bean, and Taildawg Spielberg as you sip on bottomless mimosas with a 5-flavor juice bar and loaded "Bourdon Street" slushies. Dig into a savory NOLA-inspired brunch menu, plus Hash House A Go Go's nationally recognized and award-winning brunch and lunch menu will also be available. Get the details today and get ready for brunch, Mardi Gras style, right here in the heart of Orlando!
The Orlando Boat Show

Money can't buy happiness, but it can buy a boat… and that's pretty close! Whether you're a seasoned sailor, a boating enthusiast or you're looking to get your feet wet, learn all about various boats and find the perfect fit to get you out on the water at the Orlando Boat Show, a can't miss event that the whole family will love!
Enjoy exhibits from 19 different dealers representing over 80 manufacturers, a seminar stage, and fun activities like the fishing zone and an interactive show by Twiggy the water-skiing squirrel!
This highly-anticipated annual event will be happening at the Orange County Convention Center from March 25th to March 27th and is sure to be a splashing good time. Get the details today!
Live Entertainment

What's a trip to I-Drive without unforgettable live entertainment?
If you're looking for extraordinary entertainment during your visit to Orlando's Most Dynamic Neighborhood – you'll find there is no shortage here on I-Drive.
Get dancing!
If you're on the search for live music, be sure to check out what's going on at Tin Roof Orlando this month and if country music is your thing, get the details on their Nashville Hits the Roof event going on all month long that features the hottest up and coming acts in Country Music performing live for FREE.
Looking for a laugh?
The Orlando Improv is always hosting standup comedians alongside a delicious dinner to make for the perfect night out full of good times and belly laughs.
Among the many entertainers hitting the stage this March, don't miss these headliners:
Rob Schnieder: March 25 and 26th
World-Class Entertainment
And of course, you never know who you'll find performing at Hard Rock Live Orlando, but you can always be assured it's going to be a good show! This month enjoy these well-known artists taking the stage:
Slash feat. Myles Kennedy and The Conspirators: March 26th
March is here, and with the promise of Springtime approaching quickly, we're ready to spring into action. Get in on the good times with these can't miss events happening in Orlando's Most Dynamic Neighborhood this month!