It's the most wonderful time of the year! As plans for holiday fun start to fill the calendar, a quick getaway may be just what your family needs to recharge and close out a very strange year. Florida's Space Coast is located on Central Florida's East Coast, Orlando's closest beach, and home to some of the most stunning natural landscapes in the state! With safety-conscious attractions, endless trails, and natural places to explore, there's something for everyone in your family to relax, recharge, and enjoy their holiday in the sun! It's a new holiday tradition.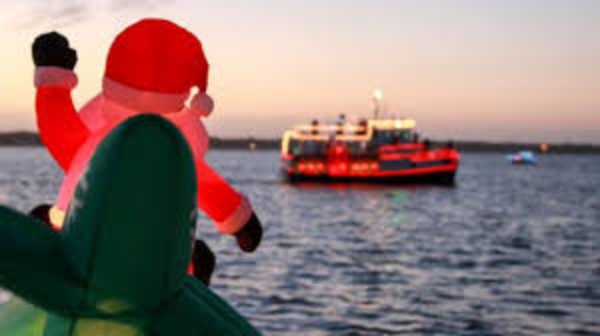 Swing FORE the Holidays
The Space Coast is peppered with pristine golf courses that feature unique play and landscapes! So unique, you may even see a rocket take off from the tee box. A day out on the green is a great gift this holiday and an opportunity to try out some new clubs with a group of your closest loved ones. If putting around is more your style, head over to one of the miniature golf courses to score that coveted hole-in-one in a socially distanced setting with the whole family and create a new Holiday tradition.
Golf Courses: PGA-style
• Duran Golf Club | Viera
• Cocoa Beach Country Club | Cocoa Beach
• The Savannahs | Merritt Island
• Spessard Holland Golf Course | Melbourne Beach
• The Majors at Bayside Lake | Palm Bay
Miniature Golf Courses
• Golf N Gator | Cocoa Beach
• Lighthouse Cove | Cocoa Beach
• Jungle Village | Cape Canaveral
Surf Lessons for the Kids
On the Space Coast, we dream of a Surfing Christmas! If your children are wanting to get their start on a new skill, surfing lessons are a great gift you can give while on your quick weekend getaway! While the surfers learn to hang ten, the rest of the family can soak up some much-needed beach time and comb the beach for nature's stocking stuffers, SEASHELLS!
• Wavemaster Surf School | Cape Canaveral
• Ron Jon Surf School | Cocoa Beach
• Cocoa Beach Surf Company | Cocoa Beach
• Surfguys Surf School | Melbourne Beach
Reel In Your Holiday Feast On a Fishing Trip
Nothing brings the family together like a fishing trip out to sea! Port Canaveral is home to many fishing captains ready to take you on your bucket list trip offshore. With charters geared toward families and experienced anglers looking for a trophy fish, you're sure to find your family's new favorite holiday tradition.
Offshore Fishing
• Anglers Envy Fishing Charters | Cape Canaveral
• Arts Adventure Sport Fishing Charters | Cape Canaveral
• Fired Up Fishing Charters | Cape Canaveral
• Obsession Fishing Charters | Cape Canaveral
• Sea Levelers Sport Fishing Charter | Cape Canaveral
Inshore Lagoon Fishing
• Central Florida Sight Fishing Charters | Cape Canaveral
• Fin & Fly Fishing Charters | Cocoa Beach
• Fine Line Charters w/ Capt. Jim Ross | Various Locations
• Lagooner Fishing Guides | Cocoa Beach
• Native Son Fishing Charter | Cocoa Beach
Discover Adventure at Local Attractions
Attractions on the Space Coast have worked hard to make their facilities as safe as possible. By practicing social distancing, requiring facial coverings, and limiting admission, you can expect a comfortable and safe visit to any of our local attractions. Move freely through the Brevard Zoo to kayak with your family through animal enclosures, feel like you've got the entire Kennedy Space Center Visitor Complex to yourself, and have some fun with your family this holiday season and create new Holiday traditions.
• Andretti Thrill Park | Melbourne
• Brevard Zoo | Melbourne
• The Dinosaur Store and Museum of Ancient Cultures | Cocoa Beach
• Exploration Tower | Cape Canaveral
• Kennedy Space Center | Merritt Island
Get Outside and Enjoy the Sunny Skies
The Space Coast is known for its great weather all year long. Our winters are a particularly amazing time to get outside. If you're planning to spend part of the holiday season on the Space Coast, there are plenty of ways to enjoy the outdoors. Full of trails, hidden pathways to enchanting nature walks, wildlife to see like manatees, birds, otters, and alligators, as well as canals to explore via kayak or paddleboard. The opportunities are endless on how you can get out and enjoy the sunny skies and the natural beauty of the Space Coast with your family this holiday season.
Bird Watching
• Merritt Island National Wildlife Refuge | Titusville
• Rotary Park | Merritt Island
• Ritch Grissom Memorial Wetlands | Viera
• St. Sebastian River Preserve State Park | Fellsmere
Hiking Trails
• Enchanted Forest | Titusville
• Wickham Park | Melbourne
• Barrier Island Sanctuary | Melbourne Beach
• Turkey Creek Sanctuary | Palm Bay
Nature Tours
• Boat Tours | Cape Canaveral
• Kayak Tours | Cocoa Beach
• Camp Holly Airboat Tours | Melbourne
• Paddle Board Tours | Melbourne Beach
Parks Galore
• Space View Park | Titusville
• Jetty Park | Cape Canaveral
• Lori Wilson Park | Cocoa Beach
• Sebastian Inlet State Park | Melbourne Beach
Find a Last-Minute Gift in the Downtown Districts
Forget to get a few stocking stuffers before you headed out on your quick holiday getaway. Enjoy quaint, boutique shopping for those last-minute gifts where you'll find one-of-a-kind works of art and fashionables as well tasty treats and collectibles as you stroll along historic streets. The Space Coast has a few downtown shopping districts where those who want to peruse the stores can shop 'til they drop while the rest of the family can play outside, enjoy wall murals, or grab a delicious, creative meal at one of the many local restaurants.
• Downtown Cocoa Village | Cocoa
• Downtown Melbourne | Melbourne
Now that you have all that you need to plan out the most perfect holiday getaway here on the Space Coast, the only thing left to do is book your accommodations and look into in the restaurants you'd like to check out. The links below will help you find the best place to rest your head and fill your belly with some of the best food around.
Food and Lodging
• Places to stay
• Food for all palettes
May this be a holiday season you won't forget! See you soon on Florida's Space Coast while you make a new Holiday tradition!