There's a summer thunder storm in Orlando – where do you go to have some major family fun and stay dry? It's dad's birthday next week – what's a totally unique gift that he's never going to forget?  The theme parks are crazy busy – what can you do that we don't have to line up for hours for? Machine Gun America checks all these boxes and a lot more besides! The odds of you having done anything quite like this are pretty slim – and we guarantee you forget it in a hurry – it's a great big WOW for everyone who participates!

Top Facilities and Team
MGA was designed to exceed expectations – and it shows. They simply deliver a higher level of quality where it counts – in their facility, staff, level of safety, selection of unique firearms and array of adrenaline-charged experiences. Their 13,000 square foot facility is inviting, state-of-the-art and offers something for every level of shooter in the family. Once inside, you'll quickly discover why they consistently earn the #1 rating and five-star reviews on TripAdvisor.
Safety
Their team is friendly, approachable, knowledgeable and extremely safety-conscious. Whether you're a first-timer or a seasoned pro, MGA takes every measure to put your safety and enjoyment first throughout your time there. Each live shooter is assigned a Range Safety Officer (RSO) who provides educational training on the weapons, their use and what to expect from the upcoming experience. All of MGA's RSOs are carefully selected, highly trained and consist of former military and law enforcement officers. An RSO stays alongside each guest throughout the duration of their live fire shooting time to provide ongoing guidance, safety assurance, stance correction and one-on-one assistance so that they can feel confident while firing and enjoy an optimum shooting experience.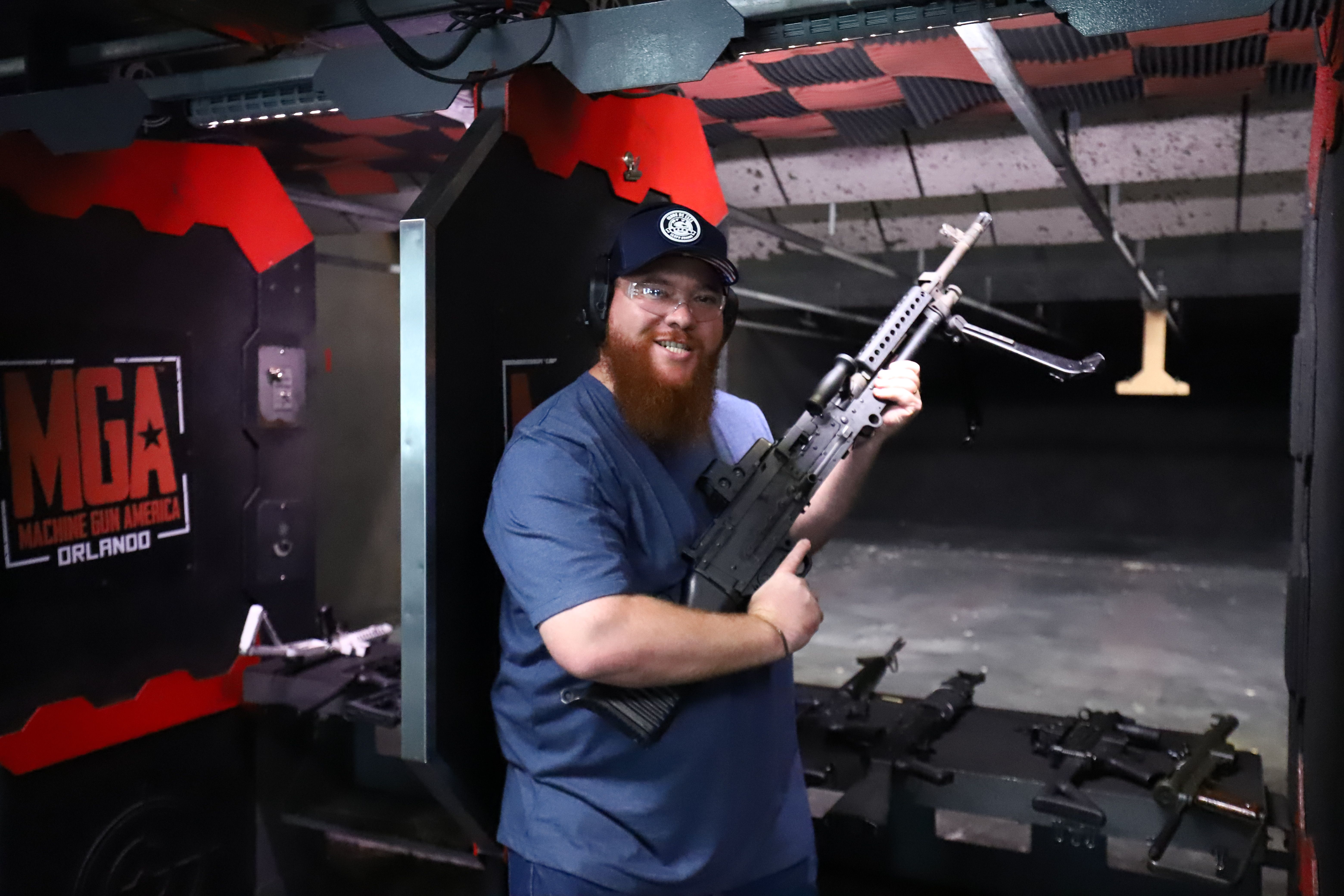 Unlimited Options
Live fire, virtual or design your own experience from one of the largest and most diverse arsenals in the country – the options are practically endless at MGA. Feel the excitement of shooting real, fully automatic machine guns in a live fire action experience. For those looking for the unparalleled exhilaration of firing real machine guns, but prefer to skip the ammunition, there's no shortage of heart-racing choices. Step into the virtual world in one of MGA's highly realistic simulation rooms. Their military grade SIM rooms will leave you feeling transported to the Wild West or the days of the zombie apocalypse!
Are you ready to shoot to thrill? Feel the rush of the ultimate shooting experience as you pull the trigger on a live fire adrenaline ride like no other. Choose the 007 Experience to fire the same sleek weaponry made famous by our favorite fictional British Secret Service agent. Take on a Special Ops mission that will arm you with four of the exclusive weapons used by Navy Seal Team 6 and elite special operations units such as the Glock 17 and M4. Or, step into the spotlight with The Legends experience to fire an AK-47 and .44 Magnum made famous by Scarface and Dirty Harry.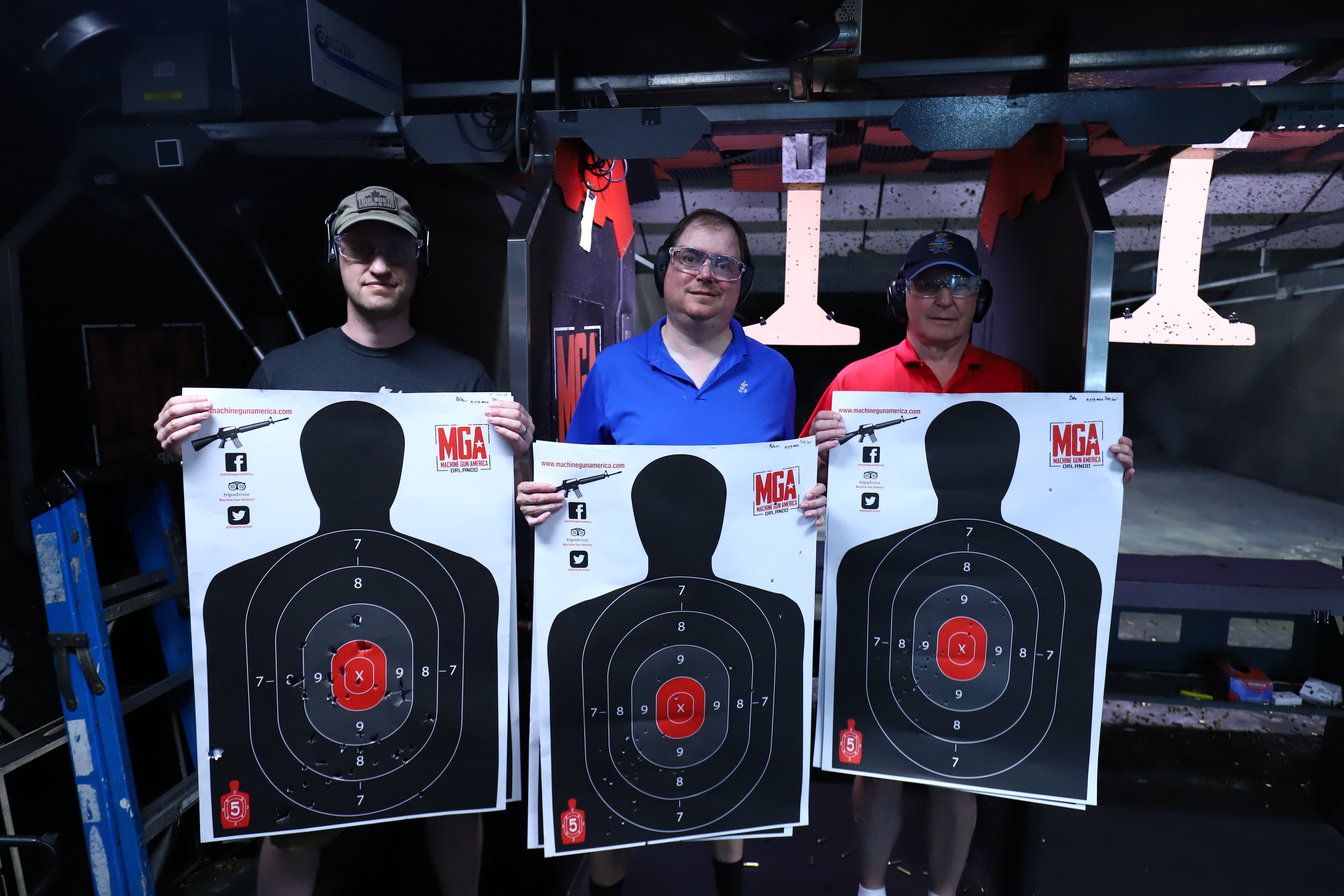 All Skill Levels
MGA's selection of themed live fire options is vast and sure to please visitors at any skill level or area of interest. Younger shooters will appreciate The Cadet experience specifically designed for ten to twelve-year-olds (accompanied by a parent), while the ladies in the group can release their inner femme fatale to fire an M4, MP5 and Glock 17 in The Princess Experience.
If you don't see what you're looking for in MGA's extended list of options, design your own personalized adventure. Their wide selection of rare, elite and coveted weaponry such as fully automatic machine guns, classic lightweight handguns that still pack a powerful kick, and precision shooters for target practice. MGA's armory is fully stocked with an impressively wide and comprehensive selection of firearms – and they're adding to it every day!
Virtual Options
For those members of the group looking to level up in the virtual world, MGA puts you into The Matrix with their military grade simulation rooms where up to four players can compete at once. If you have a gamer in the family, this is the perfect way to get them engaged with the family. There is simply no better bonding experience than to compete against your friends or family to take down black hats, outlaws or the undead in this family-friendly, high tech thrill ride! Once you feel the kind of anticipation you can only get from an interactive, first-person shooting experience (without live ammunition) there's no going back!
Whether you are looking for belt fed, machine guns, pistols, revolvers, rifles, shotguns or military grade simulation experiences – Machine Gun America has got you covered. Live fire prices include your ammunition, target, safety goggles and RSO supervision. Be sure to ask your Machine Gun America representative for the full details on pricing and experience options when you make your reservation.
Take Home Souvenirs
Once you're winding down at MGA, bring home your target riddled with bullet holes or stroll through their gift shop to browse through their unique selection of merchandise for the perfect souvenir to commemorate your time there. Choose from apparel or jewelry for the man or woman in your life, accessories, electronics, tactical gear and more.
Are you feeling ready to live full auto while you're in Orlando? You'll be glad you did! Machine Gun America is open seven days a week and is centrally located in the Orlando Metro area, just minutes away from the area's most desirable hotels, restaurants and more. Their world-class facility is just around the corner from the Gaylord Palms hotel, only eight minutes from The Walt Disney World Resort and less than twenty minutes from The Universal Orlando resort, making MGA the perfect stop for visitors wanting to see Orlando's finest adrenaline attraction.