Home to colleges, cultural cornerstones and the Spring Training home to Major League Baseball's Detroit Tigers, Lakeland is more than just the largest city in Polk County. No matter what your tastes, Lakeland is a must-see during a Central Florida vacation.
But be forewarned – this isn't a theme park and palm trees destination. Lakeland is unvarnished Florida, a mix of the urbane with a dash of Southern hospitality. Here, guests can enjoy everything from fine dining to alligators in the wild, long walks along massive lakes or through architectural wonders and still need to stash some time for golf, a night at the pub, or first-class shopping
Lakeland Likes it Wild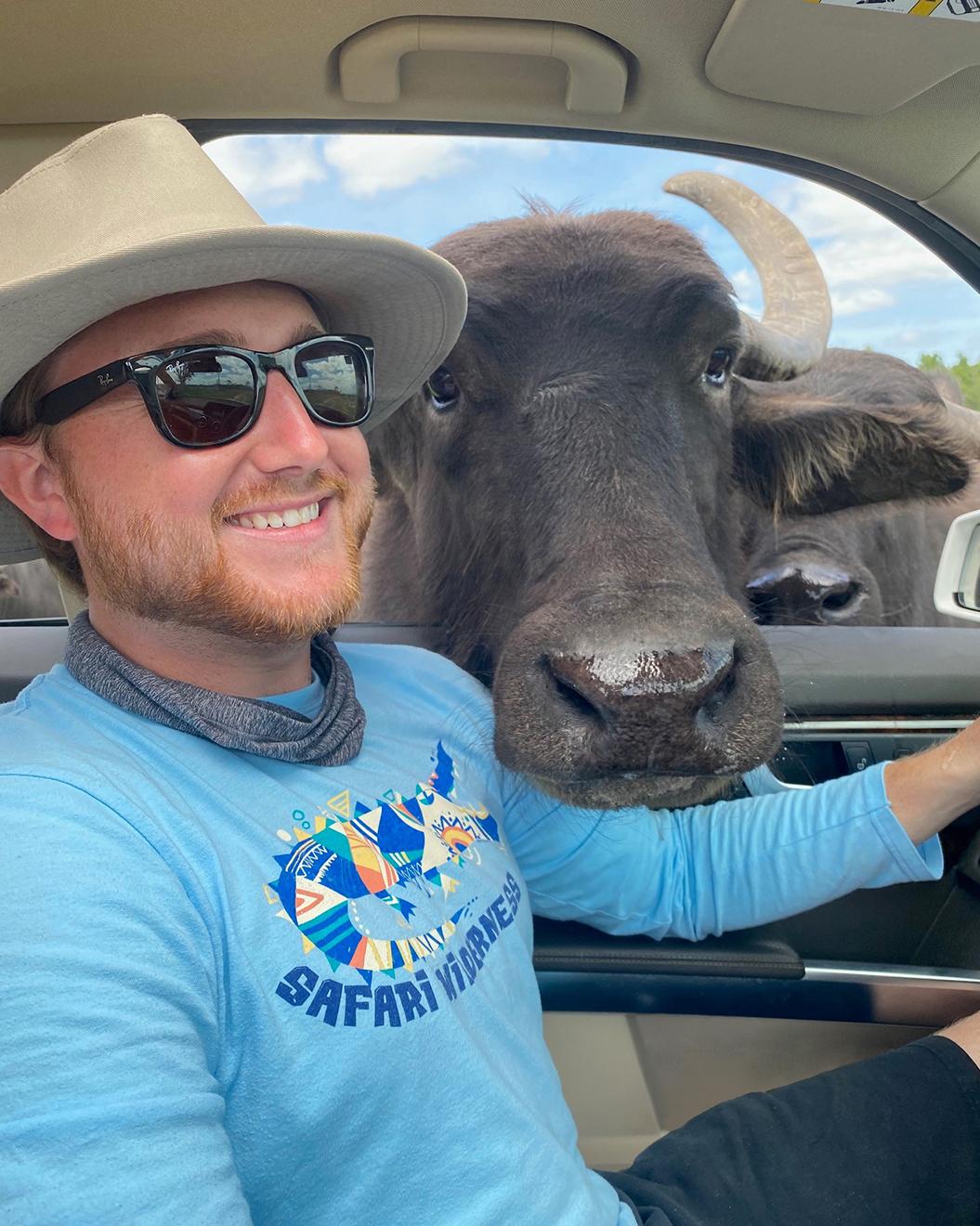 It may look like a quiet city in the middle of the state, but it does have its wildlife. In fact, it is so friendly it comes to you. Safari Wilderness, just moments from downtown Lakeland, is an African safari experience where cattle Watusi cattle – the African version of the longhorn – still roams. Opened in 2012, the ranch – a 260-acre expanse – is not a zoo. The animals roam free: eland, water buffalo and antelope mingle while lemurs dance away around their island home in the middle of it all. There are even breeds of hoofstock that are no longer found in the wild, such as the Scimitar-horned oryx.
Visitors have their choice of excursion types – safari bus, kayak safari, camel expedition, all-terrain vehicle safari, and a guided drive-through option. Most opt for the safari bus, which offers not only shade from Florida's intense sun but also allows visitors to enjoy those memory creating up-close creature encounters. Many animals simply walk up to the bus, seemingly as interested to look at the passengers as the passengers are to look at the wildlife.
However, don't discount the other options. If you choose the guided drive-through option, you must make a reservation in advance. On the kayak safari, you'll navigate through freshwater areas for close-up encounters with wetland species such as Defassa waterbuck and red lechwe. Mid-way through the kayak safari, visitors navigate to the lemur island, where they can hand-feed grapes to two different species of lemurs. If you'd rather your transportation be fur-covered, the camel option will pair you with one of these loveable creatures for an unforgettable experience, and reason number one Lakeland is a must-see.
Safari Wilderness is located at 10850 Moore Road, Lakeland. For more information click here or visit VisitCentralFlorida.org.
Why Do They Call it Lakeland?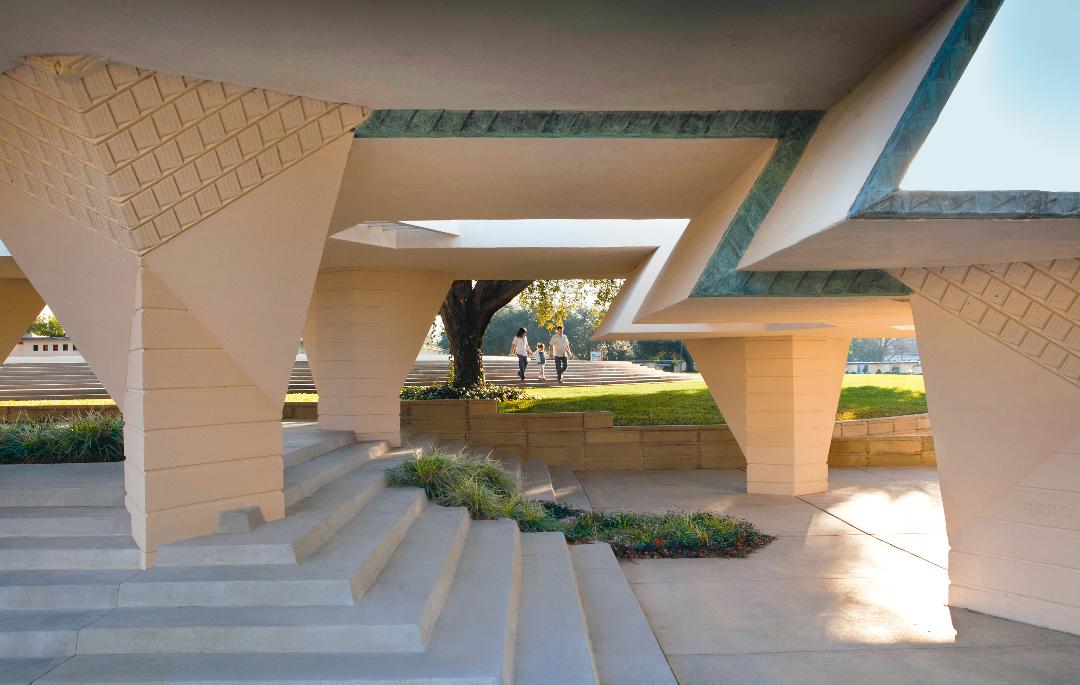 Of course, when you think of Florida, you think of oranges. But how about a college whose fabled architect designed it to look like a citrus grove?
More than 80 years after then-campus president Ludd M. Spivey convinced famed architect Frank Lloyd Wright to construct his "College of Tomorrow" on the grounds of Florida Southern College in Lakeland, people still visit from around the world to see the largest one-site collection of the architect's work.
Envisioning the campus rising out of the ground, Wright dubbed it the "Child of the Sun." The buildings, constructed of concrete blocks with native sands and shells added, also have square pieces of glass embedded in the blocks. When struck by direct sunlight, the glass inside the blocks cast an array of kaleidoscopic beams throughout the inside of the buildings. Wright laid out the buildings in a manner inspired by the orange groves he walked through.
Still considered one of the country's most striking campuses, no matter if you choose to take a guided tour or explore on your own, you're sure to leave inspired. Don't miss the crown jewel, the Annie Pfeiffer Chapel, or Wright's recently brought to life piece of domestic bliss, the Usonian House.
Please note that the campus is currently closed to the public due to the Coronavirus pandemic. For the latest information on the campus re-opening, check www.flsouthern.edu/frank-lloyd-wright/tours.aspx.
Of course, Florida Southern College might not be so stunning if it wasn't next to one of the most popular lakes in Florida, Lake Hollingsworth. So popular, in fact, that the path around it was dubbed the 20th most popular running route in the United States by Under Armour in 2017.
Found in the spiritual heart of Lakeland, the almost three-mile path around the lake is nearly always busy, but never full. Cyclists, folks on roller blades, runners, and walkers are all welcome. Friendly nods and hellos are frequent.
Wildlife is abundant in the lake, including plenty of aquatic birds and plant life. Playful families of otters can be seen, but usually only in the quiet of an early morning. Rabbits skitter through the nearby bushes, pelicans and herons swoop nearby and gallinule peep along the shoreline.
But half the scenery is on the other side of the road. Stately homes – this is one of the higher rent districts in the city – ring the lake. The loop around the lake is also a popular destination for classic cars and motorcycles.
Just a short walk away from Lake Hollingsworth you'll find one of the top-10 art museums in the state. And you can enjoy it for free.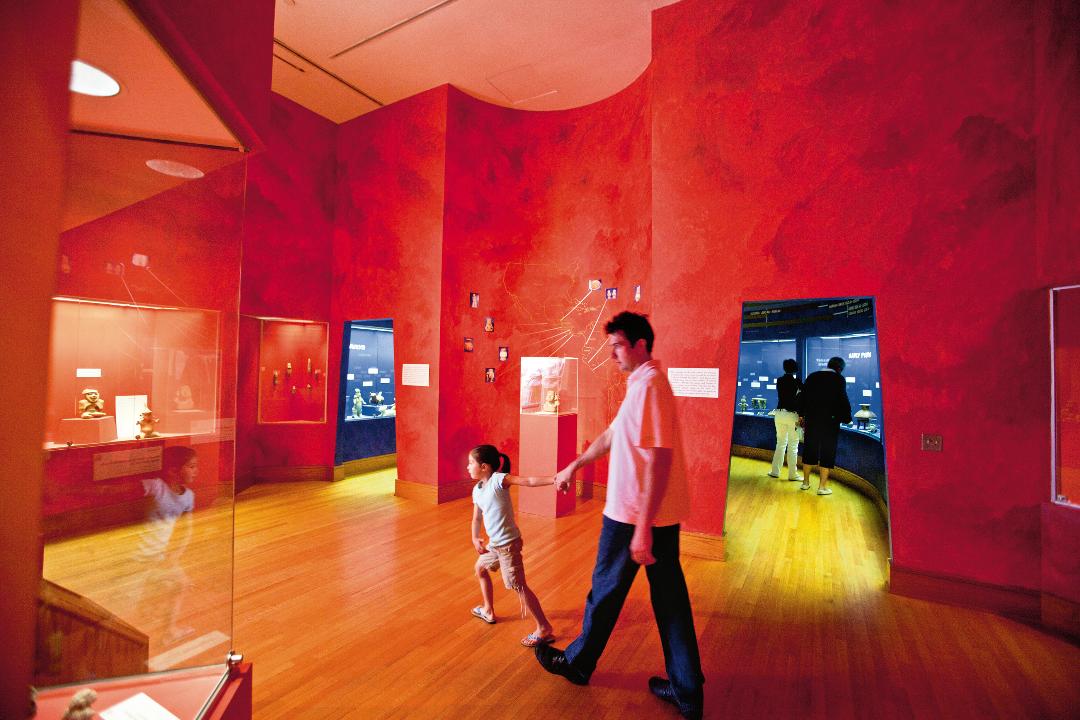 The Polk Museum of Art at Florida Southern College offers an extensive permanent collection of contemporary and modern art, as well as Pre-Columbian, Asian, European, and American decorative arts. Around 20 exhibitions rotate throughout its nine galleries each year, and it remains home to rare 19th-century Japanese woodblock prints, as well as ceramic plates made by Pablo Picasso. The outdoor garden area showcases a number of permanent sculptures.
There are also workshops led by experienced art educators on the first Saturday of every month that give families time to create artwork together.
The museum is closed Mondays as well as on major holidays and hours of operation vary by season, so be sure to check the website, polkmuseumofart.org, before heading out.
A Downtown Full of Options
From eateries to coffee and even a children's museum, a visit to downtown Lakeland offers a day worth of experiences in one spot.
Located in downtown Lakeland, Explorations V is three floors of kid-powered interactive exhibits focusing on the five senses – thus, the V – aimed at toddlers to 9-year-olds.
Pint-sized shoppers can fill a grocery cart in the Explore Store, jump on a fire truck in the First Responders Gallery or be live on the set at the News Station. They can even hop on the Space Shuttle in the Travel section.
If your child enjoys creative endeavors, tiny actors and playwrights can perform on stage in the travel area or, in the Music and Sound Studio, learn about the wonders of sound, stage production, and show promotion. For those who are more hands-on, the Maker Space is available as well.
Explorations V Children's Museum is located at 109 North Kentucky Avenue in Lakeland. For more information, visit explorationsv.com.
Tasty Treats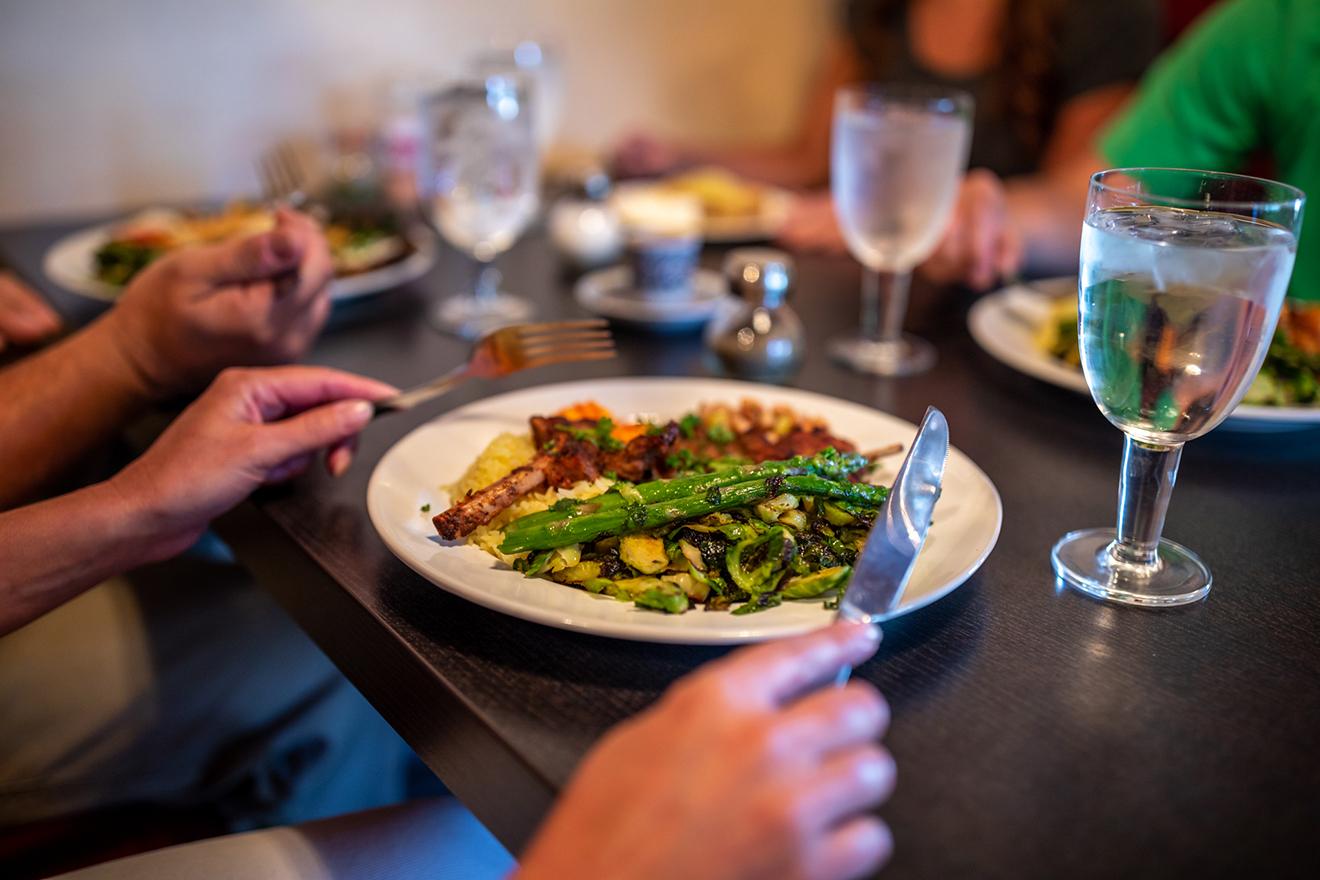 If food expresses cultural identity, Lakeland must be a little confusing, but it is another reason Lakeland is a must-see.
When it comes to food, this city defies labels. Sure, you'll find barbecue and Southern cooking as well as Mexican and Italian cuisine. But if you are looking for mash-ups and cultural callbacks, as well as one of the top-10 best restaurants in the state, you've come to the right place. Confusion has never tasted so good.
Consider Nineteen61, for example. Is the cuisine Cuban, Latin, Spanish, or Peruvian? Honestly, you won't care about a label when it comes to your table. From ceviche to Spanish salads, Cuban standards such as ropa vieja and Peruvian style Chinese fried rice – arroz chaufa – this culinary mash-up has been considered one of the top-10 Spanish restaurants in the state since the day the doors opened. Open for both lunch and dinner, locals get here early and take advantage of the tapas menu at the bar before dinner, from the fried calamari in a jalapeno caramel to the empanadas. 215 E. Main Street, Lakeland.
Some other local dining favorites include Red Door, which offers a wide variety of eclectic season dishes as well as a solid standard menu for both lunch and dinner. This wine bar bistro also offers vegetarian and gluten-free options. 733 E. Palmetto St., Lakeland.
Not to be forgotten just a short drive away is Café Zuppina, a unique, healthy take on Mediterranean fare, including vegetarian, vegan, and gluten-free meals. This small restaurant, at 4417 S. Florida Ave., is a popular spot, so reservations may be needed around lunch or dinner time. If you feel like a virtual trip to New Orleans, Harry's Seafood Bar and Grille is a great place for everything from casual drinks at the bar or a lunch with friends to a business meeting. Grab a Hurricane, dive into their fried green tomatoes and an entrée of catfish etouffee or red beans and rice, but leave room for the signature Oreo beignets at 101 N. Kentucky Ave., Lakeland.
If you'd prefer some Southern comfort food, Fred's Market Restaurant is the place – but you'd better be hungry. Serving breakfast, lunch, and dinner, this buffet-style eatery, at 2120 Harden Blvd., offers farm-fresh Southern favorites including fried chicken, catfish, skillet cornbread, and even casseroles. Nearby is Abuelo's Mexican Restaurant, featuring Southwestern-style food offered in an open, airy dining area reminiscent of a courtyard. Abuelo's, located at 3700 Lakeside Village Blvd., offers both traditional Mexican items, such as fajitas and enchiladas, as well as Tex-Mex favorites such as chile rellenos and chimichangas.
So, take a few days and see why Polk County is known as Florida's Sweetest Spot – and not just for the baked goods. Lakeland is a must-see! For more Central Florida vacation ideas, go to www.VisitCentralFlorida.org.