Hands up if you're in need of a ladies night! Next week is National Ladies Night, and although many of the nightlife spots on I-Drive do remain closed as a result of the coronavirus; there are still lots of spots that are open that offer a wide selection of cocktails, various forms of entertainment, and will make for a perfect night out with the girls! Enjoy a ladies night out on I-Drive.
So call your clique, and make plans to enjoy a much-needed ladies night at one of these I-Drive spots!
1. Ice Bar Orlando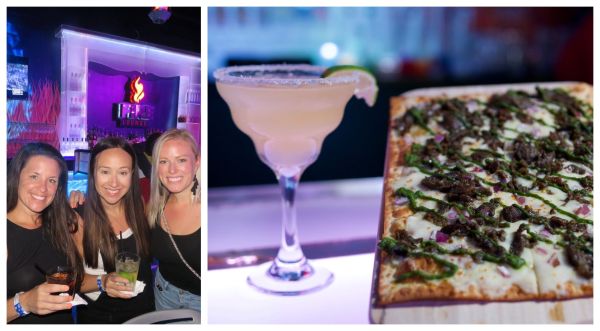 Whether you're just looking for a place to kick back and 'chill' or if you're going all out and want to heat things up for ladies night; you're sure to have a cool experience at Ice Bar Orlando! As you step into the Ice Bar, you'll feel like you're taking a trip through the arctic as you are surrounded by over 70 tons of carved ice! So, be sure you bring a jacket, or you can opt to use one of their thermal coats and gloves to keep you warm during your time in this Winter Wonderland.
The Ice Bar offers a full bar, complete with a ton of different specialty cocktails to choose from. Plus, enjoy a nosh from their menu of easy eats like flatbreads, skewers, taco, sliders, and more. Take your ladies night to the next level by heading to the Largest Permanent Ice Bar in the World!
2. Tapa Toro Orlando

Gather around the paella pit and keep the sangria coming! Tapa Toro will transport your ladies night out to Spain, where music fills the air, and you can feel the rhythm of the beat as flamenco dancers twist and twirl around the restaurant. Sharing is caring, and you'll find delicious fun trying a variety of tapas with the girls.
If your idea of the perfect ladies night is a true escape, with delicious flavors, and unique libations, Tapa Toro is it! Plus, enjoy Happy Hour drinks specials every day from 3 to 6 pm. And if you're hoping to enjoy some good entertainment, be sure to stick around because nightly flamenco dancing performances happen every night at 7 pm and 9 pm.
3. Chocolate Kingdom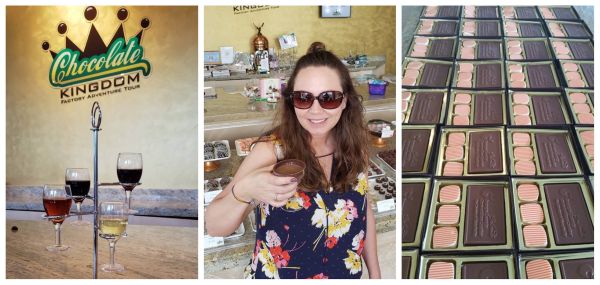 Ok, this is not your average ladies nightspot, but if we're being honest… it should be! The Chocolate Kingdom Factory in Orlando is best known for the interactive journey that it provides its guests with as you set out to uncover how chocolate transforms from the bitter bean into the creamy, dreamy chocolate bars and treats that we all know and love! They offer personal tours that offer a full storyline that has you join forces with a handsome Prince and his Dragon sidekick to travel through a Cacao Tree Greenhouse, a one-of-a-kind Chocolate Museum, a Mystical River of Chocolate, and a Micro Batch Bean-to-the-Bar Factory utilizing old world machinery.
But, if you're really looking to enjoy an unforgettable ladies night, we definitely recommend their Wine and Chocolate Pairing experience. The package costs $300 and is good for up to 15 adults and it includes a chocolate expert guide who will have your group learn about and try a variety of red and white wines that have been perfectly paired with percentage-based chocolates from around the globe.
You can learn more about the experience here.
4. Ole Red Orlando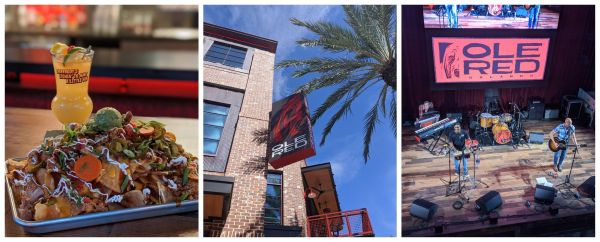 Blake Shelton's newest Ole Red location recently opened its doors right here in the heart of Orlando! If you and your clique are always ready for a boot-scootin' good time, this is a great spot to meet up! They offer a full menu of contemporary southern cuisine, nightly live entertainment, and have a retail shop on site – so, it is safe to say Ole Red Orlando has everything you need for an amazing night out with the ladies! Grab a delicious drink from their full bar and let the good times roll at Ole Red.
5. Dave and Buster's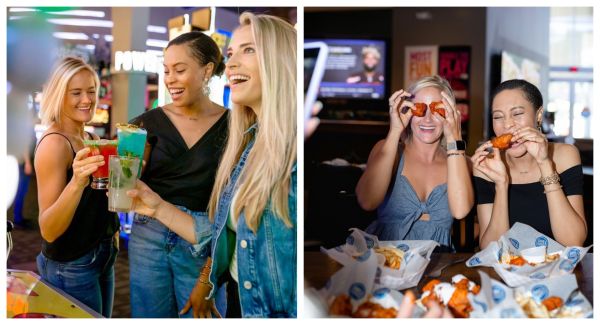 Hoping to get in some quality bonding time with your best girlfriends? Get the games going and drinks flowing at Dave and Buster's! Whether you want to try your hand at classic arcade games, enjoy a good game of billiards, or hit the lanes at their bowling alley; there is plenty to do in a night out at Dave and Buster's! Fuel your night out with delicious eats from their menu that boasts all of your American fare faves, and order up a delicious drink from their full bar that will keep you feeling refreshed!
Enjoy half-priced games every Wednesday, as well as Happy Hour Monday through Friday from 4:30 pm to 7 pm, and 10 pm to close Monday through Thursday!
It's important to get out of the house and enjoy good times with friends, and luckily, there are lots of great experiences to be had during your next night out on I-Drive!
What are you waiting for? Send an invite to that group to chat with you and your girlfriends and make plans to have a ladies night out on I-Drive.