Summertime is coming to a full swing and here on I-Drive, we've got a calendar of upcoming events that will have you in summer vacation mode in no time! We're halfway through the year, so now is the time to seek out the events you've been wanting to be a part of and get in on the fun! While you're on I-Drive this month, be sure to take part in these popular events!
Beer Lovers Near and Far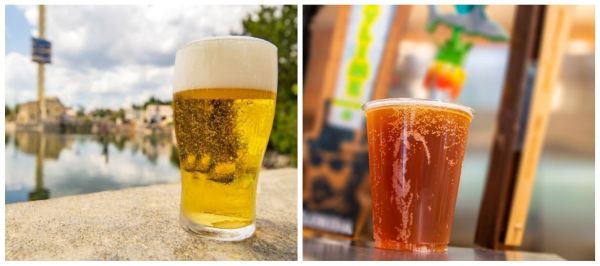 SeaWorld Orlando officially brought back their summer happy hour specials on May 25th and will be running them through September 2nd! From 10:30am to 1 hour before the park closes, guests 21 years of age and older can pick up one complimentary, 14 oz beer at MaMa's Pretzel Kitchen Patio Bar, per day! Plus, on the weekend things get even crazier with happy hour starting at 4:00 pm, featuring buy one get one free offer on beer, wine, call liquor cocktails and non-alcoholic beverages at Flamecraft Bar, Shark's Underwater Grill Bar, and Waterway Grill Bar!
SeaWorld Orlando knows that the Orlando sun can make you work up a thirst quickly, so be sure to take advantage of these summer specials when you need to quench your thirst during your visit this month!
It's electric…

Also, at SeaWorld for a limited time is their beloved annual Electric Ocean Festival! Get ready to see your favorite theme park come alive when the sun goes down with the many lights of this festival that has everything from exciting nighttime shows, electrifying music, and a spectacular finale with fireworks, lasers, and fountains! You will be immersed into the wonders of the sea like never before, making it a must see for all visitors who find themselves on I-Drive during Summertime! But don't wait, this show only takes place through September 1st and is only on select nights.
Work hard, Play harder!

Gods & Monsters has three events going on this month that will show you a good time!
On June 29th, finish June off with a bang when you attend their Pool Party – A Class Adult Swim night in Vault 5421! Enjoy fun tunes, Adult Swim episodes playing on big screens and Cosplay Cage-Dancing! Plus raffles and discounts on both drinks and merch when you wear your best pool party attire!
A Magical Encounter
If you've ever been to I-Drive, you know that a stop to the amazing entertainment complex known as ICON Park is bound to happen at some point during your stay! Housing everything from restaurants with out of this world dining experiences, museums like SKELETONS Museum of Osteology and Madame Tussauds, the SEA LIFE Orlando Aquarium, and of course the largest observation wheel on the East Coast of the United States; but now, through June 23rd, when you're here and stop by the Sea Life Aquarium you'll also have the pleasure of a magical mermaid encounter!
Check out their dive times and plan to be mesmerized as they perform unbelievable underwater feats while swimming amongst the beautiful underwater creatures! Plus, you'll even get to meet one! This is an experience fit for summertime in Orlando – so be sure you don't miss it!
Squeaky Clean?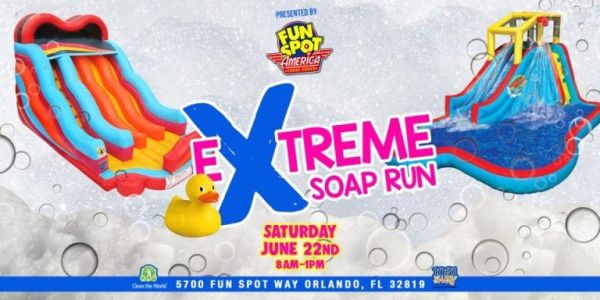 Just kidding, the Extreme Soap Run at Fun Spot America is so much more than getting soapy! Jump, slide, and splash through obstacle courses and challenges throughout the park and indulge in delicious food and drinks! And, when you make it to the finish line, you'll be met with a live high energy foam concert with celebrity DJ's and so much more! This is the ultimate summer event, allowing you to keep cool while indulging in some fun competition! The event takes place on June 23rd from 9am to 2pm and is going to be popping, so don't wait until the last minute to purchase your ticket!
Laugh it Off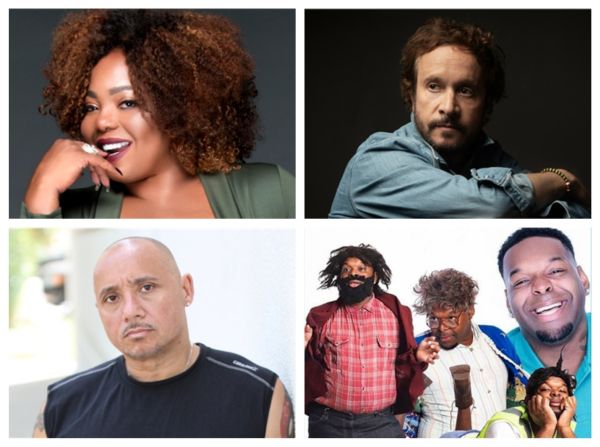 On I-Drive, we are all about laughing it off, and enjoying good times with our favorite people – and thankfully Orlando Improv is always bringing performers to their stage that keep everyone rolling on the floor laughing! This month, they've got a variety of stand-up comedians hitting the stage! Cocoa Brown, Pauly Shore, Alex Ortiz, and Kerwin Claiborne, are just a few, but you can check out the whole June line up here. And, don't miss a very special show that will host Florida's Funniest on June 19th when over 150 comedians will compete to be announced as the 7th Florida's Funniest Comedian! There's something for everyone at Orlando Improv, so bring an appetite to this dinner theatre, and prepare yourself for some serious hilarity!
Our calendar for June is bursting at the seams and has something for everyone get into vacation mode!