2020 is here! A brand new year, filled with new possibilities, new experiences, and of course – new events, in the heart of all the action in Orlando, on International Drive! They've got just the events that will get your year off to a great start, so get on your mark and get set, because you'll be racing into the New Year at full speed! Check out these January happenings on I-Drive.
Party. All. Month. Long.

Gods & Monsters has the hottest events going on throughout the whole month of January!
On January 9th they've got a free public event, the Gathering of Elder Gods, in VAULT 5421, which will be a celebration of the Limited release of The Color Out of Space.
January 18th be sure to come out to enjoy a 2nd Gen book signing. Andrea and William Vaughan will discuss their award-winning young adult science fiction novel, 2nd Gen and Audible's Hall of Fame narrator, Luke Daniels will read an excerpt from the book which will be followed by a Q&A session. So, don't miss your chance to get a signed copy of 2nd Gen. Then, after the Highland Games on  January 18th, head to the VAULT 5421 their Nerds in Kilts Party! This is a free event too, and will feature Scottish movies and shows playing on big screens, music, themed cocktails & Cosplay Cage-Dancing!
Swim into big things happening at SeaWorld this month!

The January happenings on I-Drive are in full swing at SeaWorld. January 25th and 26th is your chance to meet internationally-known animal expert Jack Hanna at SeaWorld, so be sure you plan accordingly! Also going on at SeaWorld this month is their Inaugural SeaWorld Rescue Run! This is the perfect event to spend time with friends and family as you run, skip, jog, or stroll through SeaWorld's Rescue Run to benefit the SeaWorld & Busch Gardens Conservation Fund. The event is on January 25th so be sure you come out and enjoy the relaxing ambiance of your favorite park, and enjoy tons of family entertainment that will be going on all day! Then, finish your month off on the right note when you join SeaWorld in celebrating Elmo's Birthday with meet-and-greets, an interactive DJ dance party, and tons of other surprises around the park from January 27th to February 3rd!
Get ready to Rock the Universe!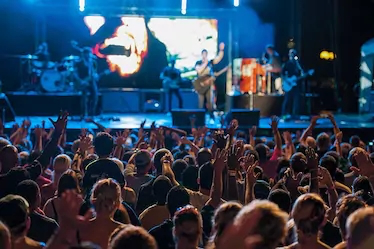 Rock the Universe returns to Universal Studios this month on January 24th and 25th! If you didn't already know, this is Florida's biggest Christian Music Festival! Lift your hands and let your heart soar with amazing artists including TobyMac, Chris Tomlin, Newsboys, Switchfoot, and other award-winning performers. Learn more about this event, and be sure to get in on what is sure to be an unforgettable weekend of faith and fun.
Get productive!
This month the Orange County Convention Center will be hosting some of their most popular public conventions! If you'll be planning your big day in 2020, the Florida Wedding Expo is today, January 5th. This show has 2 to 4 times more vendors than any other Orlando wedding show, so there's no doubt that you'll find everything you need for your big day, in one place, in one afternoon!
If you're a local collector, make sure you attend the annual F.U.N, Florida United Numismatics show happening from January 9th to the 12th! With over 1500 dealers, Heritage Auctions, exhibitors, and over 10,000 of the most avid collectors… the fun show is sure to kick off your new year on a high note, so be sure you plan ahead to be there!
For those who have recently embarked on some new home renovations, or plan to take on some new projects this year, the Orlando Home and Garden Expo is a must-attend! This event takes place on January 10th through the 12th and will feature everything you need to solve all of your projects! Enjoy perusing the latest products and services for your home and landscape; builders, remodelers, contractors, building materials, decks, pools, spas, entertainment systems, storage solutions, plants, landscape displays, kitchenware, home accessories… and that's not even all of it!
Nightly Entertainment

As always, there is no shortage of entertainment here on I-Drive!
Orlando Improv has a packed schedule this month, with performers ranging from Carmen Morales, Micheal Blackson, Russel Peters, and HaHa Davis, among many others. Seats sell out quickly though, so check out their full line-up for January here, and reserve your seat for a great night out ahead of time.
Hard Rock Live will also be hosting tons of talent this month. Keith Sweat is taking the stage on January 17th, Bright McKnight on January 19th, and on January 25th Iliza Shlesinger!
And of course, be sure to check out B.B. Kings and Tin Roof Orlando to see who will be hitting their stages this month, and get your dose of live music nightly!
The January happenings on I-Drive are starting 2020 off with a bang! Check out all of the upcoming events that will be happening here on I-Drive this month and get ready to ride through the first month of the New Year in full speed!