It's official! Summertime in Orlando is here! Long summer days mean more time to enjoy the many attractions, world-renowned theme parks, thrilling water parks, and myriad of exciting experiences that await you on I-Drive, followed by fun-filled warm summer nights spent in an electrifying atmosphere where you can explore the endless dining and nightlife destinations that call I-Drive home.
If you're hoping to embark on an unforgettable summer adventure, Orlando's Most Dynamic Neighborhood has it all!
During your trip this month, enjoy these special events happening across I-Drive for the ultimate summer fun in the heart of Orlando!
Independence Day Celebrations!
If you'll be visiting for July Fourth and want to enjoy a celebration to remember, there are plenty of festivities happening on I-Drive to choose from.
Grill & Chill at Orlando's Favorite Live Music Joint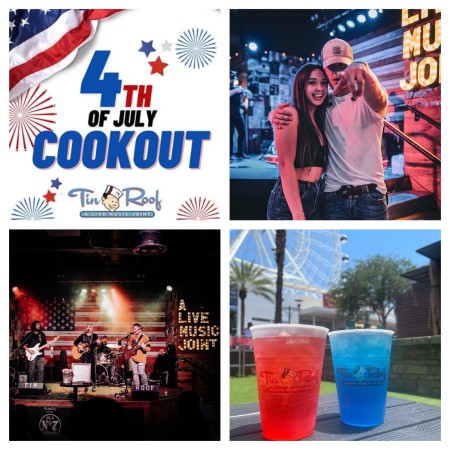 If you're looking for a good ole' grill and chill complete with delicious grilled goodies, fun games, and enough cold beer to go around – head to Tin Roof Orlando on July 4th for their Independence Day Cookout!
They'll be grilling burgers and hotdogs outside at 2 pm, followed by live music with Madison Moon starting at 3 pm, Music Bingo at 7 pm, and then keep the party going strong with DJ Poproxxx spinning all your favorite hits from 10 pm to 1 am. Get the event details and enjoy a classic Independence Day celebration at one of I-Drive top live music destinations.
Ole Red, White and Blue
Go country for July fourth at Ole Red where you'll enjoy next-level live music, specialty drinks, and a whole lot of USA pride on deck for the Ole Red, White & Blue event – happening from June 20th to July 9th!
Lace-up your boots, grab a round of Americana shots for you and your party people to take home a special "Let's Get Spangled" shot glass, order up an Ole Red, White & Blue mason jar dessert, and then hit the dance floor for a night full of fun at Ole Red Orlando.
Fine Dining at Del Frisco's
If you're anything like us, you'll find any excuse to treat yourself to a fine dining experience on I-Drive, and if a perfectly seared cut of filet mignon steak paired with an award-winning glass of wine sounds like the perfect way to celebrate – you're in luck!
Del Frisco's has put together an exclusive three-course prix-fixe menu for $67 per person for Independence Day that will be available from July 2nd to July 6th. The menu features savory starters like Wagyu Meatballs, Dynamite Shrimp, a Blue Cheese Wedge Salad, and more – some of their most popular entrees like a 6 oz Filet Mignon, and Sesame Crusted Ahi, and an unbelievable selection of decadent desserts for a sweet end to this fine dining experience!
If you want to fill up on the finer things and enjoy an exquisite evening in the heart of Orlando, check out the menu and make your reservations today!
Mango's Bash – Drink, Dance, Celebrate!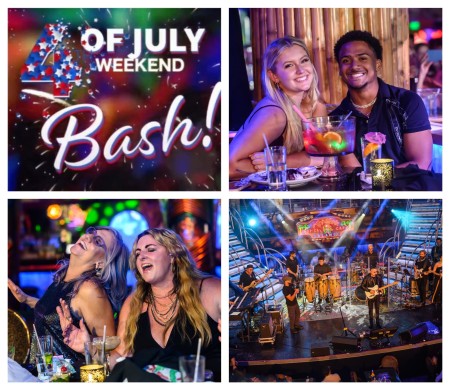 Mango's Tropical Cafe is the perfect place to celebrate, and July Fourth is no exception. If you're looking to go all-out for your July Fourth festivities this year, a stop at Mango's, one of Orlando's top nightlife and entertainment destinations, is sure to deliver in every way.
Enjoy the vibrant sights, sounds, and flavors of this uniquely-Latin themed experience where you're sure to create lasting memories – from the drool-worthy food and unique refreshments to the exciting entertainment and award-winning dinner shows. If you're looking for the perfect spot to dance the night away this July Fourth, Mango's is it! Learn more about their Independence Day bash here.
The Hampton Social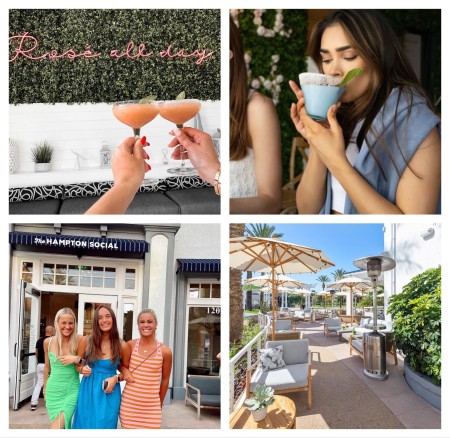 The perfect way to beat the summer heat is with a glass of frosé at the cool and sophisticated Hampton Social, where you can imbibe all the feels of summer in the heart of Orlando without breaking a sweat. For July Fourth they'll be offering a limited-time patriotic blue twist on their iconic Frosé. Let's just say, if you're hoping to start your Independence Day celebrations with some elevated summer sipping, a pit stop at The Hampton Social is a must! Get the details about this limited-time refreshment and get ready to cheers to a Fourth of July well-spent in Orlando's Most Dynamic Neighborhood.
For the love of fireworks! (Because after all, what's an Independence Day celebration without a stunning fireworks show!?)
If you're looking for the perfect spot to end your July Fourth with ignite, here are two locations on International Drive offering fireworks shows for guests to enjoy this year!
SeaWorld Orlando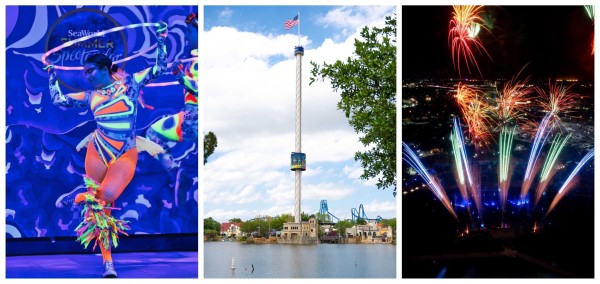 All summer-long SeaWorld Orlando offers nightly fireworks as part of their Summer Spectacular event. Guests are invited to stay late all summer to be immersed in exotic worlds of light and music and experience their favorite SeaWorld attractions in a whole new way. Dance the night away with world-class DJs for a family-friendly party beneath the waves. Then end the night with Ignite, a fireworks spectacular that brings the brilliance of the sea to the sky above.
But, on July Fourth, the fireworks show will be just as bold, and possibly more beautiful. Stand in awe as a fireworks spectacular fills the Orlando sky over the central lake at SeaWorld with inspiring music synced for a stunning fireworks show in celebration of America!
Need another reason to visit SeaWorld on July Fourth? They're also offering a jaw-dropping 4th of July Sale! Save up to 55% on tickets, Fun Cards, and Passes – allowing guests to score tickets for as low as $57.99. Get the details here, and be sure to take advantage of this deal before it's too late!
Orlando World Center Marriott

Want to avoid the theme park crowds but still enjoy an awe-inspiring fireworks display? Orlando World Center Marriott is the perfect place to enjoy a fun family getaway for Independence Day. To celebrate, they'll be offering on-site events and activities all weekend leading up to July Fourth – like a Red, White, and Blue bubble blast party, Patriotic Slime time, pie eating contests, tug-o-war games, USA Family Olympic Games, themed crafts for the kiddos in your crew, and more! End each day with a dive-in movie at the pool, s'mores and other family activities, and keep the celebrations going strong with the sounds of a DJ filling the air, dancing, a laser light show, and the main event – a July Fourth fireworks extravaganza!
Plus, all weekend long they'll be offering a Holiday Fireworks Spectacular Stay Package. Get the details and get ready to celebrate July Fourth with the whole family like never before!
During your visit this July, here are some other events you won't want to miss!
Comic Book Lovers!

Gods and Monsters is known as Orlando's Nerd Hub, offering comics, graphic novels, toys, games, movie merch and more! And on July 15th, their on-site post-apocalyptic bar, Vault 5421, is celebrating their 6th Anniversary!
On July 15th at 8 pm, head to VAULT 5421 for a Post-Apocalyptic Ball, featuring themed drink specials, cosplay cage-dancing from 8 pm to 12 am, cosplay prize raffles, and more!
Enjoy a pre-party Happy Hour with 20% off all drinks from 2 – 5 pm, and if you come dressed in your best post-apocalyptic cosplay, you'll get a free shot with your first bar purchase and be entered into the raffle for a prize drawing.
Whether you're a visiting comic-lover, or you're a local – if you love comics and cosplay, this is a free event you won't want to miss. Get the details today!
I-Drive ThrowDown Truck Show

On July 21st through the 23rd, Dezerland Park will be hosting the biggest truck show in Central Florida, now combined with the best accessories companies, build management groups, shops, builders, truck industry influencers, and so much more!
Aside from an array of trucks to browse, bring the whole family and enjoy a variety of other fun activities available at Dezerland Park – Orlando's Largest Indoor Attractions, like go-karting, axe-throwing, a full arcade, and much more!
Get all the event details and plan on spending an afternoon at Dezerland Park with the whole family during this special event!
ATTN: Beer Lovers! SeaWorld's Craft Beer Festival Returns!

Refresh your weekends on I-Drive starting on July 28th with the return of SeaWorld Orlando's beloved Craft Beer Festival.
This event gives guests the opportunity to try over 100 craft beers from breweries across the state of Florida, plus a few domestic craft favorites.
There will also be more than 15 different food items that have been expertly-paired to match your preferred brew. Hops, drops, and to top it all off there will be festive entertainment happening to keep the fun going all day long. It's a beer lover's dream come true and is a favorite-annual event in Orlando that can't be missed!
July is here, and long summer days mean more time for I-Drive adventures! Check out a full calendar of exciting events happening along I-Drive this month, and get ready for an unforgettable summer adventure in the heart of Orlando!