Gatorland, the "Alligator Capital of the World," will be hosting Gatorpalooza again this year, May 14-15. Included with park admission will be live music, specialty food and craft vendors, artisans, family fun, games, appearances by the Gatorland Vlog Team, and, of course, all the alligators, animals, and awesomeness that a day at Gatorland has to offer.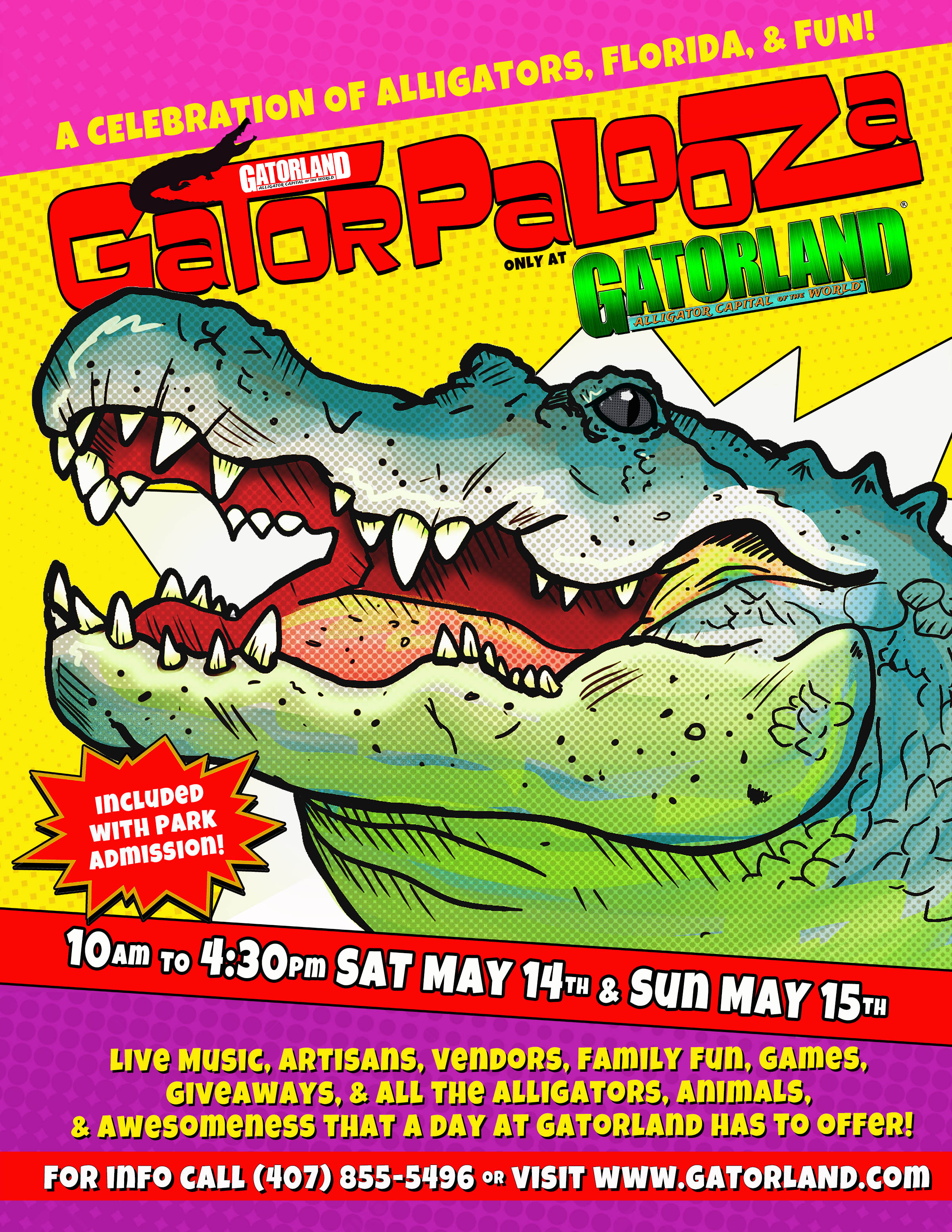 "We are so excited to host our Gatorpalooza festival again, and roll out Gatorland's unique style of fun and excitement during this special weekend event," said Mark McHugh, President, and CEO of Gatorland. "No other attraction says "Florida" like Gatorland, and our very own 2nd Annual Florida Man Challenge takes it over the top!" On Saturday, May 14th, this wild event has our crazy competitors racing through a muddy swamp, swarming with giant alligators in a Triathlon-style event like no other! It's the kind of sporting event that makes the rest of the U.S. shake their heads and say, "Only in Florida!" while everyone in Florida just shakes their head and says, "Only at Gatorland!"
About Gatorland
Gatorland is a 110-acre theme park combining Old Florida charm with exciting experiences, exhibits, and entertainment. Orlando Weekly's Best of Orlando® 2021 Readers' Poll named Gatorland the Best Attraction That's Not A Theme Park and Best Zip Line or Ropes Course for Gatorland's Screamin' Gator Zip Line.
Originally opened as a roadside attraction in 1949, the park is celebrating its 73rd Anniversary in 2022. This iconic park provides affordably priced family fun featuring thousands of alligators and crocodiles, a breeding marsh with an observation tower, a free-flight aviary, nature walk, petting zoo, educational wildlife programs, award-winning gift shop, Florida's best train ride, Gator Gully Splash Park, on-site restaurant, and one-of-a-kind shows including Gator Jumparoo, Alligators-Legends of the Swamp, and Up-close Encounters. Popular adventures inside the park include the Screamin' Gator Zip Line and Stompin' Gator Off-Road Adventure.
For more Gatorland info., visit www.gatorland.com or call 800-393-JAWS.